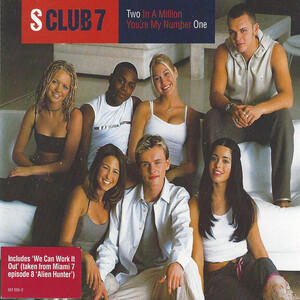 Released: 13th December 1999
Writers: Cathy Dennis / Simon Ellis
Peak position: #2
Chart run: 5-6-2-3-8-17-29-35-33-48-59
---
S Club 7's multimedia takeover continued apace as the group sought to claim the final #1 of the millennium with a double-A side and an obligatory TV special.
It was all to play for in the race to land the Christmas #1 of 1999 and earn a place in the final chart of the millennium. For the first time in three years, the Spice Girls were not in direct contention (though they did appear on a cover of the Rolling Stones' It's Only Rock 'n Roll (But I Like It), performed by charity supergroup Artists For Children's Promise, the track included acts such as Jon Bon Jovi, Mary J. Blige, Natalie Imbruglia, Annie Lennox, Kéllé Bryan, Ozzy Osbourne, Robin – not Robbie – Williams and…S Club 7. It peaked at #19). This was ostensibly the most open the competition for a festive chart-topper had been for some time, although realistically, it was Westlife's to lose. Nonetheless, that didn't stop an influx of acts willing to try. If anyone knew the formula for a '90s Christmas single, it was Simon Fuller who'd steered the Spice Girls to success with 2 Become 1. And it's a testament to how well he'd masterminded the launch of S Club 7 that the group were credible contenders with only their third single. Not least because Two In A Million utilised a now-established formula of being accompanied by a TV special, ensuring the single had guaranteed exposure.
Awash with shimmering orchestral-tinged production, courtesy of Stargate, Two In A Million always sounded inherently Christmassy – despite not being festive-themed – which made it the obvious candidate to serve as S Club 7's winter ballad (though at a different time of year, the Rachel Stevens-led I Really Miss You could have been a worthy alternative). More notable is the presence of Cathy Dennis on co-writing duties. She worked closely with S Club 7 throughout their career and was the go-to for their ballads, two of which (Never Had A Dream Come True and Have You Ever) reached #1. Paired with the retro-tinged You're My Number One as a double-A side, Two In A Million received a radio edit to enhance its seasonal credentials further.
Though it had already been established that Jo was the de facto lead singer in S Club 7 (with Rachel Stevens second in command), their first two singles – Bring It All Back and S Club Party – made a reasonable attempt at involving the entire group, to varying degrees. No such effort is expended here. For all intents and purposes, Two In A Million could be a Jo O'Meara solo track, with everybody else moved to backing vocals. Indeed, because bubblegum pop music dealt exclusively with heteronormative relationships, the gender-specific lyrics: "Out of all the boys you're not like the others, from the very first day I knew we'd be lovers", make little pretence of involving Paul, Bradley and Jon at all.
Although S Club 7 had avoided the topic of love thus far, the perils of teen romance regularly factored into the narrative of Miami 7 (and, unsurprisingly, was also a prominent theme in the TV special Boyfriends & Birthdays that accompanied this single). Thus, Two In A Million pitches itself with a degree of hormonal melodrama suited to the way those plots were told and – evidently – resonated with the group's fanbase: "It's a crazy world where everything's changing, one minute you're up and the next thing you're breaking". In addition, the track allows Jo to showcase a softer side of her range; she gives a performance that is powerful when it needs to be but also sincere, heartfelt and – at points – rousingly triumphant. Indeed, the second pre-chorus: "No one would have guessed we'd be standing strong today, solid as a rock and perfect in every way", is written and delivered in such a way that it feels deserving of being used in a more profound context as a self-referential celebration of S Club 7's resilience released closer to the end of their career than the start.
Although there's no getting away from the fact that the rest of the group is sidelined on Two In A Million as far as lead vocals go, the track does ensure they're still utilised effectively. Gently stirring harmonies underpin the verses, while the chorus is arranged so that Jo is prominently audible at the start before gradually drifting to the ad-libs, leaving everybody else's voices to swell and fill out the main melody: "We are two in a million, we've got all the luck we could be given, if the world (the world) should stop (should stop), we'll still have each other, and no matter what (no matter what) we'll be forever as one". What's apparent is that S Club 7 understand – and embrace – the purpose their backing vocals serve within the song. They aren't just glorified session singers; there's still room for enthusiasm and personality in abundance. At its finale: "No matter what (no matter what) we'll be forever as…no matter what (no matter, no matter what) we'll be forever as…no matter what (no matter what) we'll be forever as one", Two In A Million evokes a wholesome warmth that is wholly consistent with the group's appeal.
The day before this single was released, the TV special Boyfriends & Birthdays aired on BBC One (it was also repeated on CBBC the following day). Like Back To The '50s a few months earlier – which promoted S Club Party – it used the same format of S Club 7 playing fictionalised versions of themselves and bridged the gap between TV series' as they travelled from Miami to LA. The plot this time involved Rachel Stevens being given an ultimatum by her long-distance boyfriend: quit the group or end their relationship. She initially chooses to return to the UK, though soon changes her mind and ends up being dumped over the phone. It gives a perfect opportunity for Two In A Million to be heavily featured no less than three times.
The music video for this single was the first that existed entirely separately from any of S Club 7's broader media ventures (Bring It All Back was peppered with clips from Miami 7, while S Club Party was essentially an excerpt from Back To The '50s). It has a day-and-night theme where the group relax in a plush villa – in blazing sunshine, thus remaining pointedly on-brand – and then start getting ready for an evening soirée around the pool. Mild chaos ensues as the already-clean-shaven boys have a shaving foam fight in the bathroom before writing an 'S' on the steamed-up mirror, while the girls collapse into fits of giggles trying on outfits in the bedroom.
The party itself, however, is a far more sensible affair as the group performs the song – with full choreography, of course – styled in smart black attire, which is probably the most mature image of S Club 7 as popstars that had yet been presented. However, if the group are trying to appear serious, they're rarely able to maintain the façade for long; the exuberant chemistry and banter coherent with that of their TV personas isn't ever far from the surface, which emphasises just how well their identity and dynamic had been shaped.
With five new entries – and one re-entry (John Lennon's Imagine) – in the top ten, Two In A Million/You're My Number One made a reasonably strong debut at #5 in the UK, considering neither song was significantly altered from the versions already available on S Club 7's debut album, S Club. However, once the Christmas rush was over – and several festive-themed tracks dropped down the chart – the single eventually climbed to a peak of #2. And though ales of 300,000 copies put Two In A Million/You're My Number One among the group's less successful releases (it's their seventh biggest seller overall), that's more a demonstration of how well their singles tended to fare overall. Indeed, both songs were popular enough to sustain interest in S Club through the festive period; it continued to dip in and out of the top ten several months into the new year, despite this marking the end of the album campaign.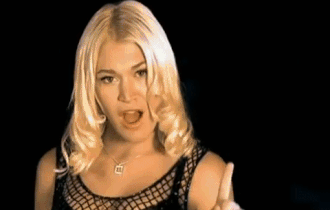 Because just like that, almost as quickly as it launched, the S Club album was done, and the focus promptly shifted to LA 7, along with a brand-new album. Though, unbeknownst to fans at the time, they'd already heard the lead single because while Boyfriends & Birthdays primarily existed as a vehicle to promote Two In A Million, the S Club 7 juggernaut was so slick that it also featured the very first performance of Reach several months before it was officially unveiled as the theme tune to LA 7.
---