Released: 20th September 1999
Writers: Hallgeir Rustan / Hugh Atkins / Mikkel S. Eriksen / Tor Erik Hermansen
Peak position: #2
Chart run: 2-2-7-14-23-27-32-31-30-45-59-70-X-X-68-72
---
For their second single, S Club 7 continued to defy expectations by releasing a track that was essentially an extended jingle designed to help further strengthen the group's branding.
S Club Party had something of a dual-purpose. For those who hadn't watched Miami 7 – or those with a very short memory – it would further consolidate and memorialise the personalities established in the hit BBC show. For S Club 7's already sizeable fanbase, this was an opportunity to see the group in action as a posse. The track extended an offer to join the gang and be part of the in-crowd while everyone else was still catching their breath. And you have to say that S Club Party succeeds on both counts, giving S Club 7 a signature hit and a motto that would follow them for the duration of their career. Of course, there was a bit more to the single than smart marketing – at its core was a brilliant pop song that pushed the already-established dynamics within the group to new – and at times deliriously euphoric – extremes.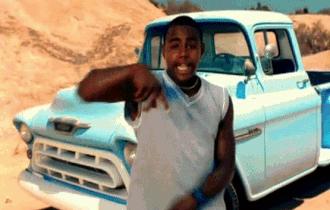 However, almost immediately S Club Party was thrust into a minor controversy when it was alleged that the song was a not-too-subtle re-write of Say You'll Be There by the Spice Girls. The two acts had Simon Fuller in common, of course. And admittedly, both tracks saw their respective groups traipse into the desert to film the video. Look, we don't want to call it lazy journalism, but it seems a bit of a stretch to draw any meaningful similarity between the two songs, other than on those two points. Both are brilliant, but very much in their own way.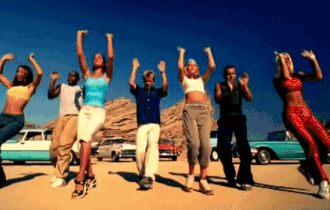 As raucous pop anthems go, S Club Party is a comparatively politer, more considered effort. Nonetheless, its intention is the same – to get everyone singing along at the top of their voice and flailing their arms, usually in a vaguely S-shaped fashion. Every part of the song is neatly devised to keep the momentum going – the stanzas are short, and the rhyming is simple: "Finally Friday night, feelin' kinda good, looking alright; gotta get moving can't be late, gotta get grooving just can't wait – OH!" Structurally, the track focuses on delivering a melodically satisfying experience with each beat. Indeed, it's the relative lack of surprise that makes it so successful. You can more or less anticipate where the song is going at every turn – and rightly so. If the S Club ethos was inclusivity, then there's scant chance of anyone getting left behind.
Of course, central to S Club Party was its need to entrench the seven personalities of the group with the general public. And what better way to do this than by using the entire second verse as a roll call:
Tina's doing her dance
Jon's looking for romance
Paul's gettin' down on the floor
While Hannah's screaming out for more
Wanna see Bradley swing
Wanna see Rachel do her thing
Then we got Jo, she's got the flow
Get ready everybody, 'cause here we go
A moment, please, for the sheer brilliance of it all – and the way it was neatly captured within the music video. We've all done Jo's hair ruffle – Every. Single. Time. Indeed, S Club Party never misses a trick when it comes to audience engagement. Anyone who'd been to a pop gig at the time would be familiar with the: "Ooh-ooh!" chant that would occasionally reverberate around the audience (do people still do that?). The track, therefore, goes one better and works it into a hook: "Ooh-ooh! Wave your hands in the air, ooh-ooh! Like you just don't care".
There's even that slightly unflattering middle-eight chant: "Hoochie mamas, show your nanas" – throwing in some American slang works in the context given how much time S Club 7 had spent Stateside. And it makes perfect sense in a most nonsensical manner – as was often the case with '90s pop music. In an unspoken sense, we know what they were referring to. But in actual terms, we would not imagine that Jon, Paul and Bradley were intentionally shouting: "Women of low morals, show your vaginas" towards their female bandmates. Even the alternative: "Women of low morals, show your grandmother" is scarcely an improvement.
S Club Party was already onto a winner with its many components – but easily the best bit of the song is the final minute. The build-up is excellent; the production drops everything but the beat for half a chorus and then launches itself into the most stratospheric key-change of S Club 7's career. It wasn't their first, and it certainly wouldn't be their last – but for us, it's indisputably their best. It lifts the song to the point of intense celebration; the sort where – in the right context – you almost feel you could pop with delight. If there was such a thing as absolute perfection in pop music than the finale to S Club Party is a strong candidate. The chorus ("S Clu-u-u-u-u-u-b, gonna show you ho-o-o-ow"), the ad-libs ("Take you HI-I-I-GH"), the scat outro ("do-do-do-do-do-uh-YEAH") – it's all comes together in a beautiful moment of indulgent brilliance that still makes us incredibly grateful to have lived through an era of such unbridled, unashamed joy.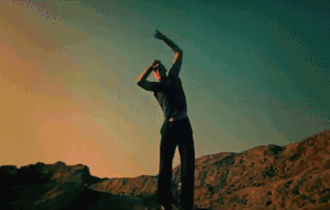 The release of S Club Party also saw S Club 7 continue their multimedia takeover; accompanying the single was a standalone TV spin-off called Back To The '50s. We're going to presume that most people will be able to guess what the general gist is here. As a gentle pastiche of movies like Back To The Future and Grease, the show was very much a stopgap between Miami 7 and the as-yet-unannounced LA 7. It finds the S Club facing off against a rival (non-musical) gang called the Rockets and culminates in a good old-fashioned car race – apparently the only way to resolve any dispute with your peers in the 1950s. Some of the finer points of time travel are a little woolly – particularly around the group's never-mentioned-again new pal Chuck. The band are tipped off (via a newspaper from the following day) that if he drives in the race, he will die – so instead Rachel takes the wheel to spare his life. Presumably, this raises the possibility that it will be she who dies instead? Thankfully, due to a contractual obligation for her to appear in the next series of the TV show, she wins the race and the band return to the present day. Conveniently for those who missed Back To The '50s, the whole premise was condensed down to create the music video for S Club Party. Like the song, the brand identity was fiercely strong, creating perhaps the most memorable visual where each member of the group jumping and writing an 'S' in the air. Hannah and Bradley: excellent form. Jo: must try harder.
S Club Party was a huge hit – in all likelihood, it would've been without the accompanying Back To The '50s TV special – but no-one was taking any chances. With a blitz of promotion, the single entered at #2, where it remained for a fortnight. It set the tone nicely for the group's debut album S Club, which also entered and peaked at #2 just a few weeks later. S Club Party is the group's sixth biggest selling single overall – but as an unofficial slogan to accompany the group, it's still one of the most prominent parts of their identity. Bloody brilliant.
---