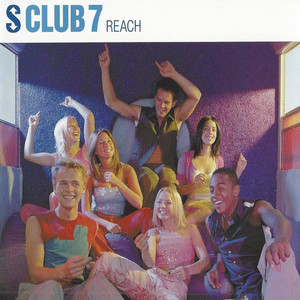 Released: 22nd May 2000
Writers: Andrew Todd / Cathy Dennis
Peak position: #2
Chart run: 2-2-2-4-9-13-18-21-23-23-26-27-29-37-38-51-71
---
With their debut album, S Club 7 had achieved a lot. But one thing arguably eluded them, and that was a signature hit that could be a karaoke-standard and fixture in every DJ's repertoire. All of that changed with Reach, which for better or worse was destined to become a song that would haunt TV talent shows, hen parties and family discos for years to come.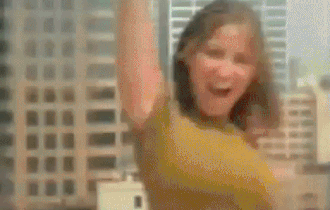 Although Reach was the lead single from S Club 7's second album, it was initially recorded for their debut and featured in 1999's Boyfriends & Birthdays TV special (broadcast following the conclusion of Miami 7). That doesn't reflect particularly well on its credentials as a lead single, but the track was significantly beefed up for its eventual release. Fast forward six months, and Reach re-appeared as the theme tune to LA 7. Like Miami 7 before it, the (very) loosely weekly autobiographical television show followed S Club 7's endeavours to find fame in America while introducing the audience to songs from their new album.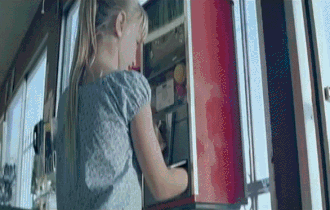 Reach is very much cut from the same cloth as Bring It All Back thematically; it's a pop anthem of empowerment and self-belief, encouraging pop fans to follow their dreams. However, Reach connected far more successfully with a broader audience for several likely reasons. The first is the sound; in the same way that You're My Number One plumped for a pastiche '60s vibe, so too did Reach. Constructing a song around a recognisable sound from the echelons of music history immediately gives it a somewhat timeless appeal. There's very little about the song that sounds identifiably mid-2000. Indeed, the only thing definitively linking it to that era of pop music is S Club 7 themselves. It's, therefore, a convenient song to slip into any party playlist. Although the track certainly reached a point of overplayed saturation at one time, it hasn't ever really aged as such.
The other notable aspect of Reach is that as a "call to arms" on the dancefloor, it's incredibly well defined. A mere mention of the: "I've got you and you've got me so…" pre-chorus immediately conjures images of drunken arms flailing across the dancefloor as people haphazardly gesticulate towards one another singing the lyrics aloud. The track could barely be more instructional for how it wants the audience to react when they hear the words. And while that may not feel applaudable, Reach deserves credit for boiling down its elements to their purest form. The chorus itself is little more than a series of commands that create their own dance routine: "Reach for the stars, climb every mountain higher, reach for the stars, follow your heart's desire, reach for the stars, and when that rainbow's shining over you, that's when your dreams will all come true". That sentiment extends to most of the song; the second verse in particular, with its: "Fly away, swim the ocean blue, drive that open road" almost makes a packed dancefloor look like it's playing pop music charades.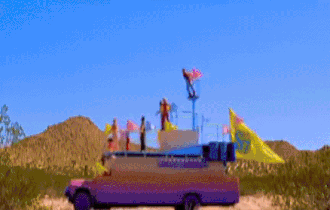 Reach achieved such ubiquity that some may feel it's beyond the point of redemption. Indeed, this probably isn't a song fans want – or need – to go out of their way to listen to. But there's a lot to appreciate and enjoy here. The production is as uplifting and effervescent as could be; even by bubblegum pop standards, it's remarkably bouncy and maintains that energy from start to finish. The second verse is dreamily theatrical with Jo's ad-libs and Jon's harmonies, while Paul's middle-eight: "Don't believe in all that you've been told, the sky's the limit you can reach your goal, no-one knows just what the future holds, there ain't nothing you can't be. there's a whole world at your feet" is brimming with likeable sincerity. The absolute highlight of Reach, however, is the key-change. For a song already high in energy, it's a moment that induces sheer pop delirium. From the high-pitched: "Oooooooooh!" to Paul's slurred scat-esque breakdown through to the: "Shining! Shining! Shining! SHINING!" chants towards the fade; the track loses any sense of order it had in the build-up to the climax and collapses into joyous chaos.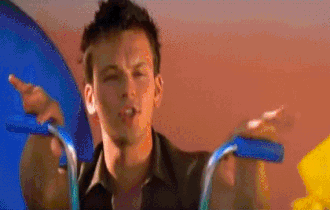 The accompanying video for Reach finds S Club 7 driving through a humdrum town on a colourful boat-bus-carnival float hybrid vehicle. It spews out gumball candy and pink exhaust fumes (pollution was clearly not high on the pop agenda at this time), transforming the surroundings into a more vibrant, exciting guise. It's a fairly simple concept, but one that links nicely – as a broad thematic extrapolation – to plots that featured in the group's TV shows. The notion of S Club 7 sweeping unexpectedly into people's lives, making things a bit better and then disappearing again is complemented with enough of their personalities so as not to feel trite. It's not necessarily as slick as some of the videos being created by their immediate pop peers, but like many aspects of S Club 7, being a little rough around the edges was all part of the charm.
Reach was a massive success upon its release, spending three weeks at #2, nestled behind Sonique's It Feels So Good. The track almost immediately became a signature hit for the group, coinciding with their first and only #1 album, 7. It ended 2000 as the 11th biggest-selling single (464,000 copies) but has remained one of S Club 7's most popular songs in the streaming era, with combined sales now sitting at 1.1 million copies (it'll almost certainly overtake Don't Stop Movin' to become their highest-selling single before long). The downside of Reach's broad appeal was that it rapidly reached saturation point, particularly when later used as an audition song for ITV's Popstars. Yet, with a bit of time and space, it is still possible to appreciate this as an effervescent bubblegum pop masterpiece. Furthermore, the track helped set a precedent for the 7 campaign as a significant step up on what had come before and was imperative in kickstarting S Club 7's imperial era.
---