Released: 3rd October 2005
Writers: Jewels & Stone / Rob Davis
Peak position: #12
Chart run: 12-25-36-42-69
---
Rachel Stevens went all out on I Said Never Again (But Here We Are), the third-ish single from her forthcoming second album. Although it was difficult to feign surprise when the track had already leaked onto the internet months before its release.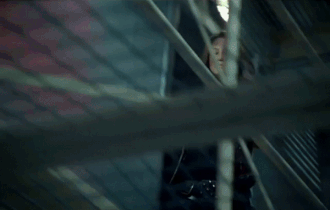 No-one was openly admitting it, but the Come and Get It campaign had hit a stumbling block. Somewhere between her first and second albums – which amounted to roughly six months – the response to Rachel Stevens had turned decidedly lukewarm. The #10 peak of Negotiate With Love could just about be explained away due to it being an unexpectedly offbeat lead single. But alarm bells started ringing when So Good did the same a few months later because it was a bigger, bolder track in every respect and one that seemed intentionally geared to do everything that Negotiate With Love ostensibly did not. So, what next? Well, Polydor didn't seem to know. Recipients of the Rachel Stevens mailing list started receiving questionnaires asking them to rate everything about her – image, voice, music, videos – including an assortment of mock album covers. In the politest way possible, it was trying to quantify whether she was bland. It's not to say that fan feedback isn't valuable, but surely the label was asking the wrong people. If you'd taken the time to sign-up to a mailing list and respond to a survey about Rachel Stevens, chances are you were already within the (shrinking) demographic of people buying her material. So, it's unclear what new information would have been gleaned from the endeavour. All the same, that wasn't the major mistake Polydor made. In mid-July – some three months before Come and Get It was due to be released – they issued an album sampler for promotional use, presumably to test the waters. Except it wasn't a sampler. It was the whole album. And very quickly, it found its way onto the internet. Even as early as that, you could argue the writing was on the wall.
If there's one upshot, it's that as it happens, Come and Get It was very good indeed. Probably better than anyone expected. It represented a considerable step up in terms of quality and direction from Funky Dory. If there was any chance of clawing back some ground as positive word-of-mouth spread, then Polydor needed to release the right single. I Said Never Again (But Here We Are) was easily the best chance at convincing people that maybe – just maybe – they'd gotten Rachel Stevens all wrong.
With a frantic Schaffel beat tap-dancing its way through the track, squelchy electric guitar riffs tearing through the melody and an opening shout of: "One, two, three, four!" there's a glam-rock, punky '80s energy about the whole thing which is utterly bewildering in the very best way. It sticks out as sounding unlike anything else at the time, or indeed since. That worked for Girls Aloud – who are probably the only other act you could imagine performing this – because they quickly established a brand within which anything was possible; therefore, everything made sense, even when it shouldn't have. Rachel Stevens' musical identity had never been as clearly defined. So I Said Never Again (But Here We Are) has the riotous, rebellious energy of a song that's gone rogue and is just doing whatever it bloody well wants to.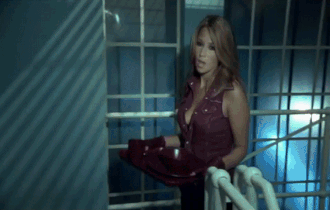 Pivotal to that is Rachel Stevens herself. Criticism of her passivity wasn't entirely fair because she was often merely giving to the songs precisely what was required of her. However, this is easily the most engaged and purposeful she'd sounded, with just a hint of sass creeping into her delivery: "I said no, no never, we don't go together, oh, I really couldn't take anymore". From Richard X's account of Some Girls, we already knew that Rachel Stevens was well aware of what she was singing about, even if her performance didn't let on. Thus, it's reasonably safe to presume the same is true here, as – without flinching – she coolly recounts: "Now it's two weeks later, I feel such a traitor, oh, I let you in my back door". Crucially, there's no attempt to overplay the innuendo, and neither does I Said Never Again (But Here We Are) trade on double-entendres in an effort to prove how subversively clever it is.
Instead, the track focuses on being a relentless, rollicking three-and-a-half-minute ride; and doesn't it ever succeed. From glass-smash sound effects and juddering vocal distortion ("I'd be…better off without you") to the muffled, throbbing: "'Cos I can't let go, I can't take no more, boy, I want you so, oh-oh-OH" middle-eight, the production throws everything at the wall. Was there a hint of desperation? Maybe. But I Said Never Again (But Here We Are) doesn't so much come out swinging as it does thrashing around in every direction with a rousing, anthemic call to arms: "(woah-oh!) You're the one who's creeping (yeah-eah!), rough love's so deceiving, I said never again but here we are (woah-oh!); a pure, pure sweetness (yeah-eah!), you're my only weakness, I said never again but here we are". If Rachel Stevens needed people to sit up and take notice, then she was taking no chances with this song.
In a further bid to conserve the budget broaden the reach of I Said Never Again (But Here We Are), the music video was filmed on the set of the '90s/'00s British television institution Bad Girls. The show delighted and horrified in equal measure (apologies if you're now mentally re-living the grisly death of Yvonne Atkins), but none of that is present here. Instead, the jailbird concept is used in the most functional way possible: Rachel Stevens struts around with a posse of prisoners; she chalks a tally of days onto the prison wall, and she uses visiting time as an opportunity to berate her partner. You can count off the tropes one by one, and although it might be a stretch to label a video featuring prison inmates performing choreographed dance sequences as po-faced, neither does this feel as audaciously fun as it could have been (a similar concept was executed much better in S Club's Seeing Double movie). Moreover, the shadowy aesthetic feels like a misrepresentation of the Come and Get It campaign at such a crucial point and one that – although we didn't know it at the time – would be the last opportunity to contribute to the overall image of the album. It wasn't all bad, though. The concept provided the basis for a prison escape CD-ROM game, which was included on CD2 of the single. So, there was that, at least.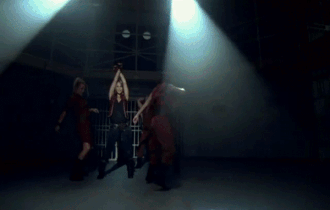 What went wrong – from a commercial perspective – with Come and Get It has long since been a subject of debate, discussion, and speculation. The truth is, we'll never know. Sure, maybe people wanted more from Rachel Stevens as a pop personality; I Said Never Again (But Here We Are) certainly seemed like a conscious attempt to project a vivacious image. And perhaps there is an argument to be made that the singles from Funky Dory were too scattershot and made it seem as if the concept of Rachel Stevens as a solo act existed before any clear direction for her material, resulting in a debut album that felt hurriedly patched together. However, there's one unavoidable factor that can't be overlooked. Ironically, it's the one thing that has memorialised Come and Get It as one of the most essential pop albums of the '00s and the reason we are still talking about it today: the internet. This was a transition period for the UK charts, and record labels were grappling with the immediacy of downloads versus the traditional model of a physical release after weeks of promotion (and pressure to preserve over-the-counter sales). Because Come and Get It and I Said Never Again (But Here We Are) had leaked months before their eventual release Polydor were in a tough position. For a single to chart on downloads, it had to have a physical counterpart, and digital albums weren't counted at all until 2006. So, they either had to pull the entire project forward – way ahead of schedule – or stick to the original plan. This was uncharted territory, and perhaps unsurprisingly, they opted for the latter…
Trying to muster up excitement for a song that is the very definition of a shower, not a grower after almost three months of availability, was too big of an ask. Consequently, I Said Never Again (But Here We Are) peaked at #12 in the UK, which was the first blow. Although Funky Dory had missed the top ten, it could be passed off as a blip. However, an unwelcome pattern had emerged here: Rachel Stevens was treading water. You could just about turn a blind eye to Negotiate With Love and So Good reaching #10, although both were clearly intended (and deserved) to be much bigger hits. But something just was not clicking, and even though it was a reasonably busy chart week, Rachel Stevens should have had a clear path into the top ten going up against new releases from Depeche Mode, Bloc Party and Ricky Martin; all of whom finished ahead of her.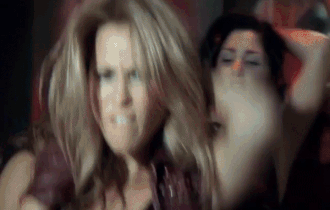 Thus, all eyes turned to Come and Get It in the vain hope that there would be a last-minute plot twist. But this was an album that contained a clutch of modest hits – plus Some Girls, for good measure – as leverage and had been floating around the internet for months. Even in the best of circumstances, this could have gone either way. Sure, Polydor rejigged the tracklist (although it's not even really debatable that this served any meaningful purpose given the original running order was perfect), and a new mix of Nothing Good About This Goodbye was included. However, Come and Get It was fundamentally unchanged and crept into the chart at #28 despite a slew of positive reviews. This raises a dilemma because adding material at a late stage risked watering down the album and would also have been rewarding piracy, so that wasn't necessarily the correct response.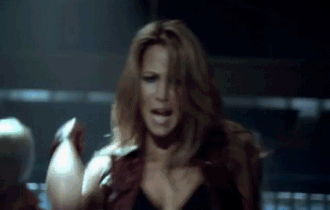 Nonetheless, it did feel as if Come and Get It sleepwalked into a self-fulfilling prophecy by adamantly pretending that the leak hadn't happened or making any kind of contingency for the impact it might have had on sales. However good I Said Never Again (But Here We Are) is, the single couldn't reverse time and create anticipation for an album that had already happened. But that was precisely how it was treated.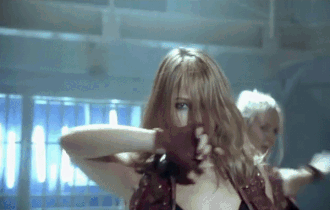 And so, that was it for Rachel Stevens' solo career. Plans to release Nothing Good About This Goodbye were shelved (although there was a GMTV performance), and she quietly parted ways with Polydor. Could the campaign have gone on a little longer? Probably. Even at this point, Rachel Stevens remained a high-profile act, and another top 20 single was well within her reach. However, controversial a statement as this may be, the fate that befell Come and Get It and how the entire project came to a grinding halt is an integral part of the album's legacy as one of pop music's best kept secrets. It's a towering masterpiece (a work of pop art, if you will) that is filled with limitless possibilities of what could have been. There's no question Come and Get It deserved more commercial acclaim, but would it ever have attained that or merely run Rachel Stevens' good name into the ground? Sometimes, it's better not to know.
---