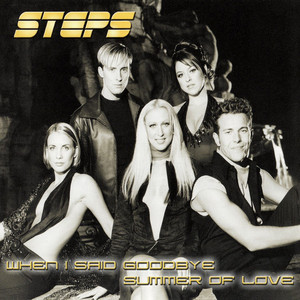 Released: 3rd July 2000
Writers: Mark Topham / Karl Twigg
Peak position: #5
Chart run: 5-6-13-20-24-29-41-50-54-59-72
---
Almost a year after the lead single from Steps' second album was beaten to #1 by Ricky Martin's Livin' La Vida Loca, the group rounded off the Steptacular campaign with their own take on the Latin-pop craze.
It's fair to say that the announcement of When I Said Goodbye as the final single from Steptacular caused a degree of consternation. There was always going to be a degree of risk attached to any fifth single from Steptacular, given the law of diminishing returns and the fact that by mid-2000, it had sold over a million copies. However, a sombre ballad seemed a curiously off-brand way to draw the album to a close, but all was not as it appeared. Tucked onto the setlist of the group's third tour – which had opened back in May of 2000 – was a brand-new song: Summer Of Love. Accompanied with a full dance routine, suddenly it all made sense when the track was announced as a double-A side with When I Said Goodbye (well, it was either that or H and Lee's cover of Things Can Only Get Better).
This is not the first time Steps had used a double-A side to strategically bridge the gap between two albums. However, while Heartbeat and Say You'll Be Mine would undoubtedly not have been as successful as they were without their respective double-A side additions (and that's something of an understatement where Tragedy is concerned), both could feasibly have been hits in their own right. However, When I Said Goodbye would have been a tough sell to even the most loyal Steps fans. Not just because it was coming at the tail-end of the Steptacular campaign, but also because it was very much the antithesis of what Steps had come to represent. Thus, Summer Of Love became something of a necessity this time around and was – in many ways – the main selling point, despite When I Said Goodbye taking such prominence.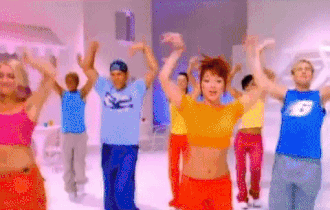 The song is something of an anomaly in that it genuinely feels as if it belongs somewhere between Steptacular and Buzz. It has all the riotous, bombastic energy of the former but a degree of deviation from the group's formula that came to the fore in the latter. Moreover, with an obvious nod to the Latin-pop craze, it's also one of the few times – alongside their dalliance with Swedish songwriters – that a current(ish) chart trend infiltrated the Steps sound. There was every risk that Summer Of Love could have gone down the pastiche route; indeed, that's undoubtedly what many would have expected. Instead, the group manage to put their own spin on the subgenre with reliably impressive results.
Everything about this track is ramped up to the max. The Bohemian Rhapsody-esque intro: "Dance it's the summer of love, tonight the fiesta will come, ah-ah-Ah-AH-AAAAAH" (how high can you go?) drops into a pounding beat reverberating with pulsing synths. Although Summer Of Love isn't as outwardly melancholic as Deeper Shade Of Blue, the verses certainly fit within that mould and continue inching Steps towards a moodier, dancier direction. There's a smouldering intensity here, with lyrics that credibly conjure the hedonistic fantasy of a carefree summer: "The night is when friends become lovers, and people are lost in their dreams, tomorrow the spell may be broken, so celebrate love and be free".
Yet, Summer Of Love doesn't ever take itself entirely seriously and sees Steps gleefully play to the conventions of the genre. There are cheeky nods to the broader context of the song's existence ("Tonight we live la vida loca"), Spanglish lyrics ("Tonight is the night of our lives, de fruta la vida that's right") and – of course – Lee's dramatically whispered: "Pienso que te quiero" during the middle-eight. Tonally, the shift in Summer Of Love away from the theme of heartbreak works incredibly well, allowing the chorus to ring out as a joyous celebration of togetherness. The whole thing is brilliantly daft, but perhaps the biggest testament to how well it works is that it immediately (and enduringly) feels like a Steps song through-and-through, rather than a cynical attempt to jump on the bandwagon.
Indeed, Summer Of Love uses its position well. Although it would inevitably end up on Buzz, it wasn't the lead single per se, and so it does try some new things. Along with the cold open, there's a hooky "You-yeah, you-yeah, da-da-dun-da" outro – complete with obligatory flamenco guitar – and after the song winds up for its final chorus, it's given an exhilarating rush of momentum by cutting in halfway through. To say that Summer Of Love tears up the rulebook is probably pushing it a little bit. Nevertheless, there is more creativity here than the song is often given credit for, which provides it with a frantic and slightly unpredictable energy. Moreover, the track moves with such pace that you'd scarcely believe it's almost four minutes long because it zips by in a flash.
Visually, Summer Of Love also tries something a little different and, in doing so, creates one of Steps' most distinctive music videos. The group's identity was built around the notion that their songs were accompanied by easy-to-follow dance routines, which became a core part of their appeal. But, for the first time, the whole video is built around the choreography and staged like a musical (with reference to West Side Story). It's also strongly reminiscent of GAP adverts from around this era and features 'good Steps' (in their vivid coloured outfits) facing off against 'bad Steps' (who dress in dark, torn clothing and spend a lot of time pouting). It's a really smart concept because it allows everyone to be spaced out in a way that makes it obvious where the shots were stitched together to create the effect of them being on-screen simultaneously but fits the accepted dynamics of a musical sequence.
Even though it's 'good Steps' who eventually emerge victoriously, it's actually 'bad Steps' who get more screen-time, as they also feature in cutaway shots that pepper the video. This was another sign of the direction in which the group's image was starting to move. Early in the Steptacular campaign, it would surely have been 'good Steps' who we saw here since that was very much consistent with their marketing up until Deeper Shade Of Blue. But Buzz would project a more subdued, cooler identity onto the group. While Summer Of Love features an extreme version of that, it really isn't a million miles from much of the styling that accompanied their third album.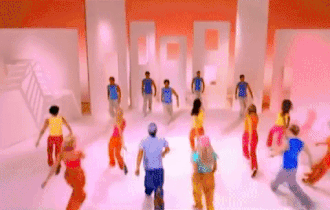 Steps have been involved in their fair share of close chart battles, and rarely do they end well. However, When I Said Goodbye / Summer Of Love was one of the most unusual of all because the midweeks reported the single as being neck-and-neck with The Corrs' Breathless in a race for the top spot. It was nail-biting stuff…but in the end, the result wasn't even close at all. Steps sold 52,500 copies to peak at #5, almost 30,000 copies behind The Corrs. It's certainly not a bad outcome for what was essentially the fifth and final single from Steptacular, which itself rebounded to #22 after more than six months on the chart. But you have to wonder just how much of a fight it could've put up if Summer Of Love had been pushed to the front and centre here (the cover artwork didn't exactly jump off the shelves), and they'd released an additional format.
It might have been a little late to the party, but Summer Of Love still managed to put a uniquely Steps-twist on the Latin-pop craze. Although this went on to become one of the group's lower selling singles, the track has remained an integral (and conversely well remembered) hit for them because there's little else like it in their back-catalogue.
---