Released: 13th December 1999
Writers: Mike Stock / Matt Aitken / Pete Waterman
Peak position: #4
Chart run: 7-8-4-4-14-19-32-38-38-44-50-60-56-63-73-68-59
---
The final few weeks of 1999 saw just about every pop act enter the fray in a bid to score the last #1 of the millennium. And Steps were no exception as they once again dug deep into the archives and resurrected a bona fide classic.
Better The Devil You Know is a rather intriguing cover version in that it could really only ever have existed at this point in time, sandwiched between Kylie Minogue's indie phase and her triumphant pop comeback. Although she signed to Parlophone in 1999, this was still very much part of the wilderness years from a commercial perspective. It had been five years since her last top ten hit, and many media outlets had written her off. Thus, there was little reason to suspect that Better The Devil You Know should be unlike any other cover from the bubblegum pop era. Under Pete Waterman's watchful eye, Steps could breathe new life into the song and introduce it to a new audience. It might have seemed rather brazen for them to release a brand-new track just two months after Steptacular, but if they stood a chance at competing for the Christmas #1, they didn't have many other options. The album had sold tremendously well – spending four non-consecutive weeks atop the chart – so, Say You'll Be Mine alone was unlikely to be enough to keep them in the race. However, as a double-A side with Better The Devil You Know, it gave Steps the edge they needed to stay in contention.
However, this was a slightly different prospect from their previous cover versions. Last Thing On My Mind was only ever a minor (#72) hit for Bananarama in the first place, while two decades had passed before Steps took Tragedy back to #1. Not only was Better The Devil You Know still comparatively recent – having been released in 1990 – but it also held an important legacy. Released as the lead single from Kylie Minogue's third album, Rhythm Of Love, this was essentially her I'm A Slave 4 U: a coming-of-age track that marked a departure from the squeaky-clean image and sound with which she'd made her name. Peaking at #2, critics and fans alike held Better The Devil You Know in high regard, so it wasn't entirely clear what Steps could do with the song that hadn't already been done. Besides adding one of their trademark dance routines to capitalise on the festive party season, of course.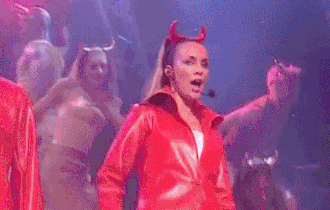 In many ways, it's rather sensible they didn't try to do much more than that. Any changes are mainly superficial; the throbbing synths from the original are traded for a hi-NRG production that bursts into life and bumps up the pitch. The smouldering, intense sensuality isn't there anymore, but it doesn't really need to be because that isn't what Steps are trying to do with Better The Devil You Know. Instead, this is all about getting people to the dancefloor as quickly as possible. And while it's easy to talk about what isn't there (the trippy: "I'll take you back…" middle-eight is sadly absent), rarely does the group get credit for what is there. Because underneath the trademark drum kicks, there's a stirring-yet-subtle melancholic aura – most notably in the piano riffs accompanying the second verse – which ensures Better The Devil You Know still sounds cohesively like a Steps song should.
Vocally, the track is an absolute treat (although H and Lee might have something to say about that) and perfectly arranged. Positioning Claire to tear through the first verse: "Say you won't leave me no more, I'll take you back again, no more excuses, no no, 'cos I've heard them all before, a hundred times or mo-oo-oore" is a smart choice because her voice is so different to Kylie Minogue's that the song defies any straightforward better-or-worse comparison. Having set the standard for how Better The Devil You Know sounds in Steps' hands, the second verse is handed to Lisa. The glint in her eye is unmistakable as she bursts to the fore: "Our love wasn't perfect, I know, I think I know the score, if you say you love me, oh boy…". Her reading of the lyrics exudes all the cheeky, fun energy the group is spinning on the track before Faye concludes with a middle-eight reprisal of the first verse. It's probably here that the two versions of Better The Devil You Know align most closely. The production is reduced to a shimmering beat, offering a brief moment where the track drifts away to a place of distant, pensive disco heartbreak; of a person willing to settle for less than they deserve because this might be as good as things will ever be. It's pretty depressing stuff…but there's little time to ruminate because the party atmosphere soon returns as Better The Devil You Know strides to a triumphant: "Woah-woah-WOAH"-laden finale.
Although the stakes were high for this final chart battle of the millennium, Steps' relentless schedule meant there was no time to film a music video. So instead, a live performance from the recording of The Next Step tour – released on VHS alongside Steptacular – was used. While this sort of thing isn't usually hugely appealing, Better The Devil You Know bucks the usual trend, somewhat. Seeing Steps dressed in red coats and devil horns underlines that the song is being treated in a much more literal sense, but this was the era where their singles were still accompanied by colour-coordinated visuals, so what else were they going to do? Particularly when the tour was broadcast via Sky Box Office on October 31st (they even threw in a bonus performance of Ghostbusters to mark the occasion). As simple as the staging is for Better The Devil You Know, it's highly watchable thanks to the sheer personality Steps exude. They don't play up to the cameras, but there is a sense of them knowing that a wider audience was watching and thus showing what the group was all about. Just in case there was anyone left who didn't know. Indeed, although live videos often felt like filler, this one works so well that it doesn't ever feel like a missed opportunity to have delivered a better or more appropriate concept.
With so many acts piling into the final chart of the millennium – there were five new entries and one re-entry in the top ten alone – the outcome was going to be a mixed bag. Indeed, just the previous week, B*Witched, TLC, Thunderbugs, Bryan Adams, Enrique Iglesias and Lou Bega had all underperformed considerably. Steps got off to an uncharacteristically slow start, and Say You'll Be Mine/Better The Devil You Know came perilously close to breaking their run of consecutive top-five hits, debuting at #7. However, the new year saw several singles benefit from the typically quiet time for releases, and Steps eventually climbed to achieve a peak of #4. Despite its popularity (this is their eighth biggest seller overall) and the fact that Better The Devil You Know is very much Steptacular-era material, the track wasn't included on an album until Buzz almost a year later.
The legacy of Better The Devil You Know is an interesting one because the immediate success Steps enjoyed with it meant Kylie Minogue had to rethink her approach. She gave a diplomatic response when asked what she thought of their version in 2000 ("It was quite…clever of them") but ended up re-working the song into a big band number (groan) for her On A Night Like This… tour due to concerns that younger fans would now think hers was the cover version. Of course, there's no such concern these days; Better The Devil You Know is recognised and routinely celebrated as the classic that it is. However, the song has also remained an integral part of Steps' legacy, far more prominently than Say You'll Be Mine. It's been a tour staple whose appeal has never diminished, even after Kylie Minogue reclaimed the song as her own.
There's always a tendency to try and compare cover versions to the original. But in this case, the two happily co-exist alongside one another, and both serve a purpose as the definitive version for their respective artist. In the end, that's a pretty good outcome, whichever side of the fence you sit on.
---