Released: 15th October 2001
Writers: Chad Hugo / Pharrell Williams
Peak position: #4
Chart run: 4-7-12-20-23-36-44-57-51-48-48-49-59-72
Billboard Hot 100 chart run: 68-58-58-55-49-40-27-36-42-50-64-84-88-89
---
By 2001, the world thought it knew what to expect from a new Britney Spears single. So, as she prepared to launch her third album, we waited on tenterhooks for another reliable Max Martin-penned bubblegum pop classic. But Britney had other ideas, and from the opening beats of I'm A Slave 4 U, it became clear that everything was about to change…
It's not possible to understate the shockwaves that this track sent through the music industry. Here we had the archetypal teen icon of the bubblegum pop era actively ditching the formula that had established and consolidated her success. There was little precedent set for what Britney Spears sounded like without Max Martin and the now-defunct Cheiron Studios. Her first two albums were loaded up with a fair amount of filler and the only single to have tried anything different was her most recent, Don't Let Me Be The Last To Know, which also became her worst-performing. Thus, for the launch of Britney's self-titled third album, the expectation was for a return to her reliable hitmaking team.
And maybe that is what Jive Records would have preferred. But things were changing behind-the-scenes, and with their teen acts coming of age, the label had to find a way to appease a growing desire to diversify their sound without alienating the sizeable fanbases that had been built up during the previous two years. Jive may well have been buoyed by the success of *NSYNC, who had already made a significant leap with the Celebrity album and returned first-weeks sales of 1.87 million a few months earlier. And it's fair to say that when it came to Britney Spears, any such evolution in her material was treated cautiously; the Britney album was very much a tentative step forward. But I'm A Slave 4 U­ – as the lead single – was nonetheless an unprecedented statement. Amid panicked whispers (Where are the hooks? Where is the chorus?) emerged a behemoth of a song that would change the trajectory of Britney's career for good.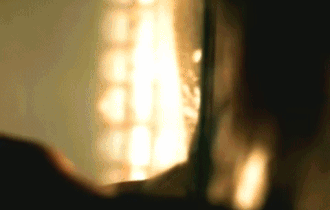 Like so many of the songs that fortuitously fell into her hands, it's hard to imagine it being performed by anyone else. But the track – written and produced by The Neptunes – was originally written for Janet Jackson (along with Boys, the duo's only other contribution to the album). But the timing of I'm A Slave 4 U was so, so perfect for Britney in terms of its lyrics. Very few artists would be able to release a song with that title (welcome to the age of 'txt spk') and sell the narrative that it's actually about dancing. But for someone like Britney Spears – who'd spent the last few years energetically flinging herself around on stage – it was readily believable. That's not to say there wasn't a sexual undertone to the piece, but rather than coquettish suggestiveness, I'm A Slave 4 U more outwardly owns its sexuality ("Ba-bay, don't you wanna, dance upon me, to another time and place").
Yet, at the core of the track, siphoned into a hypnotic beat, is indeed a journey into adulthood that speaks of far more than sexual gratification: "All you people look at me like I'm a little girl, well did you ever think it'd be okay for me to step into this world; always saying little girl don't step into the club, well I'm just tryin' to find out why cause dancing's what I love". This is one of the best examples of a pop song that knows who its intended market is, where they've been and where they're heading. The lyrics are so on point to resonate with an audience who were rapidly approaching that same juncture in their adolescence.
I'm A Slave 4 U is also a testament to Britney Spears' versatility as a performer. She'd spent the previous two albums evolving a very distinctive style; could she graduate her peppy, cutesy tone to something more adult? The simple answer is: yes. The track drops many of Britney's signature punctuated exclamations, in favour of expanding her repertoire further with an altogether more intense approach; there's whispering, panting and a whole monologue of phrases scattered throughout the song. Despite such a shift in tone, I'm A Slave 4 U never sounds anything less than unmistakeably Britney Spears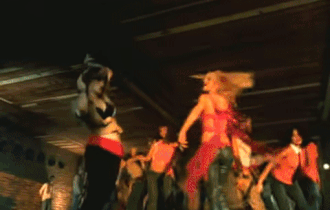 From a production perspective, I'm A Slave 4 U has aged tremendously well. Improvements in the technology and quality of sound output devices don't always benefit older songs, but that is certainly not true here. The thumping bass fills the speaker, while the subtle reverberation of the bouncy beat and the percussive claps and clicks are captured with crisp clarity. Were I'm A Slave 4 U crafted again today, few – if any – significant refinements to the mastering would be required; check out the scratchy instrumental breakdown ("Let's go…") for a perfect example of how incredibly current the track still sounds.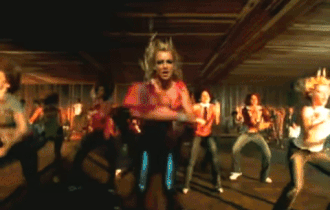 If I'm A Slave 4 U breaks with convention at almost every available opportunity, one area where it conforms to expectation – in theory at least – is the music video, which is every bit the talking point one would expect from a Britney Spears lead single. The concept is relatively simple as she becomes a 'slave to the music' and dances her way through a drought, refusing to stop even when the rain eventually falls. However, the focus is much less on what she's doing – although the simulated dancer orgy certainly raised a few eyebrows – and more how she looks. This is not the teen-pop princess that had been so carefully presented to the world in her previous videos. Britney's styling here is almost feral; it's hot, sweaty, unkempt…and she still looks stunning. Similarly, the choreography feels tactile, aggressive and a world away from the neatly placed dance steps of yesteryear. There was no subtext here, and no cheeky sideways glance towards the audience as Britney Spears reclaimed her identity and openly expressed herself as a young woman.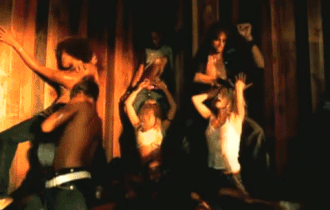 However, the most iconic image associated with I'm A Slave 4 U – and indeed the whole album campaign – came not from the music video, but the VMA's performance that launched the song. This was a new strategy for Britney Spears who had previously approached the annual ceremony with an established hit(s) to perform. However, her star power was now so strong that she could turn up with a brand new track and dominate the headlines. The rainforest theme was well-suited to I'm A Slave 4 U and were it not for the fact that the music video had already been filmed, probably could have been successfully adapted to the visuals, such was the impact of the performance. As was becoming commonplace for Britney Spears, not all the coverage was positive; the use of live animals – most famously a live python (affectionately known as Banana) draped over her shoulders – drew criticism from animal welfare charities. Thankfully MTV tracked down Banana back in 2016, to report that she is alive, well and unaffected by the intense media storm surrounding her appearance.
While many early aspects of the Britney-era are inarguably iconic, the album as a whole never felt quite so aesthetically cohesive as the …Baby One More Time or Oops!…I Did It Again campaigns. I'm A Slave 4 U is a perfect example of this; the VMA's performance created an image for the single, but it doesn't significantly feed through to the video, creating two distinct visual reference points. Similarly, The Neptunes were used so prominently and yet so sparingly, with the album never quite following through musically on what this single teased Britney Spears was capable of. Perhaps even more surprising is that she's only once worked with them since on Blackout's (standard edition) closing track Why Should I Be Sad. For an artist who has never shied away from repeatedly collaborating with the same writers and producers, it seems curious that The Neptunes have been kept at a distance.
I'm A Slave 4 U was – and still is – an exhilarating shift in Britney Spears' sound. But it's hard not to look back at it with a hint of sadness, for it represents something much more significant. This was the moment that definitively signalled the start of the end of the bubblegum pop era. For where Britney led, many others would follow, and if she – as the very essence of the wholesome American teen dream – was moving beyond that image, then so too would her peers – if they weren't already. However, it didn't feel that way in the moment. Britney was growing up, and so was her fanbase; therefore, the loss of innocence that accompanied I'm A Slave 4 U came at precisely the right time.
I'm A Slave 4 U may have been a critical smash, but it was far from a commercial one, at least by Britney's standards. In America, it peaked at #27 on the Billboard Hot 100. While it's entirely plausible that radio didn't know how to respond to such a drastically different lead single than the previous two, it's also the case that radio wasn't allowed to respond. The Britney-era was partly characterised by a sudden decline in the chart peaks achieved by the singles from the album. This was symptomatic of the continued trend of not releasing them physically, coupled with the decision to switch tour promoters from Clear Channel Entertainment – who owned a significant proportion of radio stations in America – to Concerts West, who did not. With Britney Spears now blacklisted, I'm A Slave 4 U was the first casualty of a chart landscape that was going to be increasingly difficult for her to conquer as she had done with such ease beforehand. Unfortunately, this also played into the narrative that the Britney album was underperforming when it debuted atop the Billboard chart with 745,750 copies – significantly less than the 1.3 million sales that Oops!…I Did It Again achieved, but still the second-biggest debut of the year.
The success of Britney Spears' third album outside of America was a better gauge of her continued commercial reach. Even if she didn't quite sustain her chart-topping presence, she remained one of the biggest pop stars on the planet. In the UK, I'm A Slave 4 U peaked at #4 (as indeed did Britney) and was a top ten hit in almost every other major territory. The track kickstarted an increasingly torrid period for Britney Spears (and not for the last time), but while almost everyone had an opinion on what she should or shouldn't be doing at this point in her career, this was a unanimously well-respected single and with good reason.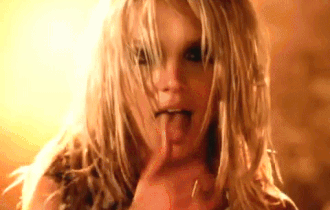 The commercial impact of I'm A Slave 4 U might not have registered in the same way as …Baby One More Time and Oops!…I Did It Again, but it was no less significant. In many respects, it was even more so.
---