Released: 4th December 2000
Writers: Max Martin / Rami
Peak position: #7
Chart run: 7-11-14-10-14-26-38-48-57-62
Billboard Hot 100 chart run: 70-55-55-53-29-22-28-15-11-14-27-29-43-69-74
---
Emerging midway through her second album campaign, Stronger was a seminal moment for Britney Spears. It was a song that took no prisoners, although nobody could have predicted at the time just how meaningful it would become.
Stronger arrived at the right time for Britney Spears. The Oops!…I Did It Again album had capitalised on the momentum of her debut by utilising a similar formula. It kept her at the forefront of the teen-pop zeitgeist, though was also subject to many of the same criticisms (namely an abundance of filler). Yet, releasing Lucky as the second single was perhaps the first minor misstep Jive Records made with Britney Spears. The track was not without charm and certainly, in hindsight, carries far more substance. However, some elements – notably the mid-song interlude – didn't land as well as they had when Oops!…I Did It Again pulled the same trick as the lead single. Lucky was by no means a disaster, peaking at #5 in the UK and #23 in America. But it did feel at the time like Britney Spears needed to regain her cool, somewhat.
And Stronger was precisely the song to do just that. Indeed, it started redefining – musically and visually – where she was heading. Opening with a snarling electric guitar riff, this was a much harder, harsher sound than Britney Spears had shown before. All the singles from her debut album portrayed a young woman whose romantic intentions were – to varying degrees – submissive. That graduated to coquettish clumsiness on Oops!…I Did It Again, but here she's firmly asserting her authority. After announcing: "Hush, just stop…", followed by a second of total silence – a throwback to (You Drive Me) Crazy (The Stop Remix!) but now with the confidence to hold the moment even longer – she continues: "There's nothing you can do or say…baby, I've had enough, I'm not your property as from today…baby". The quirks in Britney Spears' voice ("bay-bay") remain, but it has a bite this time, thanks to the growl of distortion applied. Even the thumping beat is laced with simmering aggression.
In some respects, Stronger sees Max Martin and Rami Yacoub return to a more traditional – by their standards – songwriting structure after Lucky and Oops!…I Did It Again. That's not to say that the track isn't still brimming with creativity because they use that as a convention within which Britney Spears can thrash around. It's a terrific expression of teen drama where emotions are heightened to the extent that there's nowhere for them to go. Instead, they tear around Stronger, ripping the song apart from the inside. The second verse starts with more of a transitional coda to accommodate the aftershock of the chorus ("Than I ever thought that I could be…baby"). Then after two lines: "I used to go… with the flow, didn't really care 'bo-o-out me", switches straight back into the pre-chorus: You might THINK that I can't take it, but you're wro-o-o-ong", such is the urgency for the pent-up frustration to find a way out.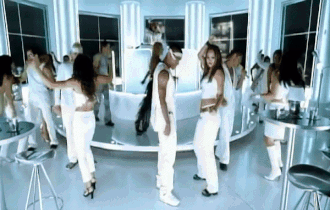 It comes to a head as Stronger lurches tenaciously into a breakdown, where Britney Spears gradually wills herself forward: "Here I go, on my own, I don't need nobody, better off alone…". The second time, it comes out with absolute self-belief: "HERE I go, ON my own NOW, I don't NEED nobody, not ANY-body, here I go…" before the track slams to a halt. The use of pathetic fallacy as thunder rumbles in the background fits perfectly with the sense of torrid anguish that has been endured. Amid distorted echoes of: Here I go…here I go…here I go…" Britney Spears pants in the background, taking a moment to pause and breathe in her freedom. Then, with a cry of: "Alright" – as if realising what she's done – the track swells back into life: "…here I go…here I go…here I go…HERE I GO", and Britney Spears is off again.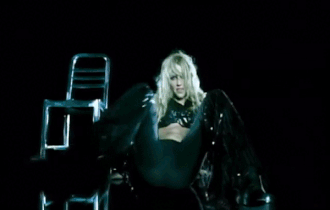 The chorus is an absolute tour de force. After being taken apart and used as a middle-eight with a new melody ("Stronger than yesterday, it's nothing but my way, my loneliness ain't killing ME no more, I… I'm…"), it's pieced back together again. And Britney Spears delivers what could credibly be considered a career-best performance: "…STRONG-E-E-E-ER than yesterday, now it's nothing but MY WAY, my loneliness ain't KILL-ing me no more, NOW I'm stronger than yester-DA-A-AY, now it's nothing but my way, my loneliness ain't killing me no more (NO MORE), I-I-I-I-I'm…STRONGER". There is a nod to …Baby One More Time's "My loneliness is killing me" line, which serves as another point of emphasis that seven singles later, this is a different Britney Spears (even if the Oops!…I Did It Again album doesn't necessarily follow through on that concept). Yet, sensibly, that point isn't overplayed so that Stronger is tied into being a direct sequel to her debut single; the song stands assuredly on its own two feet.
And it was aided – in no small part – by the music video. Directed by Joseph Kahn, he took the elements Britney Spears wanted to incorporate (dance on a chair, drive in a car, break up with a boyfriend) and created something that distanced itself aesthetically from her earlier singles, just as the song was attempting to do musically. It's comprised of several interwoven sequences and opens with Britney Spears staring intensely into the eyes of her smirking boyfriend while a woman (actress Angela Sarafyan in one of her earliest roles) drapes her arm over his shoulder. Then, with a dismissive: "Whatever…", the camera pans out to reveal a dark cityscape and back into the building: a rotating, rooftop nightclub. The furnishings – and all of the occupants – are dressed in shades of pastel grey and white, while Britney Spears wears black, denoting that she doesn't fit in. As the room revolves, she's literally – and metaphorically – going around in circles, pursued by her boyfriend, until eventually pushing open the doors to the club, causing it to explode.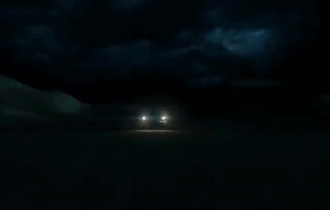 Meanwhile, there's a separate sequence featuring a chair routine, which draws reference from Janet Jackson's Miss You Much. It starts as an inanimate object: Britney Spears sits, stands, leans and crawls around the chair, even pointing accusingly at it during one part. But the movements become independent and erratic; she struggles to maintain control as it spins around and flips towards her. Eventually, Britney Spears kicks the chair off-screen, and the video cuts to her driving at speed through a barren landscape while rain and lighting hammer the car. Out of nowhere, the chair lands in front of her; she swerves and brakes, leaving the vehicle teetering on a precipice. After standing, gratuitously soaked in the rain, Britney Spears resumes dancing with the chair and – now the master of her craft – it turns into a cane which is thrown to the floor. Finally, she struts across a bridge; there's no destination, but with the skies clear and twinkling with stars above her, the implication is that Britney Spears has left her troubles behind. Jive Records may have felt there was a bit of ground to recover with Stronger. Even so, the sheer scale of this video – let alone the identity it establishes – would be lead single territory for almost any other act (if they were fortunate) and remains one of the most toweringly epic in her extensive back-catalogue.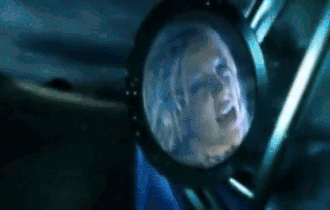 The commercial fortunes of Stronger were somewhat mixed, given how prominent and well-regarded the track has become in relation to Britney Spears' career. There's no question whatsoever that it was a hit. However, a peak of #7 in the UK meant it was her first single to miss the top five – and also her lowest seller – at that point (though the addition of downloads and streams now put it ahead of Lucky, at least). None of this was particularly surprising, considering Stronger was the third single from Oops!…I Did It Again. It helped extend the album's run in the top 40, but having already sold over 700,000 copies, diminishing returns were unavoidable as the campaign reached its latter stages.
By contrast, in America Stronger reached #11 on the Billboard Hot 100. That put it behind …Baby One More Time (#1), Oops!…I Did It Again (#9) and (You Drive Me) Crazy (#10) as far as overall chart peaks from Britney Spears' first two albums go, which seems a fairer reflection of the track's legacy. Indeed, it would be over three years until she improved upon that position (although the withdrawal of Clear Channel's radio support for the Britney album was a major contributor there). Stronger helped push the Oops!…I Did It Again album back into the top 10 on its way to an eventual diamond certification for sales of more than 10 million copies. That alone probably justifies why it was better saved until later in the campaign. 
For all that Stronger was attempting to push boundaries for Britney Spears, it's worth mentioning the B-side, Walk On By, which does the complete opposite. The song was recorded as part of the sessions at Cheiron Studios, though it failed to make the final cut of Oops!…I Did It Again, which is entirely understandable. The track is an utter treat for fans enamoured with the cutesier side of Britney Spears's debut album. It's loaded with the same dreamy, doe-eyed naivety as Sometimes ("Everywhere I turn I see your face, reminding me of a higher place"), including an earnestly joyous key change. It's clear this was already becoming a little passé regarding the direction Cheiron Studios were travelling with Britney Spears. Hence Walk On By wouldn't fit the album, despite being better than some songs that did make the tracklist. Although that rationale only extends so far; it certainly deserved to be on the re-release considering You Got It All and Heart were deemed worthy.
As with many hits from earlier in Britney Spears' career, it's tempting to look back at Stronger and consider its defiance as revealing something more sinister. Undoubtedly, the song fits a narrative of someone who was increasingly aware that her life had become a commodity. And she was on the cusp of exercising more control – or disrupting that which others held – over her career. Even so, the Oops!…I Did It Again album was assembled at such a pace that it's probably a bit of a stretch to ascribe any more profound significance. The song is, however, one of the finest examples of Britney Spears' ability to deliver a performance because there is no question that she means every word, regardless of where she pulled inspiration from. It's also a testament to how astutely Max Martin and Rami Yacoub embraced the notion of Britney Spears growing up and starting to assert her independence, as that theme continued into Overprotected on the next album.
The relevance and poignancy of the lyrics now, though, cannot be emphasised enough. Stronger would unquestionably be the highlight if Britney Spears were ever to perform onstage again after everything she endured during a 13-year conservatorship. It has always been an absolute powerhouse of a song, but now it's a triumphant anthem of survival.
---