Released: 21st January 2002
Writers: Max Martin / Rami
Peak position: #4
Chart run: 5-4-9-12-18-26-38-41-50-49-69-72
Billboard Hot 100 chart run: 93-86-88-90-99
---
Britney Spears' third album was a step – albeit a tentative one – into adulthood. It found her exploring new ground, both musically and thematically as she grappled with the world around her and, not for the last time, an increasingly tumultuous relationship with the press. She was joined by a host of new writers and producers, but nobody knew Britney Spears – in the musical sense, at least – like Max Martin. And if she had something to say about her current situation, then he was the perfect person to help her say it.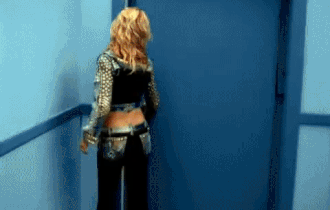 Overprotected was Britney's first true emancipation from her girl-next-door persona. While I'm A Slave 4 U had thrust her sound in a bold new direction; she was still very much playing the coquettish tease, albeit now in a more adult – and credible – fashion. Here though, Britney is essentially trashing many of the things that previously underpinned her values: safety, security and routine. Less than three years after her debut, but now ten singles and three albums deep into her career, this sounded like a moment when the rote nature of Britney's hectic schedule was starting to take its toll.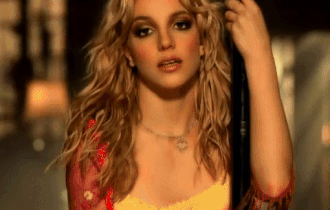 A song like Overprotected was inevitable, perhaps. After all, there was bound to come a time where Max Martin and Rami were asked to pen a coming-of-age anthem for Britney. But this isn't a case of have-one-we-prepared-earlier. The track incorporates almost every familiar element of their work and takes it to the next level. Overprotected is deliberately aggressive in its delivery; the pounding beat is like a hammer striking an anvil, while the electronic synths are expectorated around the song with determined vigour. Even Britney's delivery is notably spikier. Gone is the teasing drawl of her earlier singles; here she is pointedly defiant: "Say hello. To the girl. That I am. You're gonna have to see, through my perspective". The shift in tone is palpable, and in many ways more impactful since it's come from the same team who had penned Britney's earlier hits. Something in the dynamic has definitely shifted here.
What Overprotected does so well is siphon all of that pent-up frustration into a production that captures the outward defiance alongside the internal self-doubt in a way that would resonate with Britney's fanbase. The lyrics are knowingly relevant to her situation, but still general enough to speak for her hordes of teen fans, who may well have been going through the same experience, even if in a completely different context. Nowhere is that better demonstrated than the swirling, filtered intro, which puts you right in Britney's adolescent headspace: "I need time (time). Love (love). Joy (joy). I need space. I need…me". There's even a nod to her forthcoming turn in Crossroads, with the shout of "ACTION". Overprotected was – as it happens – one of the early tracks composed for the movie soundtrack.
This is such a loaded track that it's difficult to identify a standout moment. However, the middle-eight is particularly notable as a point where Overprotected well and truly deviates from the usual Max Martin-formula. Gone is the usual music drop and ominous-sounding shift in melody; in its place is a reprise of the intro, followed by Britney re-asserting her independence with increasing urgency and – of course – a classic Britney-ism:
I don't need nobody telling me just what I wanna
What I want, what what I'm gonna…
DO about my destiny
I say no, no
Nobody's telling me just what I wanna do, do
I'm so fed up with people telling me to be
Someone else but MAY
No other song more perfectly represented the Britney-era than Overprotected and the sequencing of this and I'm Not A Girl, Not Yet A Woman as consecutive singles also felt like the first time that there was a cohesive narrative behind a Britney album campaign. In some ways, though, Overprotected­ became a victim of I'm A Slave 4 U's success beforehand. After such a successfully bold change of direction, Overprotected was subsequently perceived as a backwards step, when in truth it was nothing of the sort.
The track is a towering behemoth of Britney brilliance in every aspect of its original guise. But we must mention The Darkchild Remix, which was released to radio in America. It's a horrible R&B version of Overprotected that removes everything that gives the album version so much punch and swagger. There is an entirely understandable reason for its existence, though. Britney's team had run into a bit of a problem during the Britney campaign when they declined to use Clear Channel Entertainment as a sponsor for the Dream Within A Dream Tour. Unfortunately, Clear Channel also happened to own the vast majority of American radio stations, and in retaliation, Britney Spears was reportedly blacklisted. This led to a swift – and very noticeable – decline in her chart fortunes following the release of I'm A Slave 4 U. Clear Channel staunchly denied any wrongdoing; so, it must have been entirely coincidental that Britney's airplay only markedly improved after Me Against The Music when Clear Channel became the sponsor of The Onyx Hotel Tour.
Thus, Jive Records were presumably hoping to offset the ban decrease in airplay by tailoring a version of Overprotected designed to appeal to urban radio where I'm A Slave 4 U had picked up a little traction. Alas, The Darkchild Remix completely misses the point of the song. It did, however, have an impressive visual treatment, and in that respect, we can't fault the amount of money that Jive threw at Overprotected, because both videos are big statement pieces that memorialised Britney's increasingly volatile relationship with the press.
The video we received was perhaps a little more modest, but still a brilliant aesthetic to accompany the track. Moreover, it contains unquestionably the best – even if not the most recognisable – choreography you will see in a Britney Spears music video. It opens with a looped instrumental of the intro to Bombastic Love as she drives away from the swarming paparazzi; a theme that would become increasingly prevalent in Britney's music videos throughout the '00s. The main body of the video takes place in a warehouse, which contains an eclectic collection of props (a carousel horse, a chaise longue) upon which Britney can conveniently perform. And perform she does; the choreography is absolutely fierce and visually quite unlike anything else in her oeuvre.
It was perhaps a hangover from the live performances of I'm A Slave 4 U, but the routine is hypnotically feral in its aggressive, angular movement. The warehouse scenes are complemented by shots of Britney performing in a room with moving walls; both the walls and the ceiling are plastered with press cuttings. It's not quite so direct an attack as those that would follow in the years to come, but it is certainly enough to make the point that Britney was starting to fight back. She looks phenomenal in these shots, although there isn't a bad look in the video at all. The same is also true of The Darkchild Remix visual, and somewhere between the two is one killer music video.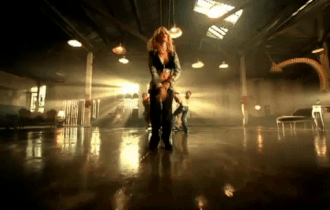 In the UK, Overprotected entered the chart at #5, before rising to a peak of #4 the following week. This was relatively new territory for Britney Spears; a period of her career where she was no longer routinely topping the charts but still consistently racking up a growing catalogue of hits. In America, Overprotected (The Darkchild Remix) peaked at #86, which at any point beforehand would have been a bit of a disaster for Britney Spears; however, in this case, it was the second highest-peaking single from the Britney album. Indeed, it was the only other single from the album – besides I'm A Slave 4 U – to chart at all. Despite its relatively modest success, Overprotected sits quite nicely alongside Stronger as a track which took on greater meaning as the decade drew on. Yet it's never had the same resurgent popularity and hasn't been seen since the mid-'00s. There were rumours that the song would form part of the Britney: Domination show, but we think it safe to say that's never likely to happen.
Overprotected, as it happens, was something of a swansong for this period of Max Martin's career with Britney Spears. It would be the last uptempo single he penned for her until 2009, and it's hard to imagine a more fitting soundtrack for them to part ways.
---