Released: 9th November 1998
Writers: Jackie James
Peak position: #1
Chart run: 2-5-5-8-8-6-4-1-2-3-3-3-6-10-10-15-16-20-23-24-30-30-32-42-41-48-57-59-65-69
---
With the festive period fast approaching, pop music tradition dictated that it was finally time for Steps to release a ballad. Yet it soon transpired that Heartbeat was resolutely not the driving force behind what would become the group's biggest single.
Considering where Steps' debut album campaign ostensibly started with 5, 6, 7, 8 (though nobody at that stage was seriously contemplating more than a one-hit wonder), the fact that they were able to release a song like a Heartbeat less than a year later is nothing short of a marvel. Indeed, Pete Waterman's "ABBA on speed" vision was so flawlessly executed through Last Thing On My Mind and One For Sorrow that the prospect of a Steps ballad already felt as distinctly off-brand then as it still does now. However, that's not entirely true of Step One, which was still trying to figure out the group's identity, in some respects. As such, almost half the tracks on the album put them firmly in mid-tempo/ballad territory, so one was always likely to end up as a single at some point. This Heart Will Love Again would not have been a bad choice, but Pete Waterman had been sitting on a demo of Heartbeat for years, waiting for the right act to perform it. Thus, having gifted the song to Steps, he was hardly about to leave it languishing on the album.
In fairness, with its twinkling, glittery flourishes, Heartbeat is ideally suited to functioning as a festive-sounding single while not technically being a Christmas song. It also adds another dimension to Steps because, for the first time, there was a clear notion of what people might be expecting to hear from them. One For Sorrow had firmly established Claire Richards as a powerhouse vocalist, and she gets the chance to be that here. However, Heartbeat also redresses the balance of the group dynamic, somewhat. Claire remains immediately prominent, but Faye and – to a lesser extent – Lisa also have an opportunity to share the spotlight. Indeed, even H and Lee aren't wholly overlooked for a change. Their contribution is limited to a spirited: "Baby" during the chorus; still, Heartbeat would not be the same song without it.
After a deceptively dreamy: "Ooh-ooh-ooh-ooh" intro, it soon becomes clear that Steps aren't exactly full of Christmas cheer, as Claire mournfully rues: "Here I am, just longing for you once again, if your arms would only let me in, you'd see the mess I'm in…". The melancholy lyrics are accompanied by an instrumental that presents itself – for the most part – as a cosy and wholesome wintry ballad. However, a sense of unease and tension is subtly woven into Heartbeat. Faye's lamenting: "If I live a lie, then all my dreams are doomed to die, oh baby, just let me try, to have my heart's desire", becomes tortuous thanks to threatening synth stabs that break through with increasing tenacity.
It comes to a head during the middle-eight, where the lighter elements of the production drop out, and a moody bassline swells to the fore. Lisa's echoed vocals: "Ooh but my feelings (my feelings) are in vain, ooh just like feelings (like feelings), they won't go away",provide an effective contrast, the sweetness in her tone sounding almost on the verge of being consumed by something much darker. However, the atmosphere is shattered by Claire's impressively formidable: "My LO-O-O-O-O-O-VE remains, in my HEA-A-A-A-A-A-RT we'll always stay". Though not intended to be amusing, the juxtaposition is so vast and sudden that – in the best way possible – it's preposterously entertaining.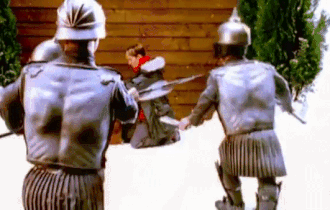 The air of despondency hanging around Heartbeat immediately disappears during the chorus, which is the aural equivalent of a warm, Christmassy hug: "You are only a heartbeat away, baby (baby), and my love one day will find you, it will remind you, when it comes your way (it comes your way), when it comes your way". Though the arrangement isn't overly complex, it demonstrates that Steps weren't dependent on one singer and could competently harmonise and ad-lib. As an able demonstration of that, Heartbeat concludes with the surprise reveal of an extra chorus: "You're always in my heart to stay (my heart to stay), baby (baby), love comes (love comes) once in a lifetime, I think it's high time (high time), our hearts beat as one (oh-oh, yeah), our hearts beat as one…they beat as one" which brings the song to a rousing and sentimental finale.
The music video for Heartbeat is as subtle as a sledgehammer in establishing this as Steps' Christmas single. It opens with the group riding a sleigh through the snow (all green-screened to a typically '90s standard, of course). There are pine trees in the foreground, mountains in the background and Steps wearing hats, gloves and coats: it is about as wintry as possible. Alas, spying on H from afar – through some sort of visual puddle – is an Ice Queen sitting pensively on her throne. The group arrive at a ski lodge and start putting up tinsel and balloons (because it's Christmas). Unaware of the imminent danger, H goes outside to collect some firewood and is knocked unconscious after the Ice Queen casts a spell; he's seized by her dwarf soldiers, who kidnap him using a flying sleigh. Seemingly unaware of the disturbance, Claire, Faye, Lee and Lisa find a small sword and an ice shard lying on the ground outside and – with no time for exposition – deduce H has been kidnapped (he's now tied up in her palace and being prodded in the face with a feather duster, for some reason).
The group don appropriate attire and give chase on skis and snowmobiles, stopping temporarily in a barn for Lisa to perform the middle-eight before arriving to rescue H. A fight scene ensues, which, in all reality, probably wouldn't be choreographed in quite the same way now since it amounts to the group light-heartedly using their height difference to overpower the soldiers. That is, except Lisa, who delivers a kick to the Ice Queen's face, knocking her out. Finally, the ordeal is over, and Steps – now reunited – head back to the ski lodge, exchange gifts and set off party poppers (because it's Christmas). Yes, the video is unrelentingly twee, but the group lean into a charmingly fanciful concept and have fun with it. There is stacks of personality here so that even if Heartbeat – as a song – mightn't necessarily match the group's identity, the visuals certainly do.
For all that Heartbeat does well, there's still no getting away from the fact that Steps' appeal was marketed around uptempo singles with easy-to-learn dance routines. Moreover, one of the factors attributed to the success of 5,6,7,8 was that it found an audience through being played at Christmas parties. Having filled that gap in the market once presented the group with an opportunity to do the same again, but Heartbeat wasn't the right song in that context. So, an inspired decision was made to pair it with a cover of Tragedy (which had been recorded for the Bee Gees tribute album, Gotta Get A Message To You) and release the two tracks as a double-A side. Yet, as unfathomable as it now seems in hindsight, Tragedy was not front and centre of this single. Instead, almost everything about its design – the artwork, the lyrics on the inlay, the instrumental B-side – was related to Heartbeat. It's bizarre to think Tragedy could ever have been an afterthought, but other than the inclusion of a printed dance routine, that's largely how it came across.
What unfolded next was quite astonishing. Heartbeat/Tragedy entered the UK chart at #2 and – as was usual for the time – started to descend gradually through the top 10. That in itself would've been a triumph for Steps considering they started the year as a novelty line-dancing act. However, Tragedy's growing popularity saw the single climb back up the chart and – after eight weeks – it finally peaked at #1. There was undoubtedly an element of good timing; the group were able to capitalise on a lack of new releases over the Christmas period. But this was so much more than a seasonal whim. Heartbeat/Tragedy didn't leave the top 10 until the end of February, by which point it had spent 15(!) weeks there. When all was said and done, the single sold 1.2 million copies, putting it on the UK's all-time best sellers list. Streaming has pushed a lot of songs ahead of Steps now (while also adding a further 200,000 to their original total), but this remains their biggest hit by a significant margin. For now, at least; 5,6,7,8 is almost certain to overtake it in the future.
From a commercial perspective, it's easy to view Heartbeat as a passenger, but that's not entirely fair given it was – initially – pushed as the more visible track and still achieved a strong debut. Undoubtedly, it has its fans. However, there's little question that the song wouldn't have enjoyed anywhere near the same level of success as a standalone single, while the same argument can't be made for Tragedy. Given how few ballads Steps released, Heartbeat has almost by default been a mainstay of the group's tours. It's also undergone some interesting interpretations along the way, like the Simon Hill Mix, which turned the song into an R&B-lite anthem (yes, really). Even so, there is one plaudit Heartbeat achieved that no other Steps song has: it earned the group a top 10 airplay hit (the closest they've come since is Heartbreak In This City, which reached #12). Radio playlisters had been largely nonchalant towards the group, which wouldn't change moving forward. However, Heartbeat was evidently deemed the least objectionable – if somewhat backhanded – way of acknowledging the phenomenal success Steps were enjoying.
The fact that ballads – festive-themed or otherwise – aren't the group's raison d'être shouldn't be conflated as Steps being unable to pull them off because Heartbeat is proof that they can. It's just a little ironic that the song found itself part of something so extraordinary while being almost entirely incidental to the events that transpired.
---