Released: 3rd December 2001
Writers: Pelle Nylén / Andreas Carlsson
Peak position: #5
Chart run: 5-14-15-13-16-31-42-59-59-50-57
---
Words Are Not Enough saw Steps slow things down a bit (well, it was Christmas after all). But coming off the back of a greatest hits collection and with rumours of an impending split, surely the group wouldn't dare leave us with a ballad…would they?
Regardless of the circumstances surrounding its release, Words Are Not Enough was always going to be a contentious choice. Steps albums were never wholly uptempo affairs; however, the few ballads they'd snuck out as singles – Heartbeat and When I Said Goodbye – were sensibly paired with upbeat tracks. That was not the case here. This was a double-A side, but with a cover of I Know Him So Well, which the group first recorded for ITV's ABBAmania tribute back in 1999 and subsequently integrated into their live shows (usually performed by Claire, Faye and Lisa as a trio). Stunning though it may be – seriously, the harmonies are incredible – releasing it alongside another ballad made this about as off-brand a Steps single as there could be. While that would always have been true, the timing was particularly poor. Critics had gradually – if reluctantly – conceded that the group were, in fact, very good at what they did and when Gold: Greatest Hits topped the chart for three weeks, it felt like a turning point of acceptance. Therefore, this was probably not the ideal single to capitalise on a wave of goodwill.
It's a bit of a shame that Words Are Not Enough became so readily dismissible as a misstep (ahem) because this is actually a rather lovely mid-tempo ballad. The track was co-written by Andreas Carlsson, continuing the Swedepop sound that had served Steps so well on Buzz. And even if it probably came a bit too late to heal the growing tensions within the group, this is also a song that struck a perfect balance in terms of vocal distribution. Moreover, of the three new tracks included on Gold: Greatest Hits, this immediately stood out as the most obvious single, even if Baby Don't Dance and Only In My Dreams would probably have been less objectionable.
Although it's not stated as such, the version of Words Are Not Enough that was released is remixed ever so slightly. However, the changes are so subtle (there's a bit more bass during the intro and some additional 'whoosh' sound effects), it seems more like the song simply hadn't been fully mastered in time for the album. Certainly, it's hard to imagine this was the product of an intentional re-edit considering everything else is exactly the same.
The brooding synth production during the first verse is gorgeous. It constantly threatens to turn Words Are Not Enough into something entirely different than it eventually becomes when the mid-tempo beat kicks in. Even so, the chorus – complemented by occasional orchestral swells – is undeniably stirring: "If you really want my love, if I'm all you're dreaming of, you may find it tough, 'cos words are not enough (if you want my love)" as turn-of-the-century gloopy pop ballads go. The track is full of hooky melodies ("There ain't nothing that I'm missing, so you'd better prove me wrong") and does – at the very least – have a bit of personality and energy about it, even if not quite the sort that most people expected from Steps.
Vocally, Words Are Not Enough was talked up as an opportunity for the group to perform – audibly – as a five-piece, which is indeed true. And what's most noticeable is how natural it feels. This is not a song that goes out of its way to prove a point or bends mercilessly to accommodate solo spots better suited to other voices. Instead, it offers Steps a path through the discontent that was driving a wedge between them by simply being written so that everyone has an equal part to play, without any sense of compromise. Natural harmonies emerge when they sing together, which does prove a point as to how skewed the balance had been beforehand. The middle-eight in particular: "You know it ain't easy, to find a new way; after everything that we've been through, so come on and please me, and show that I'm wrong, let me see you bring the best out of yo-o-o-o-ou" features some effective blending of Lee and Claire, then H and Faye's voices.
The video for Words Are Not Enough is something entirely different for Steps, blowing what must have been a fairly sizeable budget. It opens with them wandering into a deserted mansion and uncovering a mirror, which Claire is pulled into by a giant hand. The rest of the group jump through it to save her and are transformed into computer-animated versions of themselves. Now, this was 2001, and the technology was still in its relative infancy as far as mainstream media goes, so we have to be reasonable about what to expect. The character models are recognisable as Steps (although the part of Lisa appears to be played by Lara Croft) but are essentially the same generic avatar with different – slightly random – features applied, like the sudden chin cleft that H sports. The group use the superpowers they've acquired to make their way to Claire by running, swimming, sliding and, er, blowing explosive heart-shaped kisses, eventually coming face to face with a giant shadowy figure. They combine their abilities to break Claire free before ascending out of the mirror and smashing it to pieces (which is timed perfectly to the final crash of the chorus), causing the glass to rain down on Steps – still as their animated alter-egos – like snowflakes. Because it's Christmas!
Words Are Not Enough sold 44,000 copies to reach #5 in the UK, extending Steps' run of consecutive top-five singles to 14. However, it was a modest performance by the group's standards and wound up becoming their lowest selling release at that point. Yet, that's hardly surprising since this was very much the epitome of a fanbase-driven hit. Releasing two – already available – songs and a solitary B-side (even if it is quite a good one) offered little incentive to attract a wider audience. Plus, the track was also contending with the phenomenal success of Gold: Greatest Hits, which was still in the top ten and rapidly closing in on becoming yet another million-selling album for the group. Taking all that into consideration, Words Are Not Enough actually fared impressively well.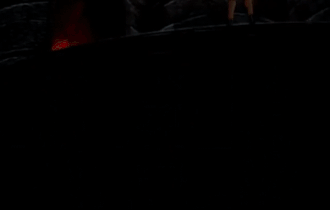 Of course, the legacy of the song isn't just that it's an uncharacteristic ballad for Steps. In almost any other context, the biggest criticism would probably have been that it was reasonably forgettable among their catalogue of hits. However, when the group announced their split on Boxing Day in 2001, after the initial shock came a dawning realisation that this was their final single. And that's where a lot of the ill-feeling towards Words Are Not Enough stemmed from; because whether you like it or not, most fans would agree this isn't how things should've ended. Not with a ballad and not with an animated video. Jive Records toyed with the idea of releasing Baby Don't Dance a year later to promote the B-side/remix album The Last Dance but changed their mind at the last minute. So, for a long time, this is how things were left.
Fortunately, Words Are Not Enough has now had that burden removed from its shoulders and is easier to appraise as intended. True, the track will never be remembered as a classic; but it is a pleasantly inoffensive diversion. Indeed, it was even covered by Brazilian pop duo Sandy & Junior in 2002 (an odd choice of song for siblings, admittedly). If nothing else, it feels like a valuable lesson was learned from this single because if Steps ever decide to call it a day again, you can be sure they won't let history repeat itself.
---