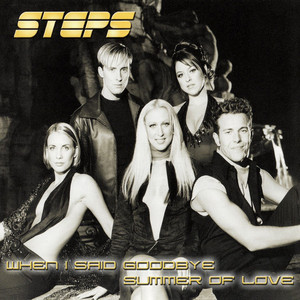 Released: 3rd July 2000
Writers: Mark Topham / Karl Twigg
Peak position: #5
Chart run: 5-6-13-20-24-29-41-50-54-59-72
---
The laws of '90s music dictated that at least once per album campaign, every pop act must release a ballad, even if no-one really wanted them to. In the summer of 2000, it was time for Steps to honour that obligation with When I Said Goodbye.
Balladry was not Steps' raison d'être and so the obvious way to offset this song – arguably the group's most understated effort – was to package it as a double A-side with Summer Of Love, a brand-new uptempo recording. That was sensible since it's fair to say When I Said Goodbye's announcement as the fifth single from the Steptacular album was met with a muted response, at best. In the aftermath of Deeper Shade Of Blue – and with Steps hitting their stride as a touring force – this felt like a bit of a damp squib. But time has been somewhat kind to When I Said Goodbye, and it's a much easier prospect to digest now than it was back then. Indeed, Steptacular saw the group dip their toe into the waters of stripped-back, orchestrally arranged ballads and this track, along with You're Everything That Matters To Me are both sublime examples.
Perhaps the most contentious aspect of When I Said Goodbye remains an unavoidable factor in its existence, and that is H and Claire. Although they had naturally emerged as the lead vocalists within Steps, it had never quite been to the point where Lisa, Faye and Lee were silenced entirely. Yet, for all intents and purposes, this track is a duet. In one respect that is a strength; there's a strong case to be made that both give their most accomplished performance on this track. Certainly, Claire shows here a depth and nuance to her voice that wasn't often required. With an arrangement leaning towards musical theatre, H also finds himself in very comfortable territory. However, behind-the-scenes one can only imagine the wedge that this single may have driven between the group. And it does feel that Lisa, Faye and Lee could have contributed something more meaningful than nonchalant: "Aaaaah"s in the background (indeed, the live performances of When I Said Goodbye featured some brilliant ad-libs from Lisa) without taking anything away from the track.
Regardless of whether the vocal dynamics are a good or bad thing, the result is a classy ballad far more mature and refined than any other Steps released. Indeed, it's probably fair to say that many would have believed a song like this to be beyond the group's ability. Sure, if When I Said Goodbye had been approached improperly, it could so easily have fallen flat and come off as some sort of pastiche. But Steps get under the skin of the song, and it has a beautiful orchestral accompaniment that at times swells to the same volume as the vocals.
The highlight of When I Said Goodbye is easily the mid-section of the song where the melody shifts: "I can't bear to watch you fly, I need you in my life…". It's here the production starts to swell, creating a sense that the track is about to become much more involved. And for a brief moment, it does as H and Claire unite to sing: "Used to be that you and me, was all we'd need to know, I can't believe you're leaving, and I can't live my life alone". They sound so good together. If there wasn't already the possibility they might splinter off and form a duo at some point, then this is the moment that idea would surely have started to form in the minds of industry onlookers. Then, after building in dramatic fashion towards a climactic finale, When I Said Goodbye dials back on itself and returns to the same structure as the earlier verses. There's no key change, no cascade of vocals or ad-libs…instead, the track simply plays out as elegantly as it commenced. Less is more rarely applied where Steps were concerned, but it's used with aplomb here.
The other thing quite striking about When I Said Goodbye is how much emotion is conveyed in the delivery. Disco-heartbreak was, for the most part, Steps' modus operandi as lyrical themes go, and the success of the group was the style over substance approach to the way the songs were packaged with their cheery visuals and dance routines. But take the disco element away, and there's just heartbreak left. This isn't a gut-wrenching performance by any stretch of the imagination, but it is nonetheless delivered with a sense of sincerity and meaning that was often lost in the pomp of an uptempo single.   
The black-and-white visual treatment for When I Said Goodbye is pretty much what you'd expect from a demure pop ballad. It's essentially the antithesis to everything that had made Steps so popular, and there's no doubt that the seriousness of the whole affair would have been slightly off-putting for some. The video is (beautifully) shot in Rome and features the group wandering around the city shooting wistful looks to the camera. It's pretty light on footage of Steps as a collective unit; instead opting for solo shots and split-screen compositions. It doesn't have a lot of replay value (other than to baffle at the physics of Claire's outfit); but at the same time, it does fit perfectly with the song, and it's hard to imagine any other concept that could have done a better job. Even the recently-released full-colour version doesn't feel quite right…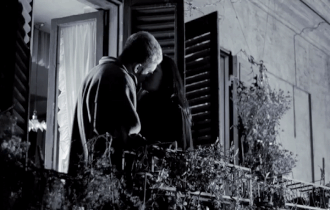 For all of its strengths, When I Said Goodbye was most definitely not the driving force behind this single, if for no other reason than Steptacular having sold so much by this point. Fundamentally though, a mature ballad with a monochrome music video was always going to be a hard sell for Steps, which is undoubtedly why Summer Of Love was added to the release. The lure of a new track saw the single surge in the midweeks, trailing just behind The Corrs. Demand didn't quite keep pace, and When I Said Goodbye/Summer Of Love ended up peaking at a respectable #5. Despite being one of Steps' lower-selling singles, both tracks have continued to prop up the group's live shows, although Summer Of Love more regularly for obvious reasons.
Ultimately, When I Said Goodbye is never going to be the song Steps are remembered for. And nor was it really intended to be. It provided an opportunity for the group to indulge themselves in something a little different, both musically and visually, making the point that their usual sound was one of choice, not necessity.
---