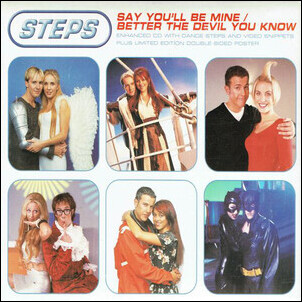 Released: 13th December 1999
Writers: Andrew Frampton / Pete Waterman
Peak position: #4
Chart run: 7-8-4-4-14-19-32-38-38-44-50-60-56-63-73-68-59
---
It only took two years and eight singles, but as the millennium drew to a close, finally came the moment when Steps rejected their own stereotype and released a single featuring all five members of the group on lead vocals.
Say You'll Be Mine was paired up with a cover of Kylie Minogue's Better The Devil You Know as Steps' Christmas 1999 effort. Having kicked off the year with their first #1 single, this followed vaguely the same strategy as Heartbeat/Tragedy by pairing a current album track with a previously unreleased cover. And on first impressions, this seemed a solid – if perhaps unremarkable – release. But with some distance, Say You'll Be Mine, in particular, has become a rather fascinating and oft-forgotten curio of the Steptacular era. It sounds quite unlike anything else in Steps' back-catalogue but features several elements that became synonymous with the group. It also happens to remain, without question, one of their most brilliantly uplifting songs.
Say You'll Be Mine was written by Andrew Frampton and Pete Waterman, and while the pair had collaborated frequently during Steps' career, something here sounded very different. In essence, this is one of the most Swedish-sounding pop songs that the group ever recorded, despite arriving long before they started working with Scandinavian producers. Say You'll Be Mine is also notable for being one of the few singles where Steps grappled with a mid-tempo Sort of. This is quite a difficult track to classify; it's certainly not a ballad, but neither is it truly uptempo, despite having a dance routine. Yet, to call the song mid-tempo implies that it's an inoffensive, gentle number with its sights set on recurrent local radio airplay…and that's not true either. So essentially, Say You'll Be Mine is its own thing. And within the Steps canon, that remains true to this day.
Notably, Say You'll Be Mine was also the first Steps single to (audibly) feature all five members of the group on lead vocals. However, what sets it apart from their other collective efforts (pre-Tears On The Dancefloor, at least) is that it feels like a decision made purely in the best interests of the song, rather than one to calm any growing discontent. The appearance of each member – yes, even Lee – feels completely organic and as a result, Say You'll Be Mine is one of the rare times where you also truly hear Steps as a collective, with H and Lee's lower tone more noticeable during the chorus than it ever had been before. Perhaps even raising the question of whether it had ever been there in the first place…
The track is bursting at the seams with subtly catchy hooks, particularly every third line of each verse, where Say You'll Be Mine's swirls momentarily into a slightly bigger melody. Claire's: "Now I know it was meant TO BE" at the end of the second verse is just perfect. Upon closer inspection (that's why we're all here, after all) and having long pondered what makes this track work so well, we've concluded that it's because it sounds like the group was having fun. Where many Steps songs exuded joy from the way they were composed – and Say You'll Be Mine is extremely well-written – here it comes from the group themselves. There's a palpable energy in the performance that adds something unique to the mix, allowing it to dabble gleefully with even postmodernist touches: "And step by step, I can feel how close we're getting".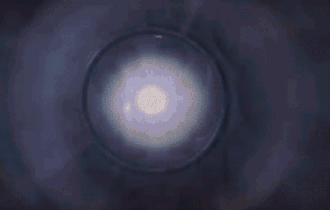 Structurally, Say You'll Be Mine is also delightfully unpredictable; perhaps not to Xenomania-levels of madness, but it's a bit all over the place after the second chorus nonetheless. However, that works in the song's favour, particularly just after the two-minute mark, as it lurches into an absurdly brilliant moment of '90s pop music:
Sa-a-a-a-a-ay it
All ya gotta do is SAY IT
(Just say it)
You're the one I've been waiting FO-O-O-O-O-OR
Sa-a-a-a-a-ay it
All you gotta do is SAY IT
(Just say it)
Aa-a-a-a-a-a-a-h
And there we have it. One of the best 20 seconds of any Steps song, ever. It's seriously just so good; there's a hint of drama in the production, vocals that don't sound like any Steps have produced before (the: "Sa-a-a-a-a-ay it" bits in particular) and some fabulous ad-libs from the majority of the group that almost verge on spontaneous riffing. It's during the transition back to the chorus that Say You'll Be Mine also discreetly throws in an electric guitar hook. Again, something that moves the song closer to Swedish production gimmicks, rather than those typically associated with Steps. It's completely inconsequential and not heard from again, but it's a sign that if nothing else, there was a degree of experimentation occurring with Steps' sound, rather than simply recycling the formula.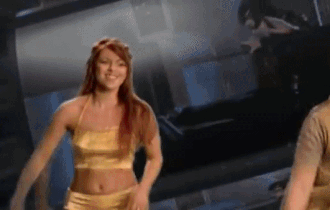 The music video for Say You'll Be Mine is incredible, but probably not for the reasons intended. The concept itself is decent enough; it features the group recreating scenes from several recognisable movies of the time. For the most part, the choices are fairly obvious and relevant to Steps' target market: Titanic, Austin Powers, Romeo + Juliet. But, incredibly, not only did Claire and Lee quite graphically recreate the "hair gel" scene from There's Something About Mary, they completely snuck it under the radar. Certainly, the joke would have been invisible to a significant proportion of Steps' fanbase, but nonetheless, this video wasn't just played on music channels. It was also used as the visual backdrop to many of the live promotional performances of Say You'll Be Mine. And all the while, there's Lee with a glob of semen clearly hanging from his ear. It's a bit of shame that the movie parodies don't go beyond their visual reference points because it feels like the video runs out of footage for the final minute and resorts instead to not-the-slickest choreography (those gold outfits are something, aren't they?) and bloopers. Considering the video for Better The Devil You Know was an all-expenses-spared live performance, Say You'll Be Mine could, perhaps, have been taken a little further.
And that's something that has dogged this song because it quickly became one that Steps omitted often omitted from their tour setlists. Of course, few '90s pop groups ever made it to the point where they had too many singles to fill a show, so it's a privileged position to be in. But it is a shame Say You'll Be Mine has become one of their more expendable tracks. It's understandable to a degree: Better The Devil You Know is the more obvious floor-filler. But with Kylie Minogue having now decisively reclaimed that song for her own, there is an argument that it's one of the group's more redundant cover versions.
Perhaps there is another factor to consider, and that is the chart performance of Say You'll Be Mine/Better The Devil You Know, which had a slow start commercially. Most Steps fans will no doubt remember the single debuted at #7 (during an extremely busy chart week, admittedly). Had it not recovered, this would have been the worst performance for a Steps single since 5,6,7,8 and represented a momentary blip in what was an otherwise rapidly growing string of consecutive top-five singles. Say You'll Be Mine/Better The Devil You Know eventually recovered and peaked at #4; this was doubly impressive considering it was contending with the success of Steptacular, which had spent four weeks at #1 and was still selling in huge numbers.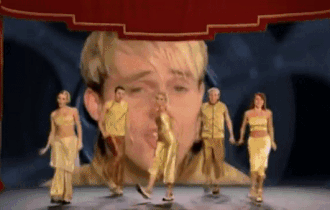 Pleasingly, Say You'll Be Mine has experienced something of a resurgence in recent times. It was remixed by Matt Pop (you sir, are a genius) for Stomp All Night: The Remix Anthology in 2016, and more recently featured on the setlist for Steps' What The Future Holds tour. After a long period of feeling like a somewhat overlooked oddity in the group's back-catalogue, Say You'll Be Mine now appears to be getting the recognition it truly deserves.
---