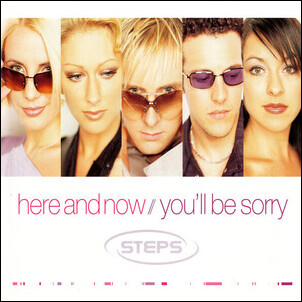 Released: 4th June 2001
Writers: Andreas Carlsson / Ali Thomsson
Peak position: #4
Chart run: 4-13-17-26-34-43-54-60-49-63
---
For better or for worse, Here and Now represents precisely what it meant to be a Steps fan in 2001, and your experience of the song will have been – at least in part – coloured by your proximity to the group at the time.
The pace of Steps' release schedule over the course of five years was utterly relentless. They maintained a constant presence in the charts, with their singles consistently spaced no more than three or four months apart. Their success was as much a reflection of the quality of the material as it was the sheer perseverance with which they applied themselves to their work. There was always bound to come a point where they eased back a bit – the situation wasn't sustainable indefinitely – but it eventually happened at a rather curious juncture. Steps' third album, Buzz, was released in October 2000, and after consolidating it at the turn of 2001 with It's The Way You Make Me Feel – a critical and commercial hit – that's the point where things went quiet in the UK. The group instead focused on promoting the album across Europe and America leaving almost five months before they returned to release Here and Now/You'll Be Sorry; the longest gap between singles since 5,6,7,8 and Last Thing On My Mind over three years earlier. Having ostensibly abandoned Buzz, it had long since departed the top 75, leaving Steps in a position where they weren't just resuming an album campaign; they were reviving it.  
If there was a song on Buzz to do that, then it was Here and Now. But therein lay a fundamental issue with this single: it's not the one the fans picked. The group's official website ran a poll asking which song should be released and the winner was Never Get Over You. Maybe Steps' management presumed fans would naturally gravitate towards Here and Now as one of the album highlights, thus creating a perception they had influenced the campaign somehow. Perhaps they didn't want to risk introducing royalties as a further topic of discord (it would have been the only Steps single to be co-written by a member of the group). Either way, while a strong case could be made for overruling the result when it appeared only one track was being released, opting for a double-A side and still ignoring it created a sense of disillusionment that was avoidable.
The thing is, there's no way that Jive Records was going to ignore Here and Now as the only other song on Buzz – besides It's The Way You Make Me Feel – to boast a contribution from a songwriter known for his work with Cheiron Studios. Andreas Carlsson had helped create some of the biggest pop songs of the era for Britney Spears (Born To Make You Happy), Backstreet Boys (I Want It That Way) and *NSYNC (Bye Bye Bye), to name but a few. So, to have him working with Steps was a huge coup and underlined the international focus of the album. In theory, any of those acts could have recorded Here and Now because it sits alongside the turn-of-the-century Cheiron sound. However, that's never even a consideration because it is so perfectly suited to Steps.
The group's dynamic fits well with the lyrics; it's a broken love song, but instead of a one-sided approach, the division of vocals from the first verse (Faye and Lisa) to the second (H and Lee) make it sound as if they're singing to each other. Trademark moments of melancholy: "Time, is running out on you and me, 'cos nothing's what it's used to be" become statements of accepting fault and a commitment to do things better. The narrative is artfully guided by the production, which shifts from the turmoil of the verses – with brooding bassline synth stabs – to the joyful, plink-plonk affirmation of the chorus: "Here and now, I wanna be the one for you, and everything you want me to, 'cos I couldn't live if we're apart; here and now, I wanna fall in love again, and try to be the best I can, so give me a chance to win your heart". Steps were rarely found singing about love in these terms. The song is well-judged, balancing the uplifting, romanticised songwriting of the late '90s with the punchier production emerging in the early '00s.
Now, the group were no strangers to a strategic radio edit; along with their increasing fondness for double-A sides, it allowed them to delve deep into their albums while giving their fans sufficient reason to continue buying the singles. The Q-Street Mix of Here and Now represented one of the most significant overhauls yet, not least because you can never go wrong with a key change, and here, it's applied to the entire song. Shifting the whole thing up a tone leaves the original sounding utterly flat by comparison. There are moments where the pitch is noticeably higher than it should be (such as the middle-eight: "Let's tear down the walls together, it's better late than never…"), but it's a fair trade-off because, in truth, the stirring sense of euphoria the song now evokes should probably have been there from the start. The Q-Street Mix also plays around with the stems of the track to great effect. Claire's: "Here and NO-O-O-O-O-O-OW" ad-lib is plucked from underneath the rest of the group's vocals and used instead as a run-in to the final choruses, which more clearly defines the climactic finale to Here and Now. Indeed, this is yet another example of the fact that growing resentment behind the scenes about the disparity in singing wasn't entirely fair because other than the middle-eight, Claire doesn't actually have an awful lot to do here.
The music video for Here and Now was conceived as a two-part piece that would link with You'll Be Sorry. Although, in the end, it was relatively tenuous and acted more as a point of convenience for the latter video to re-use some of the visual elements from this one. Nonetheless, the ambition was there and – on paper at least – it sounded impressive. This is the better of the two (although You'll Be Sorry was hit with some logistical challenges) and features Steps wandering through a hedge maze. Some of the CGI works well; the flowers blooming in sequence with the group's movements is relatively subtle but all the more effective for it. Others – like the giant flower that turns into a spaceship and shoots into space at the end – look a bit more of their time. However, it was 2001, and Steps were not a group who necessarily commanded sizeable video budgets (indeed, they deliberately went out of their way to minimise costs), so it's functional for what it is and aesthetically suited to the style of song.
The thing with the video is – although an entirely subjective observation – the styling of Steps just doesn't work. It all comes off as a bit too dour, which isn't what the group was ever about. Their appeal was rooted in the fact that they were resolutely not cool and didn't seek the approval of those that had no time for them. The evolution in their sound occurred in an entirely logical way. Although their image would inevitably age along with them, here – with the aloof expressions and giant sunglasses – it swung too far into the realm of mistaking that Steps being serious about pop music meant that they must be portrayed as a 'serious' pop act.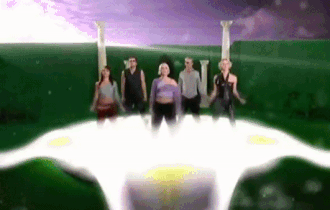 Here and Now/You'll Be Sorry peaked at #4, which was a remarkable show of consistency, with first-week sales of 51,000 being on a par with the other singles from the album (in fact, Stomp sold less than that to debut at #1). However, there were signs that this was something of a fanbase-only hit – albeit, ironically, not the one they wanted – as it spent a solitary week in the top ten and subsequently marked the quickest departure of a pre-2017 Steps single from the top 40 after just five weeks in total. It's entirely understandable because although this was the group's fifth(!) double-A side, it was their first to feature two songs that were already widely available. There was very little here – besides a terrific B-side in Just Like The First Time – to stimulate interest for a wider audience, although it did generate positive critical reception. In that respect, the impact on Buzz was similarly modest, with the album rebounding up to #56, although that's somewhat understandable considering it featured the original versions of both tracks, which were markedly different; Here and Now, in particular.
Taking it at face value, it all seemed like business-as-usual for Steps. But in the broader context of their career, even before the ominous announcement of a forthcoming greatest hits collection, something about the way this single was orchestrated just didn't feel right. Even the release date – widely advertised as 28th May – was quietly pushed back to 4th June at the last minute. You could almost sense a group going through the motions after months and months of a gruelling schedule, and no longer having the energy to hide it. Yet, the silver lining to that cloud was Here and Now, which remains a slice of Swedepop brilliance that is unquestionably deserving of its place within Steps' back-catalogue. It's further evidence (as if there was any doubt) of the quality of their material to be able to release something this good at the end of an album campaign.
---