Released: 17th January 2000
Writers: Kristian Lundin / Andreas Carlsson
Peak position: #1
Chart run: 1-2-4-6-9-15-24-30-36-46-54-68
---
1999 was a busy year for Britney Spears. Not content with delivering one of the most iconic tracks of all time, she deftly followed it up with two further hit singles and a debut album, imaginatively titled …Baby One More Time.
While Britney may have avoided 'one-hit-wonder' status, her album was proving to be a harder sell in the UK. Due to (not entirely undeserved) lukewarm reviews, …Baby One More Time had peaked at #4 and meandered around the top 40, unlike America, where it spent an entire year firmly wedged in the top ten. As the new millennium dawned, Jive Records decided to switch up their strategy with the album and release one final killer single, exclusive to Europe: Born To Make You Happy, which proved to be an enormous success (America got From The Bottom Of My Broken Heart instead).
The early plan for Britney's debut album was an adult contemporary sound before the decision was made to opt for poppier songs. Although Born To Make You Happy was a product of later recording sessions with Cheiron, the track notably straddles that transition in style; Britney recorded the song twice, with her original vocals retained for a later remix (more on that later). The final product stands as a testament to the quality of Cheiron Studios and was further proof that there was more to their oeuvre than squelchy beats and engineered guitar riffs. Although still laden with cool synths and drum kicks, Born To Make You Happy also sounds more organic than the preceding singles.
It's from the middle-eight onwards where Born To Make You Happy really comes alive. Britney is joined by a host of backing singers, performing with an earnest, sweet sincerity that elevates the song far above its foundations: "I'd do anything, I'd give you my world, I'd wait forever to be your girl, just call out my name, I will be there, just to show you how much I ca-a-a-a-a-are". The beautiful melody is exposed within an instrumental breakdown before Born To Make You Happy lurches into a massive key-change. Despite existing as a product of the Cheiron sessions, this isn't a song that feels like it's trying to be "Britney Spears" with all of her accentuated, exaggerated oral tics. Here she is simply the girl-next-door selling a pop song for all it's worth, and she delivers some terrific vocals (no, really). This was further evident in the bonus remix, favoured by many radio stations at the time.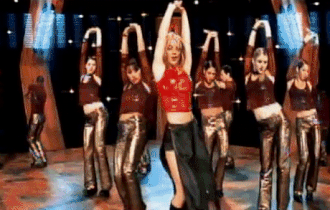 Utilising the abandoned early vocals, Born To Make You Happy was reproduced with an acoustic guitar accompaniment. It's an interesting glimpse at what might have been, had the original premise for …Baby One More Time stuck. There are new vocal arrangements, additional ad-libs and, of course, an iconic throat-clearing intro. Though still, fundamentally, the same song, it would not have sounded entirely out of place on an early-'00s pop-rock album, either.
The accompanying music video for Born To Make You Happy is, on the surface, an innocuously pleasant affair. It features very of-its-time choreography (shoulder-shimmy into a twirl) that completely disregards the actual tempo of the song, since Britney and her dancers move at double the speed of the vocals. But far and away the most intriguing aspect of the visuals is that there's something rarely mentioned hidden in plain sight: Britney is shown as being pregnant(!) at the very start.
In the abandoned video concept, an 18-year old Britney would lament the loss of her beau while secretly carrying his child (born = pregnant; it was the '90s, and things were approached literally back then). You'd think that fairly quickly, someone at Jive Records would have pointed out the myriad of potential issues this would cause for an act aggressively marketed towards teens and pre-teens. Yet remarkably the concept made it all the way to filming before being abandoned. The opening and closing shots nonetheless remained in the final cut, the former clearly showing a visibly pregnant Britney lying on the bed daydreaming while holding her stomach. HOW DID WE MISS THIS?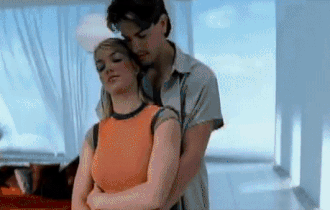 While much of Britney's early success is understandably defined by her debut single, Born To Make You Happy was, nonetheless, an important bookend to the …Baby One More Time campaign in the UK. It became her second #1 hit and reignited interest in the album, which reached a new peak of #2 (eventually going on to sell 1.2 million copies). And, even though From The Bottom Of My Broken Heart was reasonably successful in America – peaking at #14 on the Billboard Hot 100 – Born To Make You Happy is now generally regarded as the de facto fourth single (it later featured on The Singles Collection in all territories). With four top-five singles in the space of a year, this was a period of consistent commercial success quite unlike any that Britney would enjoy in the UK again.
---