Released: 24th September 2001
Writers: Barry Gibb / Maurice Gibb / Robin Gibb
Peak position: #2
Chart run: 2-4-6-10-14-26-29-29-41-54-62-69
---
After four years at the top of the pop game, Steps were gearing up to release their obligatory greatest hits compilation. And although Diana Ross might not have been an immediately apparent artist to cover, Chain Reaction transpired to be a stroke of genius. It took all the core Steps elements and elevated them even further, resulting in one of the group's most deliriously brilliant – and bonkers – moments.

The months leading up to the release of Gold – The Greatest Hits had seen the group drifting into a weird middle-ground in chart terms. The singles were continuing to perform well, no doubt. But with lower sales and shorter chart runs, Steps were becoming much more of a fanbase-driven act. Accompanying this was a newfound critical appreciation of the group; their image and sound had certainly matured during the Buzz campaign. In some respects very successfully (It's The Way You Make Me Feel marked a brilliant evolution in Steps' sound), while in others a little less so (the styling in Here and Now still feels overly serious). Either way, more recent releases had been met with approval from commentators who previously treated Steps' success begrudgingly. In that sense, this was the perfect time to release a greatest hits compilation; it was a chance to remind both fans and critics alike of the journey to this point, while everyone was on the same page.
Chain Reaction was – at least initially – an eyebrow-raising choice of song to cover. Its link back to the group had nothing to do with Diana Ross, but instead the writers of the track: Barry, Robin and Maurice Gibb. It was a fitting nod to Tragedy that for such a landmark moment in their career, Steps would perform another track penned by the Bee Gees. But Diana Ross can't be discounted from the equation either; Chain Reaction wasn't a very Steps-sounding song. How on earth would they go about covering a song by inarguably one of the most distinctive voices of Motown and successful female singers of all time? The answer was to turn the track on its head and take a completely different approach.
The sensual disco tones of the original Chain Reaction were swapped for a Safri Duo-esque drum beat and production that was unabashedly bigger in every sense than anything else in Steps' back catalogue. With continuous runs of crashing beats and swirling synth sound effects, it rapidly becomes evident that comparison to the original track is nigh on impossible; the two songs are very different. Even the lyrics are given a slight spin, with the line: "You taste a little then you swallow slower" subtly switched to the less explicit: "You taste a little then you follow slower".
Whether that's necessary is debatable, since the rest of the track is hardly ambiguous: "I wanna get your love all ready for the sweet sensation, instant radiation; you let me hold you for the first explosion". Sex isn't necessarily a topic Steps had tackled head-on for the most part. And when they had – see Experienced from the Step One album – it felt a little awkward and memorable for the wrong reasons. So, while Chain Reaction does put the group back in that territory from a lyrical perspective, it's not packaged as a sexy song.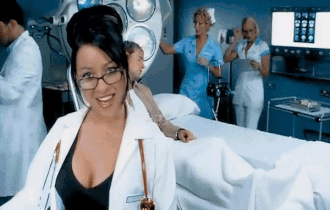 This is Steps in full-on party mode, and they bring their A-game. Whether it's due to the material or the occasion, as a performance, everything about Chain Reaction feels more heightened than it had done for a while. Faye best captures the essence of the original track, with a soft, almost purred half-verse, providing the only moment that could be considered remotely sensual. Lisa, on the other hand, barrels into her half-verse with the same enthusiasm that made her middle-eights such a reliable component of many Steps tracks.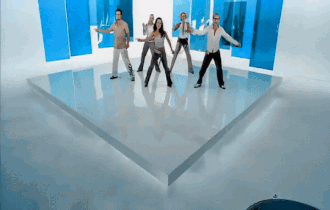 H does, of course, get a half-verse – and by this point, it would have felt a bit weird for him not to – but along with Lee, the pair are employed a little more tactically. His: "Uh" grunts that punctuate Chain Reaction give it a slightly silly, tongue-in-cheek edge, while the male background vocals are used to anchor the verses, which proves necessary amidst such a high-octane carnival of production. Front and centre of the song, though, is Claire, and rightfully so. For a more emotional performance, One For Sorrow is probably the gold standard, but in terms of a vehicle to showcase the sheer force of her voice, few other Steps songs come close to Chain Reaction. The velocity with which she ad-libs the final choruses cuts right through the track, bringing it to a jubilantly buoyant close.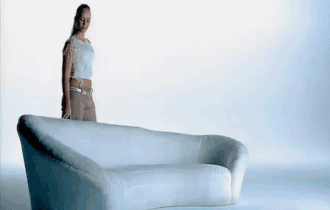 The music video for Chain Reaction also found Steps back in much more playful territory, even if it's very much a concept of two halves. The first sees the group playing doctors and nurses, presenting a fascinating insight into what the NHS was (probably) like before years of austerity hit the service. A patient (H) arrives by ambulance and is immediately greeted by a doctor (Lee), who wheels the stretcher through into the hospital. The front desk is staffed by a receptionist (Claire), and a nurse is loitering nearby (Faye). Both approach the stretcher – presumably not expecting anyone else to arrive in their absence – and proceed to accompany the patient and the doctor through the hospital, where they're joined by another doctor (Lisa). Then, things suddenly things escalate unexpectedly. H is wheeled through into the operating theatre, while the hospital entourage starts readying themselves to perform surgery (a receptionist being in any way involved in the procedure is puzzling).
Then, just as it seems Chain Reaction is about to take a macabre turn, the video heads (literally) into the light, and completely switches gear, turning into something resembling an extended furniture advert. Steps drape themselves over soft furnishings in shots intercut with the obligatory choreographed routine. The visuals of this latter half of the video are clean and bright, but it does feel like a bit of a cop-out when the hospital concept could easily have been maintained for the duration, with the scope for it to have been even whackier.
Accompanied by a blitz of promotion, Chain Reaction – paired as a double-A side with the One For Sorrow (Tony Moran US Remix) – peaked at #2, which was a somewhat fitting result as the chart position Steps had occupied most since their debut in 1997. Furthermore, spending four weeks in the top ten and selling 253,500 copies (the 37th biggest hit of 2001), Chain Reaction succeeded in giving the group their best commercial performance since Say You'll Be Mine/Better The Devil You Know almost two years prior. And just a few weeks later, Gold – The Greatest Hits topped the album chart for a total of three weeks. In less than three months, it sold 934,220 copies to end up the 6th biggest album of 2001. Truly, this was a moment of unmitigated triumph for Steps. So often the underdogs of pop music, finally, their contribution was recognised and celebrated.
But having defied the odds and remained steadfast where so many other acts had come and gone during the intervening years, there was a dawning sense of realisation: what next? The answer – as it turns out – would soon become clear as a Boxing Day split loomed…
---