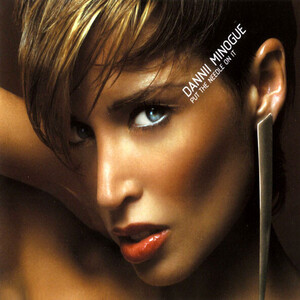 Released: 4th November 2002
Writers: Henrik Korpi / Mathias Johansson / Dannii Minogue / Karen Poole
Peak position: #7
Chart run: 7-20-33-44-55-64-62-48-41-61-75
---
Serving as the lead single from Dannii Minogue's fourth studio album, Put The Needle On It was a mission statement of what Neon Nights wanted to achieve…while also being a thinly veiled euphemism for something else entirely.
After several years between record deals, Dannii Minogue was on the comeback trail in the early '00s. An appearance on Riva's Who Do You Love Now? (Stringer) – at the request of Pete Tong, no less – landed her a (first) top-three hit. She signed with London Records shortly thereafter and began working on new material. The aim for what would eventually become Neon Nights was to capitalise on Dannii Minogue's affinity with dance music by mirroring current club trends in the UK and beyond, turning them into an album of pop songs. Things moved reasonably quickly, too, because just under a year had passed when the formal lead single, Put The Needle On It, was released.
While the impetus for a new album may have been spun from Who Do You Love Now? (Stringer), it didn't end up dictating the overall direction. Rather than continuing down the trance route, inspiration was instead drawn from the continuing popularity of French house but with an often-retro twist. Put The Needle On It contains both aspects: a dirty disco-funk beat throbs hypnotically throughout, while cool screeching synths intermittently slice into the production. It's a swerve on what many might have expected from Dannii Minogue to try and capitalise on her commercial resurgence. Indeed, some artists may well have played it safe with a more-of-the-same approach, even if that resulted in ever-diminishing returns. Instead, Put The Needle On It started carving out a clear identity for the Neon Nights campaign that sounded like little else around it in the charts at the time and would prove key to the album's success.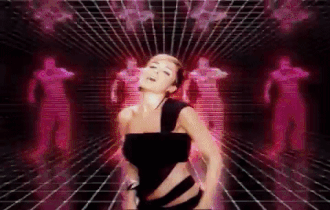 Yet, while there's very much an angle of being able to perceive the song as a (musical) mission statement, lyrically, it has other intentions. The revelation that Put The Needle On It is, in fact, about sex – rather than playing a record – earned Dannii Minogue some column inches in the tabloids. That's no bad thing, even if it was very much an exercise in stating the obvious because there isn't really any other way to read the track. The first verse doesn't leave much room for ambiguity: "Take the bait, bite the line, I got the place, you got the time, I'm lickin' my lips, did I make you blush? I let you in, the sweat you're in, the temperature is risin', so hot, I may wanna take my clothes off". And there can be no doubt whatsoever by the pre-chorus: "Come inside, your drippin' desire, let the music make you rise up…", particularly when the transition between them is punctuated with enthusiastic panting.
There's nothing coy about Put The Needle On It, though. If the track were played as a tongue-in-cheek double entendre, it could easily have come off as tawdry. But Dannii Minogue owns her sexuality ("I dare you now to be bad, do you want the best you've ever had? You look so tame, boy, let me wild you up…") and performs in an assertively playful way: "I'll keep you up all night, until you feel it vibrating through your bones". That's also mirrored in the production. Put The Needle On It is constructed so that Dannii Minogue's voice is surrounded by – and blended with – a plethora of vocal samples that have been distorted and looped, but her presence as a performer is never lost to the style of the song.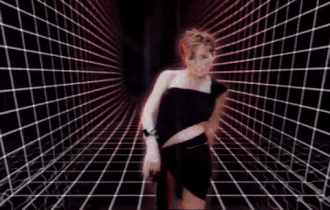 And that's arguably what Put The Needle On It does best as an entire package. It contains elements that add to Dannii Minogue's legacy and have remained reference points synonymous with this phase of her career. That's particularly true of the middle eight breakdown, which concludes with: "Dirty hands I demand", spoken while the beat drops, and is just about the most iconic lyric from the Neon Nights campaign. Not content with just being incredibly catchy, the chorus: "Put the needle on it, I'll tell you where I want it, c'mon and spin me on it, all my freaks say" also takes the final line and weaves it intermittently throughout the track so that it functions as a shout-out to the listening audience and fans of Dannii Minogue whether old or new.
The accompanying music video complements Put The Needle On It with what came to be some of the most defining visual iconography associated with Neon Nights. It opens with a close-up of Dannii Minogue's lips on a screen repeating: "Put the needle on it", as the camera pans out to show a room where a vinyl record is spinning and then zooms into one of the grooves. A retro-futuristic Tron-esque square grid is inside, as is Dannii Minogue, accompanied by four background dancers who appear digitally rendered. Those sequences are intercut with her lying – or slinking around a pole – on a giant turntable, which is such a brilliantly literal concept to represent the song and the album. In some ways, the idea was ahead of its time in terms of predating the vinyl revival. Fortunately, the merchandising potential has since been realised, with a slipmat created to accompany the release of Neon Nights 20 in 2023.
There are moments within the video that acknowledge the sexual overtones of the Put The Needle On It. At one point – after demanding dirty hands – Dannii Minogue is frisked by two disembodied, liquid-effect arms. But that's about as explicit as things ever get. Fortunately, a creative direction seemed to exist where it's understood the song could have sex appeal without resorting to trading on titillation or shock value, which would have undermined what Neon Nights sought to do.
There's no disputing Put The Needle On It is an integral part of the album campaign in terms of setting the tone for Dannii Minogue's comeback. Even so, the track was a reasonably modest hit, peaking at #7 and spending three weeks in the UK top 40. Total sales are around 65,000 copies – her ninth biggest seller overall – although because they're split over 2002 and 2003 due to the timing of the release, Put The Needle On It didn't feature in either end-of-year chart. All the same, this marked the first time Dannii Minogue had scored back-to-back top-ten singles in the UK.
So, there was still more momentum behind a new album than had ever existed before, giving every reason for expectations to remain high. And rightly so because when Neon Nights arrived just over four months – and one more single – later, it didn't disappoint.
---