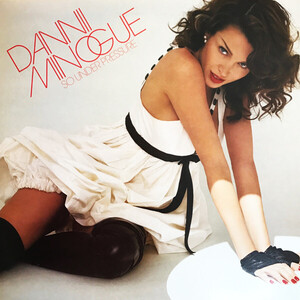 Released: 12th June 2006
Writers: Dannii Minogue / Terry Ronald / Lee Monteverde / Michael Ward
Peak position: #20
Chart run: 20-61
---
As the '00s wore on, Dannii Minogue struggled to recapture the success she enjoyed at the start of the decade. So, her record label switched their attention from a new studio album to a greatest hits compilation instead, and the pressure to turn things around intensified.

Although Dannii Minogue had only released two singles since signing with All Around The World (AATW), it was already evident that something had changed during the move to a new label. In principle, AATW retained the formula that helped shape 2003's Neon Nights, where Dannii Minogue helped compose lyrics to existing dance instrumentals. Yet, almost immediately, things didn't go to plan. Her first release on the label – You Won't Forget About Me – peaked at #7, despite being widely talked up as a much bigger hit. Then, almost a year later, in 2005, came Perfection, which reached #11. The charts had changed during the decade, so that can't be discounted as a contributing factor. However, fans were also quick to lay some of the blame on AATW, and that's not entirely unreasonable, either.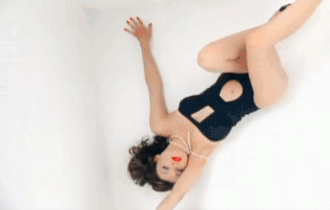 The label could handle individual releases – there's no question about that – and also signed several dance acts who enjoyed varying degrees of (short-term) success. But however much Dannii Minogue leaned into the genre, her marketing and promotion took the approach of a pop artist. So, waiting a year between singles wasn't an effective way of regaining momentum. AATW seemed to recognise that their chances of capitalising on Neon Nights were slipping away and became increasingly unsure of what to do with a new album, which didn't even have a projected release date. So, eight months after Perfection, the label came up with an interim stopgap: a career-spanning (albeit not exhaustive) greatest hits collection called The Hits & Beyond, which also included some of the new material Dannii Minogue had been working on, including the lead single: So Under Pressure.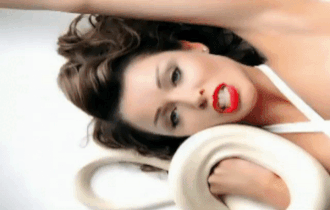 While basing songs around existing instrumentals had undoubtedly paid off in the past (even if some worked better than others), it was a refreshing change for this to be an original in every respect. There's a slightly different energy about So Under Pressure that is not a departure for Dannii Minogue but feels closer to an evolution of her sound than a direct continuation. Most notably because, though accompanied by a slew of club-ready remixes, the track itself doesn't fit quite so obviously into that bracket. Despite a thumping, scratchy bassline that pulses with chewy electro distortion, So Under Pressure is built around a stop-start production, which – intentionally – never quite sustains long enough for the song to feel uptempo enough that it would fill a dancefloor.
Instead, the track contains a minimalistic yet hypnotically addictive chorus: "I'm…so…under pressure (yeah yeah, yeah yeah), I'm…so…under pressure (yeah yeah, yeah yeah)". It might take a few listens to fully assimilate that as the extent of the hook, but once it clicks, So Under Pressure proves mercilessly catchy. It's not as if the production lacks depth, though. Arguably the highlight is a warm – all too fleeting – flourish of euphoric synths that threaten to take the song in an entirely different direction at one point ("Yeah yeah, yeah yeah, yeah yeah, yeah yeah…get a grip…yeah yeah, yeah yeah, yeah yeah"). And, as the chorus builds towards the end of the song, it's layered with a refrain: "And I wanna get out, 'cos it's gonna blow out, I just wanna get out, 'cos it's gonna blow out". There's such effective mastery in the ostensible simplicity of So Under Pressure, which is befitting of a track whose lyrics hold a special significance.
At first glance, it might not be immediately apparent, but the inspiration for So Under Pressure came from an unexpectedly dark place. Dannii Minogue co-wrote the track as an outlet for the feelings she'd experienced after several people close to her – including Kylie Minogue – were diagnosed with cancer. Though it isn't mentioned explicitly, the verses detail a struggle ("Slippin' down and back again, when I want the pain to end, and I'm sinkin' in quicksand"), and with that context, the intensity of So Under Pressure has a further air of – at times – desperate gravitas: "Get a grip I'm almost gone, there's just too much going on, feel like I can hardly breathe". It's an interesting angle, and there's no reason, in principle, that a dance track can't deal with such a profound, evocative subject. So Under Pressure didn't need to be morose and downbeat, even if that's what people might expect a song about cancer to sound like.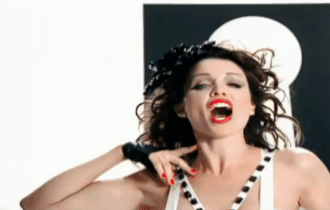 However, the message did get undermined slightly by the dissonant visual elements of the single, where Dannii Minogue was cheerily performing the song with choreography and scantily clad backing dancers. The same is true of the music video, which is not wildly inconsistent with what would be expected from a Dannii Minogue single (particularly one released through AATW). She described the concept as being put in a series of 'high-pressure' situations. And while that's certainly true of the shots where a white python slithers over her, it becomes less apparent when the visuals primarily consist of writhing in a Perspex box or dancing and posing. The styling is terrific, as is the editing, which cuts rapidly between different looks during the same sequence to give So Under Pressure a slick, engaging visual presence. It's no doubt the result of hard – and probably painstakingly repetitive – work, but in terms of what the track represented thematically, first impressions don't necessarily do it justice.
If So Under Pressure already seemed a faintly ironic title given the trajectory of the previous singles, then it became more of a confronting reality when the track peaked at #20 and exited the top 75 after just a fortnight. Even ignoring the six(!) football-themed songs commemorating the World Cup that charted above Dannii Minogue does little to change this as a disappointing outcome.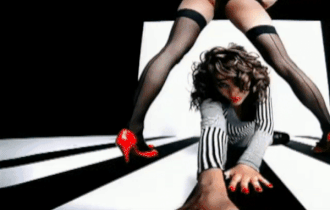 Nonetheless, as far as The Hits & Beyond is concerned, So Under Pressure was the more expendable part of the campaign. It isn't easy to gauge precisely the parameters of success for the album because there had to be realistic expectations. Was a Dannii Minogue greatest hits likely to top the chart and sell hundreds of thousands of copies? From an objective stance, probably not, based on how previous studio albums had fared. But considering The Hits & Beyond was well promoted and housed a solid collection of songs covering a 15-year period, it deserved better than a peak of #17 and a brief three-week run in the top 75.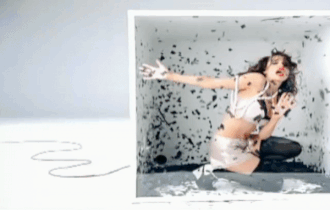 The thing is, a greatest hits album was not, in itself, a bad idea. Using The Hits & Beyond to bridge the gap between studio albums, act as a point of reintroduction and – in some cases – an opportunity for newer fans to become better acquainted with Dannii Minogue's earlier material made sense. Especially since the only other career retrospective that existed – 1998's The Singles – hadn't been released outside of Australia. That said, while including five tracks, plus You Won't Forget About Me, Perfection, and So Under Pressure from an as-yet-untitled new album (eventually named Club Disco) seemed good value and satiated fans in the short-term, it also expended a significant amount of new material on a project that, for the most part, lasted little more than a few weeks. True to form, despite the DVD version of The Hits & Beyond including a music video for I Can't Sleep At Night, AATW waited six months to compile a remix package and release it (digitally) as the second single. Needless to say, the track went unnoticed commercially and did nothing for the album.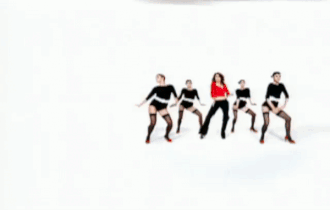 So, the label found itself in no better a situation than before The Hits & Beyond. Indeed, they were arguably at even more of a disadvantage, having now used up the contingency of Dannii Minogue's back catalogue as a selling point. But things were about to change significantly, albeit not so much from a music perspective. A cover of He's The Greatest Dancer was mooted as the charity single for 2006's Children In Need and almost certainly would have been a hit. The BBC allegedly scrapped those plans when it emerged that Dannii Minogue had signed to the judging panel of ITV's The X Factor. Her four-series stint between 2007 and 2010 coincided with what many would argue to be the show's peak as a cultural phenomenon. And, while that didn't extrapolate to any musical endeavours (Touch Me Like That, a collaboration with Jason Nevins, coincided with her first series and peaked at #48), it boosted Dannii Minogue's profile, making her a household name in a way that a new album would never have, even if AATW had – by some miracle – been able to salvage the situation.
Ultimately, there will always be a degree to which The Hits & Beyond will leave a slightly bitter taste. While it gave Dannii Minogue a long overdue opportunity to celebrate her pop career, the undeservedly lacklustre commercial reception – also experienced by So Under Pressure – reflected not the quality of the material but a record label increasingly out of its depth.
---