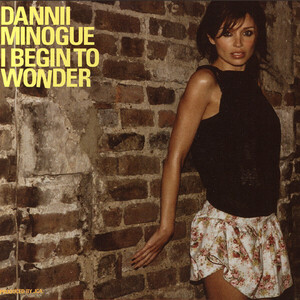 Released: 3rd March 2003
Writers: Jean Claude Ade / Dacia / Olaf K.
Peak position: #2
Chart run: 2-7-14-22-25-34-49-58-63-53-59
---
The dawn of the new millennium saw Dannii Minogue release a track that thrust her in a new direction, redefined her sound and saw her scale new commercial heights.
If the story sounds familiar, that's because it was. I Begin To Wonder is, in many respects, to Dannii Minogue what Can't Get You Out Of My Head was to Kylie Minogue, albeit on a more modest scale. Comparisons had long been drawn between the sisters Minogue, but here it was for all the right reasons as they took their place atop the charts. Yet, their approach had been markedly different; where Kylie's comeback was an explosion of gold hotpants and ice-cool electro-pop, Dannii had played the slow game. The release of Who Do You Love Now? (Stringer) back in 2001 sowed the seeds for her evolution as a successful – and credible – dance act. But it was almost a year later before Put The Needle On It arrived as the first single proper from Neon Nights. However, it was here that things moved up a gear; I Begin To Wonder felt like a statement of intent which packaged everything that Dannii Minogue was, and wanted to be, into three-and-a-half brilliant minutes of pop music.
The vision for Neon Nights was one of cohesion. Dannii was heavily involved in the composition of the album, but at the same time London Records were actively sourcing dance tracks that could be turned into pop hits (an approach that would define her career for much of the decade), and I Begin To Wonder was one such song. But this wasn't about snatching other people's work and hijacking it to sell to the mainstream. The original producer (Jean-Claude Ades) helmed the end-product and although Dannii Minogue is acknowledged as providing additional lyrics, she's not officially credited as a songwriter.
The big twist here, though, was that I Begin To Wonder was a bit more forward-thinking than anyone realised at the time. It's a dance track, sure, but it's also a throbbing electro-pop powerhouse that established a sound many acts – including Kylie herself – would popularise as the decade progressed. Within seconds, the track is in the zone with its rapid-fire delivery: "When I'm walking down the street I call your name, inside my head I go insane, don't you know that it's really making me crazy". This is strut-pop at its finest, and here, Dannii Minogue has the swagger of an artist who knows she's at the top of her game. She plays I Begin To Wonder so well; it feels authentically like a coming-of-age anthem that was able to ally Dannii with a new generation of fans by wearing its heart – and flaws – on its sleeve: "You're a sinner but you told me you're a saint, too fast I tripped and lost my way, can't believe what's happened to me lately". Neon Nights was a bold new venture, but I Begin To Wonder strikes a wonderful balance of confidence, with just a hint of insecurity.
The production on the track is constantly evolving and shifting throughout the track, gradually, becoming more prominent as the song progresses. It's the chorus, though, where I Begin To Wonder finally emerges as a fuzzy, euphoric beast, swirling with choppy synths and pounding beats. Never once does it threaten to swallow Dannii Minogue; she stays firmly in control of the half-sung, half-spoken refrain. It's a triumphant rush, and towards the end of the track, there are even some ghostly backing vocals to add further depth. I Begin To Wonder is a total rush from start to finish, and for every moment where it pays homage to the electro-'80s, there is one where it cuts its own identity as a pop track of the '00s.
Dannii Minogue was a big fish in a small pond in terms of her record label, and nowhere is that more evident than the music video, which impressively manages to look simultaneously cheap and expensive, but is never anything less than supremely watchable. One moment, she's rotating on a podium while the title of the song (written in various languages) stylishly swirls around her; the next she's crawling through an air vent. Yet, for a video with no real narrative strand, the set-pieces are nonetheless purposeful, and the whole thing hangs together really well. Dannii Minogue's styling is also noticeably softer; when she's walking down an alleyway strewn with posters of her face from Put The Needle On It, there's a palpable warmth here, compared to the angular, aloof aesthetic of the previous single. And it's the moments of relative simplicity – where Dannii's natural presence fills the screen – that work best.
When the video tries to up the ante, the results are underwhelming. In the latter half, there's a great dance sequence that is hypnotically robotic in its movement, but it then becomes almost static as the shot expands to show duplicate Dannii Minogue's. Even if the execution doesn't quite work, the concept is usually clear. But then there are points where even the concept is unclear: why is she cutting strands of her hair with oversized novelty scissors? Why is she blow-drying her armpits? It feels as if any idea was game for inclusion in I Belong To Wonder, and even where things become truly bizarre, it never runs the risk of being boring. And in many ways, the video's precarious balance between creative ambition and financial constraint is representative of the Neon Nights project as a whole.
I Begin To Wonder became Dannii Minogue's highest-peaking release in the UK when it debuted at #2. It's not her biggest selling single – in part because sales were starting to drift in 2003 – but in terms of visibility, this felt every inch a commercial peak, picking up solid radio support. Not only did I Begin To Wonder make waves in Europe, but it also charted on the Billboard Dance Chart in America. This all set the stage perfectly for the release of Neon Nights, which reached #8 in the UK, matching Dannii Minogue's previous career-high with the Love and Kisses album back in 1991. It was an extraordinary turnaround, and perhaps even more impressive considering the resurgence that Kylie was experiencing at the same time. It could so easily have cast a shadow over Dannii's efforts, but both acts were deservedly able to enjoy the spotlight.
This was a huge moment; in 2003 it marked the rebirth of a pop icon and – along with Neon Nights – garnered enough critical praise and just the right amount of commercial success to earn Dannii Minogue a spot on the panel of The X Factor a few years later. Perhaps more importantly in terms of the song's legacy, I Begin To Wonder also left an indelible mark on the '00s as an early contributor to the electro-pop revolution.
---