Released: 11th September 2000
Writers: Norma Ray / Jean Fredenucci / Cathy Dennis / Andrew Todd
Peak position: #3
Chart run: 3-10-14-26-37-33-37-49-57-70-72-75-73-X-X-73-56-71
---
Every so often, S Club 7's defied the predictable (but nonetheless brilliant) formula that formed the foundation of their success. Natural was one such example, marking an important – and oft-overlooked – step in their transition to adulthood.
Released as the second single from the chart-topping 7 album, this was a bold choice, which turned the S Club-brand on its head. Until this point, the group had excelled with a series of uplifting, self-affirming pop songs. And truth be told, under the watchful eye of Simon Fuller, they weren't about to go rogue. Yet, even if nothing was left to chance, it's hard to work out precisely what the plan was here. For S Club 7 to push Rachel Stevens onto lead vocals and go down the pop-R&B-slow jam route, felt unprecedented. That's not to say they couldn't pull it off, but had Natural been an enormous hit, it's difficult to see where they would have gone next. This single felt like it was attempting a reinvention for which there was no mileage – or demand – for the group to follow through on.
The more likely answer, of course, is that the release of Natural was driven by the distinctive sample that it was based on. The song itself is an English-language cover of Norma Ray's Tous Les Maux D'Amour, which had been a hit in France the previous year. Central to both tracks is the interpolation of Gabriel Fauré's Pavane; if you don't recognise it by name, then you have (probably) heard it. Using an iconic piece of classical music in this way was a great gimmick, but it's not just a random sample. It's integral to the core of Natural, with all the elements of the song built around it; there's no way of untangling one from the other, such is their importance to one another. It gives the single a sense of depth and gravitas that S Club 7 rarely recaptured. Not that they ever really tried to, in fairness.
There is much more to Natural than Pavane, though, because the rest of the composition changes the whole mood of the sample and uses it imaginatively. This is about as sensual and seductive as we ever heard the group; the slinky production is perfectly matched to the smoothness of Rachel Stevens' voice. The song feels intentionally undemanding, with subtly stimulating hooks that play on punctuation and emphasis: "Baby lovin' YOU, comes easily to ME, it's what I'm living for it's…all…in…the chemis-TREE". Even when Natural thumps and crashes from verse to chorus, it's done in the gentlest of fashions with a toe-tapping beat that washes warmly through the psyche.
Crafting lyrics that were as hot and heavy as the instrumental track, yet still age-appropriate for S Club 7's target audience, was always going to be a logistical challenge for this single. But it's achieved by putting an interesting slant on the theme of love and sexuality and dealing with it from a biological perspective: "Loving you is not just luck or illusion, it's in the make-up of our DNA". There's a real commitment to the theme from start to finish: "It's in the science, it's genetically proven, 'cos when you touch me the reaction it just blows me away", although impressively Natural still manages to sound more romantic than it does clinical. This is smart songwriting, which conveys more adult themes than usual for S Club 7, without ever being explicit in what it's referring to.
Yet, for all that the track does well, there remains a sense that no-one quite knew what to do with Natural as a single. A radio edit was commissioned, which beefed up the production, adding some electronic riffs and robotic growls of: "Ow! Baby, baby". Already, this started giving the sense that the song was starting to become something it was never intended to be based on the simplicity of the album version. The video features another different mix, similar to the radio edit but with additional: "Oh so natural…" ad-libs from Rachel Stevens over the closing chorus. So, it's difficult not to look at Natural and feel something was a bit off. The radio edit was nice, but hardly necessary considering the 7 album was less than three months old. Then you have the video version, which was never released commercially at all. It was almost as if this single had caught the meticulously well-oiled S Club machine on the back foot in some way…
The music video for Natural is visually gorgeous; filmed on a tropical beach in Malibu, how could it not be? However, the most striking thing about it – besides the scenery – is the fact that this feels like the first time the group was presented as more than just an extension of their TV show(s). Admittedly, it's not a giant leap, but there's a crisp filmic clarity to the aesthetic, while the styling is a tad more provocative. If S Club 7 had been perceived as sex symbols up until this point, then it was purely coincidental. But here, shots of them gyrating in slow-motion under a waterfall (and Paul furiously chopping wood) are leaving nothing to chance. The group's passage to adulthood may have been soundtracked by the two singles that immediately followed Natural, but this is the moment where S Club 7 started to forge an identity and image as a pop act in their own right.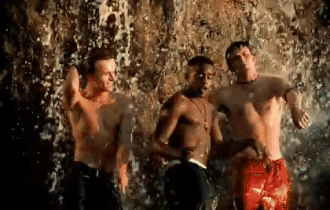 Natural reached #3 in the UK, becoming the group's lowest-peaking release (and if we're going to be picky, then Alive – the only one to fare worse – was credited to S Club). To be in that position with a top-three single was an impressive feat, but it's possible this caused consternation behind-the-scenes. Such was the standard to which S Club 7 were being held. It was surely not coincidence alone that a brand-new recording – Never Had A Dream Come True – came next; even after the 7 album was re-released, it yielded no further singles. But here's the thing; there are plenty of tracks that were more on-brand and could've served as the follow-up to Reach. If you're going to pick a song like Natural, which was pretty left of field for a mainstream pop act like S Club 7, then you have to be prepared for the fact that it's commercial performance may suffer. And that's using the term loosely, because this single spent four months on the chart, regardless.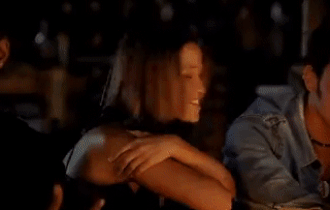 Even if it was the first chink in the group's seemingly infallible armour, that is no reflection on the quality of Natural itself; it's as understated as it is underrated. For better or for worse, this sounds like nothing else that S Club 7 recorded, and there aren't many of their singles you can say that about.
---