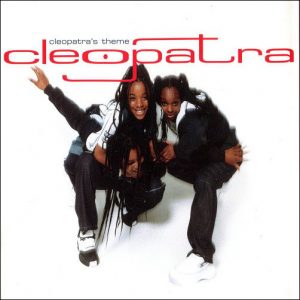 Released: 2nd February 1998
Writers: Cleopatra Higgins / Kenny Hayes / Tim Scrafton
Peak position: #3
UK chart run: 3-8-13-19-23-33-45-55-70-71
Billboard Hot 100 chart run: 60-51-32-28-26-26-30-33-35-39-44-52-55-62-67-72-77-86-99
---
The '90s and '00s are peppered with some tremendous debut singles and whilst some may baulk at the thought of Cleopatra's Theme as one of them, with hindsight it is absolutely underrated as an introductory pop package.
Ok, so we're not dealing with something as iconic as Wannabe or …Baby One More Time here. But what those singles did was present a song, a music video and an act that had a clear and consistent identity. There was no sense of the Spice Girls tentatively dipping their toes in the water – it was full throttle from the off. And that is exactly what Cleopatra's Theme does.
The ethos of Cleopatra's debut album was Comin' Atcha and nowhere is that more evident than on their debut single. The shrill: "Hey! Oh-oh-woah, let me hear you say it" intro immediately banishes any notion of nuance or subtlety as it kicks into the: "Cleopatra, comin' atcha" hook. What you essentially have here is a song that doubles as the group's theme tune (literally – it was later used for the title sequence of the Comin' Atcha TV series). But there is much more to it than a marketing gimmick – it's a smartly written track with lyrics that strike the perfect balance between self-assurance and aspirational.
Vocally, Cleopatra's Theme is a tour de force; it's difficult not to draw comparisons to the Jackson 5 – their influence over the group is palpable throughout (they would later cover I Want You Back – the definitive version, some might say). Make no mistake though, this is all about Cleopatra and their own talent. The performance is laced with distinctive vocals that sounded quite unlike anything else in the charts at the time. And as the song nears its climax, there are some earth (and ear) shattering ad-libs that sound like they'd decimate a cassette single into pieces.
Crucially, if the song was Cleopatra's statement that they'd arrived, then the music video needed to look the business. And the visuals for Cleopatra's Theme perfectly complement the track. The concept is simple with the group performing the song in their bedroom, but it perfectly frames the girls as sisters (via a strong cameo from their Mum) and through a series of slickly edited transition shots – and effective use of primary and secondary colours – you start to get a clear idea of Cleo, Yonah and Zainam's personalities. Aesthetically, the filmic quality of the music video was also of a standard more commonly seen in American music videos, which certainly gave it a shot in the arm on music television – even more so when the time came for Cleopatra's Theme to be released in the States.
Famously, Cleopatra were signed to Madonna's Maverick record label shortly after their UK launch, scoring high-profile gigs on Nickelodeon and the Disney Channel in America. The transition seemed almost effortless and – with their slick, Americanised image – perhaps inevitable.
Cleopatra's Theme peaked at #3 in the UK and #26 on the Billboard Hot 100. The group's success in America would eventually prove to be a double-edged sword (because when was anything straightforward for pop stars in the '90s?), but in 1998 it was nothing less than an incredible achievement. Whatever might happen next, Cleopatra had done with one single what many other acts spent their whole careers trying – and rarely succeeding – to do.
Re-examining the evidence now, it's fairly evident that Cleopatra weren't really giving anyone a choice in the matter, as it turns out. Everything about Cleopatra's Theme as a debut single was so expertly realised in marketing the group as stars, all they had to do was wait for the rest of the world to catch up.
---