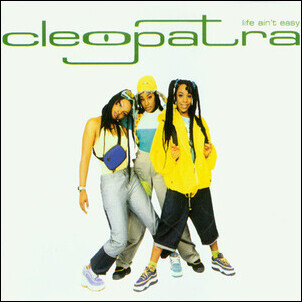 Released: 4th May 1998
Writers: Cleopatra Higgins / Zainam Higgins / Yonah Higgins / Oziz Hall / Paul Eastman / Steve Christian
Peak position: #4
Chart run: 4-6-10-21-38-45-62
---
After exploding into the charts with their debut single, Cleopatra set about scoring a follow-up hit with a slice of socially conscious pop music.
Following the success of Cleopatra's Theme, things accelerated quickly. By the time this – the group's second single – was released in the UK, they were already starting to make waves in America. Their vibrant image was brimming with personality, and despite much of their self-written material having been composed through preadolescent eyes, it managed to avoid sounding trite or precocious. This is an accusation that could so easily have been directed towards Life Ain't Easy, as it moved Cleopatra on from singing what was ostensibly their theme tune and into the realm of social commentary. But it deftly avoided any such pitfalls and further consolidated their status as rising stars.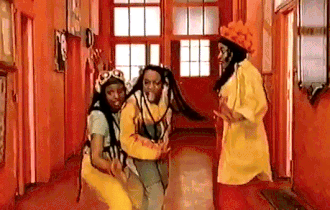 On paper, the concept of a young pop group telling people that 'life ain't easy' probably shouldn't have worked. Sure, the heavy subject matter of the first verse: "When I see those people sitting hungry in the street, I put myself in their shoes, finding safer places to sleep; people just walk past them when they know there's something wrong, when all I want to know is why this whole thing's going on…", is handled brazenly with a typically spirited performance. But clearly, there's a well-meant curiosity behind the lyrics that shows Cleopatra's willingness to sing about more than boys and love. Sensibly, the song stops short of lecturing the audience; instead, it sits on the side of observing the world around the group. And you can't really object to it or disagree that kids didn't see those things because if they didn't, then the group wouldn't have been able to write about them.
However, at its heart, Life Ain't Easy is a rousing call to arms that is brimming with hope and optimism that things can be better. It's a message that is as relevant today as it was back then, if not more so. It's entirely possible that a young audience now would be far more appreciative of the voice that Cleopatra were trying to give them than we were in the '90s. However, the song itself provides ample distraction from the lyrics by the way it superbly arranges and layers the chorus: "(Life ain't easy) And how we a-a-a-re is (gonna change) and make this world a better pla-a-ce (don't just listen), oooh, you gotta take it in, think about it and then we can begin (life ain't easy)". Everything about the vocals – the tone, the inflections, the effortless stretching of the melody – is divine. In essence, it doesn't really matter what Cleopatra are singing about because it's hard to focus on anything but the sheer, gratifying quality of their voices. For that to be the central quandary facing Life Ain't Easy speaks volumes of the calibre on show here.
The track is further enhanced by the mastering of it, which is a bit rough around the edges in places. The first verse, in particular, has a slight tinniness around the vocals (it's more noticeable listening through headphones) which seems too subtle to be deliberate. However, the by-product of it is a layer of authenticity to Life Ain't Easy, which gives a sense that you hear the song more or less as it was recorded. In fairness, it's not hard to imagine that some of the ab-libs towards the end of the song were ricocheting off the walls of the recording studio, such is the force with which they're delivered. Cleo's final: "Take it…EA-A-A-A-A-A-OH-OH-WOAH" is filled with unbridled power to the point where you can almost hear her voice tearing. It's almost absurd to think that this sort of raw talent was being almost casually in a bubblegum pop exterior and marketed towards kids. That's not to say it wasn't evident that Cleopatra were good singers, but songs like Life Ain't Easy are on another level that went far beyond what most young pop fans would comprehend or truly appreciate.
Given that target audience, the music video for Life Ain't Easy doesn't portray the struggles described in the lyrics. Instead, it sensibly acts as a continuation of the image that was laid out in Cleopatra's Theme. Indeed, it re-uses some of the same elements like the cartoon cutaway shots and the group's long-suffering mum Christine (an iconic part of the ensemble) once again trying to keep her daughters in order. This time Cleopatra are causing chaos in the street as they perform the song with a posse of friends while a queue of cars (and increasingly pissed off motorists) builds up behind them. Rather than portray this as an act of bratty rebellion – as may have been the temptation – it's more tactfully handled. Cleo, Yonah and Zainam aren't trying to be annoying; they're just being kids and having fun. They have no concept of the disruption they're causing…until their escapades end up on the local news and catch the attention of their mum, who promptly orders them home.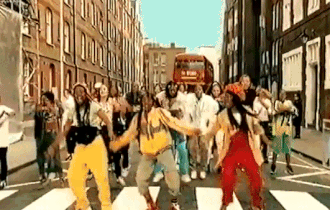 What sells the whole thing is that similar to Cleopatra's previous video, there's a real sense of an established community within the narrative who have distinct personalities, like their easily-irritated neighbour who appears once more to express his disapproval at the group's antics. Cleopatra's animated alter-egos are also established as a power (albeit a useless one) that only they possess within the visuals, which is what makes them unique from everyone else. Thus, it's hard to believe that their spin-off TV show was still almost a year away from broadcast at this point because the concept for it was already there and relatively well defined.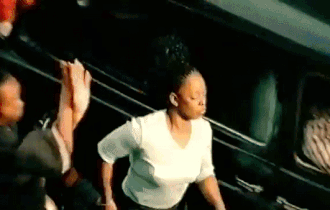 Life Ain't Easy was another big hit for Cleopatra. It peaked at #4 in the UK and spent three weeks in the top ten. The track also became a minor success in America, where it reached #81 on the Billboard Hot 100, becoming the group's second (and final) single to chart there. Life Ain't Easy also preceded the release of the group's debut album Comin' Atcha!, which reached #20 in the UK and peaked at #109 in America. In hindsight, it's a shame that the media presence around Cleopatra was yet to scale up. Many of the visual aspects of this single feel like a synergistic spin-off from another medium, and had that been in place, it would undoubtedly have given Life Ain't Easy – and the album – a real boost. It's not to take anything away from what the group had achieved; a top-five single is, after all, a huge accomplishment. But with stacks of genuine potential and a growing international presence, their chart positions felt comparatively average when Cleopatra were anything but that.
Whether you take Life Ain't Easy at face value or allow the message behind it to resonate, this is another brilliant showcase of the group's talent, with a mind-blowing vocal performance that is arguably far better than there was any need for it to be. And while it certainly earned Cleopatra recognition, it was nowhere near as much as they deserved.
---