Released: 20th October 2003
Writers: Lauren Christy / Graham Edwards / Charlie Midnight / Scott Spock
Peak position: #9
Chart run: 9-13-25-35-48-56-75-X-X-X-71
Billboard Hot 100 chart run: 53-53-55-55-73-71-66-57-52-47-42-46-51-53-64-79-90-87-95-99
---
For all that So Yesterday seemed an innocuous enough start to Hilary Duff's pop career, it was a landmark moment for the Disney Channel and Hollywood Records, setting the wheels in motion to revolutionise how they did business.
One of the defining pop culture trends of the '00s – particularly in America – was a slew of stars who made their name in Disney Channel franchises and graduated to the charts through Disney's own Hollywood Records label. It was a masterful exercise in the synergy that helped establish acts like Miley Cyrus, Demi Lovato, Jonas Brothers and Selena Gomez, as well as the wildly successful High School Musical phenomenon. However, that entire concept didn't exist in such a way before Hilary Duff. Her career path was instrumental in aligning various strands of the Disney corporation and helping shape a viable template that others would follow. Furthermore, she was single-handedly responsible for turning Hollywood Records into a commercially viable label.
During the late '90s, the Disney Channel had developed a strong association with bubblegum pop acts and hosted concert specials featuring *NSYNC, Britney Spears, Steps, B*Witched and Backstreet Boys. However, they started to move away from this in the early '00s because though it was a lucrative opportunity for the artists and record labels involved, there was no revenue stream for Disney. They were just one of several promotional platforms and made no money from album sales. Therefore, the intention became to reserve that airtime for the music catalogue on their in-house label. There was a slight problem with that approach, though: Hollywood Records was an unmitigated disaster. It was founded in 1990 when Disney – who'd been looking to expand its presence in the music industry – opted to create a new label rather than acquire an existing one. However, in the decade after it launched, Hollywood Records was primarily kept afloat thanks to an early acquisition of the distribution rights for Queen's back catalogue. Other than that, and despite a roster of more than 30 artists, they were yet to score a top 20 album.
Although it's widely regarded as such, So Yesterday wasn't actually Hilary Duff's first foray into singing. She became interested in launching a pop career after landing the titular role in Lizzie McGuire. Still, there existed no clear means through which she could translate her popularity as a TV star to explore that desire. To test the waters, Hilary Duff recorded two songs – I Can't Wait and The Tiki Tiki Tiki Room – for soundtracks released through Walt Disney Records. They were followed by a Christmas album called Santa Claus Lane, issued through Buena Vista Records, featuring duets with Christina Milian and Lil' Romeo. However, despite all operating under the Disney umbrella, these were disparate projects. It wasn't until The Lizzie McGuire Movie in 2003 – a theatrical film serving as a coda to the TV series – that the notion of combining Hilary Duff's fictional character with her real-life musical aspirations emerged. The plot revolves around Lizzie McGuire resembling an Italian pop singer called Isabella (played by Hilary Duff in a wig, naturally), culminating with the spectacular number: What Dreams Are Made Of. To publicise the movie and its soundtrack – while further blurring the lines between her two personas – Hilary Duff also released the song, Why Not. The stage was now set for work to begin on a second album, knowingly titled Metamorphosis. Given her association with Disney, she signed with Hollywood Records, despite their rather dubious credentials.
This was where Disney could – and in the future would – have started to tie the material Hilary Duff was recording into Lizzie McGuire because that's precisely what the movie looked to do. But the show had already reached 65 episodes, and the Disney Channel operated under a self-imposed rule where none of their series' was allowed to exceed that number. The justification was that it neatly syndicated into 13-week blocks – an episode each weekday – meaning four shows could be rotated across a calendar year (as if kids know or care about broadcast patterns to that extent). In reality, it meant the Disney Channel was curtailing popular titles with mileage left in them. That was the case here, so to try and get around it, they proposed shifting the focus of Lizzie McGuire to high school (following on from where the second series ended) and broadcasting it on ABC, with plans also made for a sequel to The Lizzie McGuire Movie. Hilary Duff's surging popularity hadn't gone unnoticed, though, and with movie offers from other studios, she had the upper hand regarding pay negotiations. Talks with Disney subsequently stalled, and the series was definitively ended.
In a sense, that did give Hilary Duff some freedom in developing her sound. She was initially drawn towards R&B (elements of this were evident on Santa Claus Lane) before settling on pop-rock. It was a sensible – if not inevitable – decision, given the genre appealed immensely to the adolescent demographic that formed the core of Hilary Duff's fan base. In essence, the idea for Metamorphosis was to create an aged-down version of Avril Lavigne's Let Go, which dealt with many of the same teenage anxieties, albeit from a slightly younger perspective. Hollywood Records even managed to pull in The Matrix – who'd co-written and produced three of the four singles from Avril Lavigne's debut – to work with Hilary Duff, giving the project a shot of credibility. Thus, leading the album with one of their contributions made sense, and So Yesterday was a perfect choice.
The track opens with slick, sun-drenched electric guitar riffs and distorted echoes of: "So yesterday", setting out in clear terms what Metamorphosis – for the most part – was striving for. It's convincingly rock-oriented enough to sound authentic while maintaining an inoffensively upbeat presence that was perfect for rotation on Disney's television and radio outlets which is where – at least initially – a lot of So Yesterday's exposure was going to come from. There was an endearing naivety with which Hilary Duff approached her pop career. She had little concept of how the charts worked or the parameters of success, and that degree of blissful ignorance serves So Yesterday well. The performance isn't over-thought; instead, it's peppy and brimming with enthusiasm ("Do you see a single tear, it isn't gonna happen here") which translates effectively as a breezy, carefree brush-off.
With Hilary Duff having already taken tentative steps into the music industry before this single, there are no real surprises regarding her voice; most people already knew what to expect. Although some songs on Metamorphosis did expose its limitations – like the near acoustic confessional, Inner Strength – So Yesterday has a much better grasp on the best way to utilise what Hilary Duff has to offer. The verses demand little more than a half-sung, half-spoken lilt: "You can change your life (if you wanna), you can change your clothes (if you wanna), if you change your mind, well, that's the way it goes", with the lightly filtered interjections adding a hint of attitude. The chorus, on the other hand, jauntily rolls along with growling riffs and crashing drum kicks: "If it's over, let it go and, come tomorrow, it will seem so yesterday, so yesterday, I'm just a bird that's already flown away…", requiring nothing more from a vocal perspective than the spirited performance Hilary Duff delivers.
However, there was more to the appeal of pop-rock than thrashing production; audiences connected to lyrics that felt grounded and relatable. So Yesterday understands that aspect would still be necessary, even to a slightly younger target demographic. Thus, there is an attempt to construct some age-appropriate musings during the middle-eight: "If you're over me, I'm already over you, if it's all been done, what is left to do, how can you hang up if the line is dead, if you wanna walk, I'm a step ahead, if you're moving on, I'm already gone…", culminating with a profound epiphany: "…If the light is off, then it isn't on". It's easy to be dismissive, but to some pre-adolescent ears, the lyrics are clever enough to seem witty. And if nothing else, they'll undoubtedly raise a wry smile.
Critical to establishing Hilary Duff's identity as a singer was not just how So Yesterday sounded but also how it looked. Indeed, this was potentially the most challenging part of the whole package because the music video had to fit the Disney Channel aesthetic while also being able to appeal to other stations (MTV, in particular, was a big focus). And it did just that, giving Hilary Duff a clear identity. The shots of her performing very much became an archetype for the way Hollywood Records marketed many of their future stars: wired microphone, live band, black jacket, fingerless gloves and jeans. Sure, it's unashamedly clichéd, but in 2003, that was the style, and it's a cool look, particularly considering the character of Lizzie McGuire had a softer image. Moreover, it's neatly complemented by stylised transition shots and moving background designs, which help the visuals feel even more dynamic and vibrant.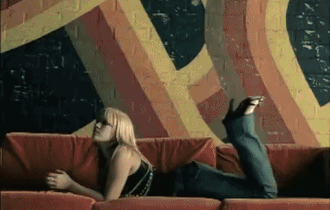 The video also asserts Hilary Duff as an independent, free spirit with a gently rebellious break-up narrative. After using binoculars to spy on her boyfriend, who's about to go surfing, Hilary Duff runs to the beach and steals his clothes. She takes a series of polaroid shots with people wearing his t-shirt – which reads: 'Everything is bigger in Texas!' – and mails them to his house. Eventually, Hilary Duff returns the clothes along with one final photo of her wearing a t-shirt that says: 'You're so yesterday', which is when the boyfriend realises that as well as being the victim of theft and harassment, he's also been dumped. The plot is still resolutely playful and doesn't cross any lines in terms of the wholesome, family-friendly tone being constructed around So Yesterday.
Taken at face value, So Yesterday's commercial performance might appear reasonably modest, peaking at #9 in the UK and #42 on the Billboard Hot 100 in America. But that doesn't do the track justice because there was no established precedent for what Hilary Duff was doing. Lizzie McGuire might have been exceptionally popular, but it was still a TV show primarily aimed at pre-teens. And while there's no doubt that the fanbase she already commanded helped drive the success of So Yesterday, their support alone would not have been enough for the song to spend five months on the Billboard Hot 100. Therefore, it was a massive achievement by Hilary Duff – and some savvy marketing on behalf of Hollywood Records – to reach a point where So Yesterday was being played on mainstream radio.
However, that was nothing compared to the performance of Metamorphosis, which was released several months later and widely promoted in partnership with AOL and MTV. It debuted at #2 in America – immediately becoming Hollywood Records' highest-peaking release – before climbing to #1 the following week. This was the realisation of what Disney had hoped to achieve in the best possible terms. Hilary Duff might have severed her ties with the Disney Channel and used Lizzie McGuire as a springboard for other acting pursuits, but for all intents and purposes, she remained an in-house pop star, and the company were reaping the rewards. They would be able to refine the formula and become even more synergistic, but four million sales of Metamorphosis later, things could scarcely have gone better. The fact that Metamorphosis peaked at #69 in the UK is neither here nor there because Hollywood Records were – understandably – almost entirely focused on America. This was the turnaround the label desperately needed, and for what was probably the first time, they were viable and competitive. Yet, for all that was thrown at Metamorphosis – including merchandising and a concert tour – the campaign only lasted for two singles (not counting Little Voice, which received a limited release in Australia). For some reason, Hollywood Records seemed unwilling – or perhaps unable – to commit to more, and it was a frustrating trait that persisted far beyond this album.
Given how masterfully Disney scaled up this formula and how Hilary Duff subsequently broadened her musical ambition – both with excellent results – So Yesterday is often overlooked. But it's a thoroughly enjoyable and incredibly well-realised song that lays the foundation upon which a new generation of pop stars could make their way into the charts.
---