Released: 3rd September 2007
Writers: Xenomania / Nazareth / Girls Aloud
Peak position: #5
Chart run: 64-5-7-12-21-26-48-68-X-X-X-X-52-70
---
There was renewed interest in Girls Aloud as they kicked off their fourth album campaign. But could Sexy! No No No… meet heightened expectations? Yes…sort of.
It may seem irrational to suggest that after releasing three studio albums and 15 consecutive top ten singles, this was the point where Girls Aloud were now being taken seriously. However, there was a definite shift in attitude following The Sound Of Girls Aloud: The Greatest Hits, which not only earned the group their first #1 album (and eventual million-seller) but prompted a re-evaluation of their worth. Despite steadily garnering critical praise and commercial success, it felt – for the first time – that people now really understood and appreciated Girls Aloud in a much broader sense. Of course, we'd been here before: pop acts who worked tirelessly to build a solid catalogue of songs and finally got credit for it just before they split up. That's what a greatest hits compilation usually signified, and there was speculation it would happen again. But Girls Aloud – and Xenomania – had other ideas, quashing the rumours in early 2007 by announcing a new album (they also released a charity cover of Walk This Way with Sugababes, though that didn't exactly inspire confidence). The recording of what would become Tangled Up was more protracted than usual, taking around six months. While that was ongoing, a first taster came in the shape of Sexy! No No No…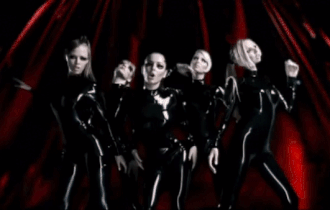 This wasn't the first time Girls Aloud had something to prove, but the pressure here was slightly different. The challenge was no longer striving to make themselves heard; based on the greatest hits, people were listening in bigger numbers than ever before. Instead, Sexy! No No No… carried the weight of living up to that newly earned reputation by somehow channelling it all into a lead single. Yet, it's almost impossible to define what a good Girls Aloud song sounds like in that respect, other than – in most cases – it not being a cover or ballad. The group's fanbase was accustomed to not knowing what to expect until the track arrived, but for the uninitiated, this might have seemed an odd concept.
Perhaps inevitably, then, although Sexy! No No No… couldn't ever be described as cautious, there is a sense of it trying to represent an evolution for Girls Aloud while maintaining sonically familiar roots with what had come before. The way the song moves in distinct phases bears a vague resemblance to Biology, though it's nowhere near as pronounced; a wall of thrashing rock-tinged electro production (incorporating a sample of Nazareth's Hair Of The Dog) recalls Wake Me Up; while the track goes off with similar velocity to Something Kinda Ooooh. However, those are pretty simplistic comparisons to make and Sexy! No No No… has more than enough ideas to establish its own identity.
Not least the distorted intro: "'Cos I've been sitting back, no chance of falling, hoping that nothing ever blows (no, no), boy did you ever think that loving would be nothing more than walking me home? (no, no)…", which is subtly backed by an eerie, looming instrumental. As an epic, attention-grabbing statement, it's tremendously effective and so suited to this precise moment in Girls Aloud's career. As a third or fourth single, it wouldn't feel half as impactful, but here – where the group is moving beyond their perceived shelf-life and into relatively uncharted territory – it feels like the inaugural address to an awaiting audience who are hanging on their every word.
And from there, Sexy! No No No… explodes full throttle into a relentless, growling electro production. The pounding sledgehammer of a chorus: "Did you tell him? No, no, no. Give him kisses? No, no, no. Whisper honey? No, no, no. You're delicious? Hell no! Were you dancing? No, no, no. Sweet as toffee? No, no, no. Did you get his number? No, no, no. Get him up for coffee? Hell yeah!" is run through twice – the second time entirely distorted – so that it's well over a minute before the song reaches a verse. Xenomania had firmly established a willingness to deviate from conventional song structure by this stage, but it doesn't feel as inspired here as it had at other times. In hindsight, Sexy! No No No… seems a tad front-loaded – even the quirky "Woo-woo" backing vocals are introduced early on – as if there's a rush to show off the best bits and make an immediate impression.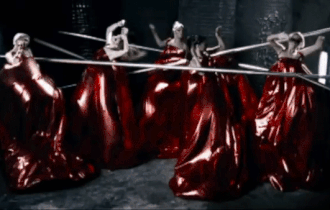 It's not as if the rest of the song falls short. The stuttered delivery of the verse – which also doubles as an outro – is delivered with a confident swagger: "But for a while I dropped that d-d-dirty style, when I discovered that it's sexy, sexy". And the post-chorus (or what is ostensibly presented as) pulls a failsafe trick by recycling bits of the main refrain: "From top to bottom, I'm all woman, sunshine (whisper honey? No, no, no. You're delicious?) Ain't no damn reason you'll be leaving my side (did you get his number? No, no, no. Get him up for coffee?)", with reliably terrific results. Sexy! No No No… is an unrelenting beast and a tour-de-force of a pop song. However, it does feel – just ever so slightly – too acutely aware of what it's supposed to do and ends up diligently working through a checklist of constituent elements. If that was the intention, then it succeeds. But Xenomania don't usually work in such a transparent way and are often at their best when there's no discernible train of thought whatsoever.
Where Sexy! No No No… firmly asserts itself as taking Girls Aloud up a notch is the music video. It's a slick, stylish concept featuring the group dressed in latex catsuits – a reliably strong look as far as '00s pop music is concerned – while red material flows in the background. The camera zooms out to show them wearing billowing dresses made of the same fabric, while intense close-ups show it being worked by crafting machinery. The way it's depicted – with needles jabbing aggressively at the material – gives Sexy! No No No… a harsh, edgy energy, which is further accentuated by the pointed choreography. As the fabric becomes more frayed, Girls Aloud – now stripped to their catsuits – are surrounded by taut threads, which ties neatly into the visual identity of Tangled Up. The somewhat abstract aesthetic of the video represents a clear upgrade in ambition and style, confidently presenting a group who now look convincingly like one of the biggest acts in the UK.
Arguably, Sexy! No No No… does everything it should. The track is logically evolved from Girls Aloud's earlier material to consolidate their newly buoyant mainstream profile, but not defined by it to such an extent that the group's fanbase – adept at change and boundary-pushing – would be left dissatisfied. However, it seemed to land somewhere between the two and was received with a degree of indifference. After debuting at #64 on downloads alone, the physical release of Sexy! No No No… saw it rise to a peak of #5. There's little suggestion the song wasn't a hit. It was, albeit one that faded reasonably quickly, spending just five weeks in the top 40 and achieving an overall total of 150,000 copies. That puts the single toward the lower-mid range of Girls Aloud's best-sellers, and yet, there's no immediately apparent reason why. The song stays true to the Xenomania formula (in as much as that means anything), and critics were forthcoming with praise. Furthermore, even if Sexy! No No No… does riff slightly on earlier hits; it's hardly bereft of creativity. There has emerged a notion that the song works far better in the context of Tangled Up, which is probably true to some extent, and might go some way to explaining the chart performance.
So, while Sexy! No No No… was a next-level comeback in some ways, it was less so in a commercial sense. Not to matter because, as those familiar with Girls Aloud's album campaigns were all too aware, they had an innate ability to come through with the second single. And this was no exception.
---