Released: 9th November 2009
Writers: Max Martin / Shellback / Tiffany Amber
Peak position: #7
Chart run: 7-10-14-22-36-56-60-47-58-75
Billboard Hot 100 chart run: 1-5-8-8-8-6-9-10-9-9-10-13-16-15-24-35-39
---
Britney Spears released her second greatest hits compilation to commemorate a decade in the music industry, and to mark this milestone achievement, it was accompanied by an ode to…threesomes(!?)
Though it was reasonable to acknowledge that 10-ish years had passed since …Baby One More Time, there's an underlying sense of The Singles Collection primarily existing as a symbol of something that couldn't be openly acknowledged. Two years earlier, the world watched as Britney Spears – taunted by the media – unravelled. However, the mood shifted when it became apparent that things had gone too far, and an outpouring of goodwill quickly replaced the desire to see her fail. A successful comeback with Circus followed (it was only her second album to produce two top-ten hits in America), and the celebratory subtext of The Singles Collection was, thus, that Britney Spears had been rescued from the brink. Her status as a chart-topping pop star was restored – albeit under duress of that wretched conservatorship – almost as though nothing had happened. So, while principally a career retrospective, this album was also about sustaining momentum and pushing forward.
In that regard, 3 was a fitting choice to lead the project since it continues the electro direction of Britney Spears' more recent material, but also features a strong link with her past through the presence of Max Martin as a co-writer. The pair's previous collaboration, If U Seek Amy – their first time working together since the Britney album in 2001 – was one of the highlights of Circus and another way of affirming Britney Spears had come full circle back to where she ostensibly belonged. Of course, things were not the same, and Max Martin seemed to understand there was little point in re-treading former glories. They were long past the stage of needing to hide behind coquettish suggestiveness. Indeed, If U Seek Amy went so far in the other direction that it wasn't even thinly veiled enough to escape being haphazardly censored. Crucially, though sex had emerged as the prominent theme – true to its name, 3 is a brazen exaltation of threesomes – the partnership between Britney Spears and Max Martin remained unique and irrepressibly enjoyable as it ever had.
There's a sense of edgy, organised chaos running through the song – which is perhaps fitting given the topic – with spiky synth stabs, distorted vocals ("One, two, one-one-one-one, two, three; counting one, two, counting one-one, two, three") and a thumping beat that intermittently becomes more prominent. The punchy production also validates Britney Spears' voice being heavily autotuned and given a robotic inflexion throughout. Though that may not have been entirely necessitated by 3, it is, nonetheless, very much consistent with the cool electro sound and doesn't seem out of place or excessive.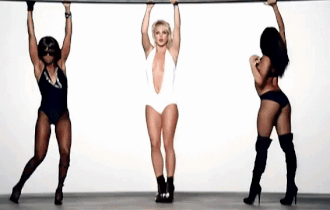 The track contains some bafflingly brilliant moments ("Merrier the more, triple fun that way, Twister on the floor, what do you say?"). But few so much as the phrase: "Counting one, two, three, Peter, Paul and Mary", which might just be one of the most outlandish things Britney Spears has ever committed to record. For context, Peter (Yarrow), Paul (Stookey) and Mary (Travers) were an American folk group who enjoyed most of their success during the '60s with hits like Puff, The Magic Dragon and Leaving On A Jet Plane. The reference was pretty obscure considering Britney Spears' fanbase, and as a euphemism for threesomes, they could barely be further from what the song is depicting. However, there was also the small matter of some rather unfortunate timing because Mary Travers had been battling leukaemia for several years and died just weeks before 3 was released. So, as tributes go, this didn't exactly come across as the most sensitive.
As gleefully entertaining as 3 is, it almost risks feeling a tad throwaway to be the lead single for an album that promised to cherry-pick the best Britney Spears hits and package them together. Then the middle-eight happens: "What we do is innocent, just for fun and nothing meant, if you don't like the company, let's just do it, you and me…". Suddenly, 3 is floating in an entirely different –ethereal – place, with the exposed use of a vocoder creating a blissful and euphoric aura that is utterly transportive. Then, as the beat starts to throb in the background, there's a teasing transition back into the final chorus: "You and me…or three…or four on the floor". Inarguably the highlight of the song, it's so good and leaves a sense of curious optimism about Britney Spears' potential to explore dreamy electronica in the future (she didn't to any great extent, though Alien and Invitation are further proof that she really should).
After the furore caused by If U Seek Amy, there might have been an expectation that a song about threesomes would be perceived as problematic and require censorship. It did, but not in the way that might have been expected. Describing a threesome: "Counting one, two, three, not only you and me, got one eighty degrees, and I'm caught in between" was entirely permissible. The line: "Living in sin is the new thing", on the other hand, was not, and changed to: "Living in this is the new thing" to avoid offending. Maybe there are circumstances where that would be logical, but considering the broader context here, it misses the point somewhat.
In terms of the music video for 3 – and given the track was accompanying a greatest hits collection – it's probably pertinent to acknowledge the steadily growing rumble of discontent over Britney Spears as a visual artist. There is no question whatsoever that the energy levels and complexity of the choreography had noticeably decreased between In The Zone and Blackout. Yet, it was unrealistic to expect things not to have changed from a decade ago; regardless of anything else, she'd had two kids and several knee operations. That's where the façade around Britney Spears' comeback didn't work. Rather than manage expectations appropriately, there were ongoing attempts to perpetuate the myth that this was the same athletic teen gymnast, using jump cuts and creative camera angles to disguise the reality. In what would become something of a recurring theme, it's not an approach that did her many favours.
Considering that, 3 takes a reasonably simple, straightforward concept and does a pretty good job of it. The video starts with an increasingly familiar Britney Spears trope: a prologue where she sprays herself with her newest perfume – Circus Fantasy – while an instrumental portion of the middle-eight plays out. There's no segue into the track proper, just a clumsy fade-out. And then it's a series of alternating shots featuring group choreography with a striking barcode-esque aesthetic, a titillating routine performed from a raised horizontal pole, and close-up direct-to-camera performances. It remains apparent that when 3 increases in urgency, the editing becomes similarly frantic. But there are still enough times here where the focus remains on Britney Spears long enough to appreciate what she can do, and it's nowhere near as bad as was sometimes made out.
With the 97(!)-date Circus Tour still in progress, promotion of 3 and The Singles Collection was restricted to TV advertising and airplay. That wasn't necessarily a bad thing in the UK following a decidedly mixed reaction to Britney Spears' appearance on The X Factor in 2008, which appeared to do more harm than good to her profile. Nevertheless, 3 subsequently went on to be a solid hit, reaching #7. With downloads continuing to help the singles market thrive, the song ended up selling more than some of Britney Spears' higher-peaking hits, like Me Against The Music, I'm Not A Girl, Not Yet A Woman, and Overprotected. In America, 3 was even more successful, becoming her third #1 on the Billboard Hot 100 after …Baby One More Time and Womanizer. Though impressive digital sales undoubtedly propelled this – 255,000 in its first week alone – the track also reached #2 on the Pop Airplay chart. It's not that 3 wasn't deserving of such plaudits. However, there's a sense the track had a relatively easy ride to the top thanks to the resurgence Britney Spears was enjoying. The situation was a far cry from the early-'00s when it was a struggle to get her music played on the radio at all.
All of which would have seemed to make this a perfect time to release The Singles Collection. But the album wasn't quite so rapturously received, peaking at #22 in America and #38 in the UK. The lack of promotion was undoubtedly a factor, and it probably didn't help that Britney Spears had only released eight singles – including 3 – since Greatest Hits: My Prerogative. That meant the perceived weaker material from earlier in her career was trimmed, while pretty much everything from In The Zone onwards was included (and yes, that did mean Radar technically appeared on three albums in a row). Arguably, it was the right approach from a critical perspective, but it does leave The Singles Collection feeling noticeably back-end loaded. Even so, while a modest hit in the UK at the time – spending four weeks in the top 75 between 2009 and 2011 – the compilation has since become a consistent catalogue seller in the UK and, to date, has achieved a total of 78 weeks in the top 100.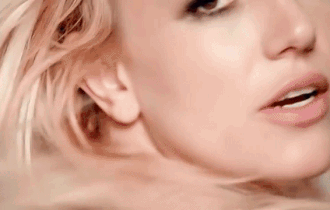 Despite being a #1 single in America, 3 is never likely to be remembered among the upper echelons of Britney Spears' back-catalogue (though the middle-eight deserves to be). Even so, it's a fun little track that – like many of the hits surrounding it on The Singles Collection – neatly epitomises a particular point in time.
---