Released: 12th February 2001
Writers: DJ Delmundo / Danski
Peak position: #28
Chart run: 28-51
---
For just over two years, the Vengaboys had defied the unwritten rule of '90s/'00s pop music stipulating that every act must release at least one ballad per album campaign. But after eight singles, they could hold out no longer and Forever As One saw them duly fulfil their obligation. And against all the odds, it was pretty damn good.
It was not unheard of for Eurodance acts to pull off a ballad successfully. No-one would really have expected Aqua to be able to do it, yet Turn Back Time proved to be a huge success and set a very high bar in terms of quality. The Vengaboys, however, were in a more precarious position. Things had started well with The Platinum Album, which consolidated the success of their debut by yielding three further top ten hits. But the previous single – the fascinatingly bizarre Cheekah Bow Wow (That Computer Song) – had become their first significant blip when it peaked at #19. If it seemed that the Vengaboys had ever so slightly lost touch with their formula, then Forever As One was not going to convince anyone that they knew what they were doing. Which is a real shame because this is a brilliant ballad which showcases something about the group that we had all taken for granted: in their frontwoman Kim Sasabone, they had someone who could actually sing.
Subtlety was not a word that had existed within the Vengaboys lexicon to this point; therefore, you would expect their first – nay, only – attempt at a ballad to be a big, schmaltzy affair. But Forever As One is no such song. It's a tender piano-led number that is not a million miles away from Steps' When I Said Goodbye. Indeed, the track was even similarly remixed to give it a more orchestral, live-sounding ambience. On paper, this all sounds incredibly boring compared to the Vengaboys' usual trademark brand of brash, bombastic pop music. But Forever As One is beautifully performed; there's a fragile tenderness here which is captivating from the first word to the very last. What marks the song out as so special is that the group wasn't breaking new ground lyrically; this is very much standard break-up fare: "I wish I could turn back time, I wish I'd never have to see that look in your eyes". Yet it's arranged and delivered in a way that feels so powerful. This was the Vengaboys as they'd never been heard before and they bring to Forever As One the sincerity that it demands.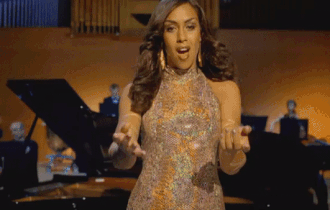 Although not billed as a farewell track, as the production gradually swells with gentle backing vocals and the mournful drum beat kicks in, there is a creeping sense of finality. It's purely coincidental, since Forever As One was conceived long before the diminishing returns of the group's singles. Nonetheless, the timing is perfect; this feels like the end of an era and the culmination of the chorus: "We were meant to be together, forever as one" comes as an absolute gut-punch. It's so honest, so heartfelt and so human. Of course, the Vengaboys would part ways for a short time after releasing this single. But even though they reformed during the mid-'00s and have produced new material, Forever As One remains the definitive end to their imperial phase.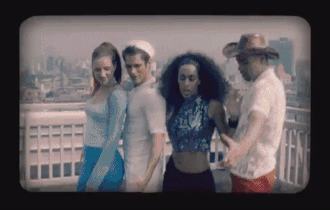 The music video conveys a similar air of the curtain coming down. It shows Kim Sasabone performing the track backed by a full orchestra (time for a Royal Philharmonic Orchestra plays the Vengaboys concert, surely?) interspersed with behind-the-scenes camcorder footage of the group. It's a strikingly melancholic affair with everything slowed down to create the sense of a home video from yesteryear, even though many of the shots are from earlier in the very same album campaign. The Vengaboys were often portrayed – quite literally, sometimes – as characters, but here we have a candid glimpse at them experiencing the highs and lows of life in a chart-topping pop act as people rather than personalities. Maybe that's why the visuals' tone catches you off-guard and becomes unexpectedly moving.
From the overtly sexual – and thus heavily censored – Boom, Boom, Boom, Boom!!, to the lederhosen/dirndl-inspired Shalala Lala ('so cheeky it was banned by the BBC' proudly proclaims the Vengaboys' YouTube channel), the group were no strangers to controversy with their music videos. And Forever As One was no exception. But what on earth could have been so problematic about such a gentle retrospective? Westlife. The boyband's record label vetoed a few seconds of footage showing the two acts affectionately greet each other and a re-edit was demanded to remove them. So, the Vengaboys responded as only they would and simply pixelated the faces.
Without an uptempo double-A side – or even any dance remixes – Forever As One completely exposed the Vengaboys. Thus, it wasn't entirely surprising to see the track peak at #28 and become their smallest hit. It's debatable that there was ever a good time for the group to drop a ballad like this, but as their ninth single – and at such a crucial point in their career – the odds were always going to be stacked against it. But it's difficult to begrudge Kim Sasabone her moment in the spotlight having guided the Vengaboys this far and with so little recognition. Moreover, it conserves the group's legacy as near-flawless purveyors of '90s/'00s Eurodance – Cheekah Bow Wow (That Computer Song) notwithstanding – rather than seeing them dilute their brand with pale imitations of past glories. The Vengaboys have never shied away from Forever As One; it is what it is and remains a part of their live sets, resulting in some genuinely stirring performances with Robin Pors joining Kim on lead vocals. Even though the song must be a total buzzkill in that setting, it does show that it means something to the group and wasn't purely a ballad for ballad's sake.
There will undoubtedly be some people who take onus to the fact that the Vengaboys ever released a song like Forever As One; never mind that it should be their final hit in the UK. Just imagine for a brief moment though, that it had been a success; what would the Vengaboys have done in response? Did a career as semi-serious balladeers beckon? When you consider Forever As One within the context of the group's output, it must be a strong contender as one of the most subversive singles of the bubblegum pop era.
---