Released: 6th September 1999
Writers: Jeffrey Calvert / Geraint Hughes
Peak position: #1
Chart run: 69-1-4-7-8-14-20-27-34-42-52-64-73
---
Having asserted their place atop the charts with Boom, Boom, Boom, Boom!!, the Vengaboys swiftly followed it up as only they could; with another irrepressible slice of Eurodance based on a chart-topping '70s reggae fusion hit.
Upon its release, We're Going To Ibiza was puzzlingly dismissed as little more than a re-skinned version of Typically Tropical's 1975 #1 hit Barbados, which swapped one titular holiday destination for another. But that's a very literal take on what's happened here. This is an incredibly smart song, which expertly read the room and capitalised on the growing commercialisation of Ibiza. The Vengaboys might not have been solely responsible for tipping it over into the mainstream, but there's absolutely no doubt that for the group's younger fanbase, We're Going To Ibiza was a pivotal moment in contextualising what the island was and what it represented. Moreover, the song fitted precisely into the narrative of the group. The vision they presented may have been (more or less) squeaky-clean, but it was entirely believable that if there were a pop act who would have been to Ibiza and could convey what it was like, then it would be the Vengaboys.
If further evidence were required that this is much more than a mindless cover version, then one need only look at how well it aligned with the group itself. Someone listened carefully to Barbados and picked up on the fortuitous lyrical parallels, because: "I don't wanna be a bus driver, all my life…" fit so perfectly into the Vengaboys narrative, it's hard to believe that it could have happened by chance. That line, in particular, would make no sense for any other pop act, but here it creates a cheeky in-joke. Other elements of the original just sit better in We're Going To Ibiza, like the pre-chorus: "Fly away, on Venga airways", where the syllables of the lyrics are now matched to the rhythm of the melody. "Fly away, on coconut airways", sounds rather clumsy by comparison.
Ironically, for a song that is a love letter to Ibiza, it sounds neither like the sort of music that was emerging from the island (and dominating the compilation album chart each summer), nor does it sound like the Vengaboys' previous hits. The lazy Casio keyboard synthesiser melody has a hypnotic, halcyon lilt to it, and it's a testament to the strength of the group's commerciality that they were able to take such a diversion from the status quo while maintaining their identity and appeal. That said, We're Going To Ibiza wasn't without a gimmick, and it came in the shape of Ibiza itself. Or should that be "ee-beet-za"? If you speak Dutch, then you might wonder how this could be one of the most significant talking points about the song, because Kim's pronunciation was consistent with her native language. But for everyone else, it became a source of delight and amusement. Given the international platform now enjoyed by the Vengaboys – and the fact that this was an all-important follow-up to their first #1 single – it's hard to imagine that they didn't know what they were doing. And it worked; would this single have been as a big a hit without that distinctive quirk? Possibly. But with the novelty attached, its legacy was assured.
The animated music video for We're Going To Ibiza was an interesting choice, and certainly not something you'd associate with an act who'd just hit their commercial peak. Usually, this would be a placeholder that signalled some sort of behind-the-scenes crisis, but that wasn't the case here. Instead, it nicely mirrored the aesthetic of The Party Album and imbued the single with a sense of vibrant global togetherness that wouldn't have been otherwise possible. There is something charmingly – and knowingly – naff about the aesthetic, with the Vengaboys portrayed as 2D hand-drawn characters superimposed onto 3D CGI environments. To say that the animated models exhibit as much personality as their real-life counterparts is intended as a compliment (honestly!). They aren't required to convey a huge range of emotions during the video, but the animated Vengaboys – or their eyes, at least – are distinctively charismatic. Although the same can't be said for the rest of their bodies; if the jaunty, angular movements of the visuals are ever in sync with the music, then it's undoubtedly by chance, because everything moves like an Adobe Flash animation. It hasn't aged well. But even back in 1999, it had the look of something that could have been created at home with a half-decent CD-ROM design program and WordArt (some of those fonts…). And that, surely, is the appeal. It's an entirely unpretentious music video that captures the very essence of a whacky Eurodance act who had conquered the charts despite having little to their name but catchy songs and a modest budget.
Despite its technical limitations, the video has some obvious priorities, although they're rarely the ones you'd think. It seems logical, for example, that cartoon Kim's mouth should move in time with her voice. But it seems her breasts instead took priority; stuck to her chest like two generously proportioned watermelons, they often move independently of her body and even seem to have their own sense of rhythm. Okay, so how about the Vengaboys' flight path. After all, this is a song about flying to Ibiza, so it makes sense to chart a reasonably sensible journey, right? Apparently not. Paris – Rome – Moscow – Toronto – Washington – Toronto (again) – Switzerland – China – Stonehenge(!) – Egypt – Ibiza doesn't reflect well on Captain Kim's navigation skills. Although, in fairness, there is no cockpit in the plane either, so let's not split hairs about that one.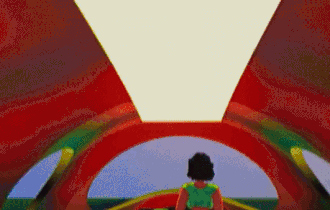 The video even slips in a bit of wry topical commentary as the Vengaboys' aircraft flies over the White House and a silhouette (implied to be Bill Clinton) is seen in the window having sex on a desk. It's much more apparent now that the video has been rendered in HD, but it's entirely possible that it would have slipped past censors at the time when viewed at a lower resolution. With so much happening in the build-up, Ibiza itself is a bit of a disappointment by the time the plane lands. Yes, there are palm trees, blue skies, golden sands and a freshly popped bottle of Venga Light, but it could be any generic island getaway. And it's at that point you may start to wonder whether the animators had ever been to Ibiza at all…
Such was the momentum behind the Vengaboys that We're Going To Ibiza entered the chart at #69 (of course it did) on import sales the week before it was officially released. Thus, it was no surprise to see it jump to #1 the following week, even if it seems weird in hindsight that a song so obviously engineered to be a soundtrack to the summer didn't chart until mid-September. Not that it hampered the longevity of the single, which has endured as a signature hit for the Vengaboys and surely, surely is still able to draw a few drunken chants of the chorus when British holidaymakers arrive in Ibiza, such is the predictability of our nation's basic behaviour when travelling abroad. More recently, We're Going To Ibiza took on a new life as a protest song when a scandal erupted involving members of the Austrian government accepting bribes. Video footage leaked showing secret meetings which took place in – you guessed it – Ibiza. Protestors started singing the song, and before long the Vengabus had pulled up outside the Austrian chancellery with the Vengaboys giving an impromptu performance. Why does nothing like that ever happen at Downing Street?
Few tracks better represent the spirit of this era of the charts than We're Going To Ibiza. The whole package feels like something that could only have happened in 1999; it's brilliantly absurd in every respect, while being perfectly judged and flawlessly executed.
---