Released: 1st March 1999
Writers: Danski / DJ Delmundo
Peak position: #3
Chart run: 3-4-5-8-10-12-13-20-23-31-42-51-59-64
Billboard Hot 100 chart run: 97-90-74-70-57-47-37-34-33-26-26-28-27-30-30-43-51-53-63-79
---
After scoring a top-five smash hit with their debut single in the UK, the Vengaboys returned to do it again. And this time, they were bringing their own mode of transport with them.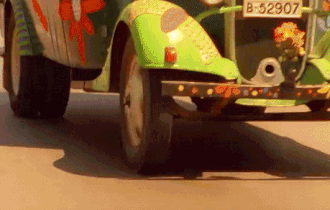 While We Like To Party! (The Vengabus) was released as the Vengaboys' second single in most countries, including the UK, it was technically their fourth overall. The group started as an anonymous dance act (Danski and Delmundo) fronted by Kim Sasabone for their first two singles, Parada de Tettas – which ambiguously translates as Booby Parade – and To Brazil! However, it wasn't until the Vengaboys launched internationally with Up and Down that the focus shifted: Denise Post-Van Rijswijk, Roy den Burger and Robin Pors became more prominently positioned within the group, while their debut album (Up & Down – The Party Album) was reworked with most of the instrumental dance tracks swapped for new material that included vocals. Even so, while Up and Down was a big success (UK sales – including streaming – sit around 785,000 copies), it was also the kind of song that could easily have transpired to be a whacky one-off endeavour. We Like To Party! (The Vengabus) on the other hand, was – in many respects – where the notion of the Vengaboys as a pop group who could command a fanbase truly started to take shape.
The track retains enough elements of Up and Down – most notably the thumping, synth-heavy Eurodance breaks – to be recognisable as belonging to the same act. Yet, We Like To Party! (The Vengabus) also develops the formula significantly by moving towards a more typical verse-chorus structure rather than just repeating the title. Even so, the song's appeal is still grounded in generously reusing its constituent parts – such as the naggingly catchy: "We like to party, we like, we like to party; we like to party, we like, we like to party" refrain – and creating an earworm to which resistance is utterly futile. Whether you want it to or not, We Like To Party! (The Vengabus) will very quickly lodge in your brain and take up permanent residence.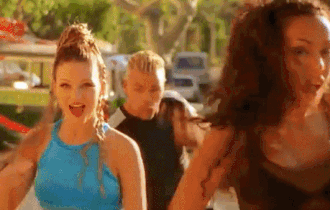 The other notable change in this song from most others the Vengaboys released is that it features Denise on lead vocals rather than Kim. The difference is inconsequential overall, and certainly her light, cheery disposition: "I've got something to tell ya, I've got news for you, gonna put some wheels in motion, get ready 'cos we're coming through (coming through)" is not to the detriment of the end product. But it's easy to see why Kim – who remains present, nonetheless – became the more prominent singer because her tone and inflection are far more recognisable as belonging unmistakeably to the Vengaboys, even when the group aren't name-checking themselves (which isn't often, admittedly).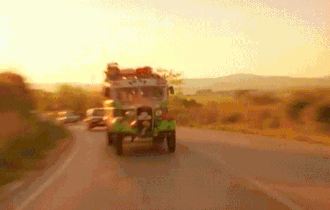 We Like To Party! (The Vengabus) is a perfect party track, not least because it opens with distinctive blaring horns to summon people to (or keep them on) the dancefloor. There's also a nursery rhyme-esque simplicity with which the song is composed; it doesn't throw up any surprises, hitting every melodic beat along the way with gratifying, metronomic precision: "The Vengabus is coming, and everybody's jumping, New York to San Francisco, an intercity disco; the wheels of steel are turning, and traffic lights are burning, so if you like to party, get on and move your body". As We Like To Party! (The Vengabus) builds towards a final chorus, the subtly distorted chant of: "The Vengabus is coming, the Vengabus is coming, the Vengabus is coming…" – flanked by a reprised flurry of horns – feels more like a belated warning because ready or not, the Vengaboys were indeed approaching the chart and had no intention of leaving anytime soon.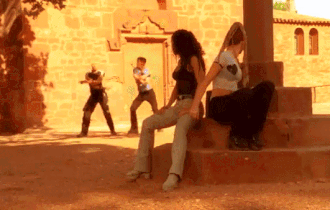 As a second single, the track set out a mission statement of what the group, in essence, intended to represent: "Hey now, hey now, hear what I say now, happiness is just around the corner; hey now, hey now, hear what I say now, we'll be there for you". Sex was – and would continue to be – a part of their identity, but it's not at the forefront here. We Like To Party! (The Vengabus), therefore, provided a timely opportunity to tone down the Vengaboys' image in readiness for mainstream domination. The international artwork for their debut album – now just called The Party Album! – also swapped images of animals fornicating (and a logo implying two people having sex) for more recognisable cartoon avatars of the group. It was a smart move that allowed them to sit inconspicuously alongside other late '90s acts within the bubblegum pop sphere, even if their subsequent music videos often ended up running afoul of censors in the UK precisely because the Vengaboys were regarded as being predominantly aimed at a young, impressionable demographic. However, that's not where they started at all.
Even though the music video for We Like To Party (The Vengabus) was primarily filmed in Barcelona, it does a decent job of encompassing enough locations to give the impression of the Vengaboys travelling around on the eponymous Vengabus, even if perhaps not as far as the places name-checked within the song. The vehicle is decorated in shades of green with vibrant rainbows, flowers and shapes that feel vaguely hippie-inspired, albeit with a '90s twist, as the group (and some additional extras) visit a series of sun-drenched urban and rural locales, stopping regularly to perform some energetic choreography. Or stand in formation and gaze ponderously at their surroundings for some reason.
There's an occasional wackiness to the video, like when the Vengaboys encounter four men loosely styled on the Village People doing a YMCA dance and freeze in their tracks, the camera panning across their dumbfounded expressions. Yet, the humour – though gently zany and a little cartoonish – doesn't come across as contrived. Instead, it helps to construct an image of the Vengaboys as both a credible Eurodance act (true to form, the video ends with one final routine in a nightclub) and one with the readily marketable personality of a pop group.
At the time it was released, We Like To Party (The Vengabus) was an even bigger success than Up and Down had been in the UK. The single peaked at #3 and sold 474,000 copies, making it the 29th highest-selling hit of 1999. However, streaming has shifted things around a bit, and while the song has been popular enough to amass streams equating to a total of 652,000 copies, it sits behind Up and Down and Boom, Boom, Boom, Boom!! – which is now a million-seller – as the Vengaboys' third biggest single overall. We Like To Party (The Vengabus) was promptly followed by The Party Album!, which debuted at #15 several weeks later. However, it quickly became evident that their appeal had substance beyond that because the album hung steadily around the top 40 for 35 consecutive weeks (41 in total), eventually climbing to a peak of #6 following the release of their next single.
It's not entirely surprising that We Like To Party (The Vengabus) – as a Eurodance track – reached the top ten in many European countries. But the song's impact went far beyond that, as well. In America, it spent five months on the Billboard Hot 100, eventually peaking at #26. The Party Album! also showed similar consistency as it had done in other territories – albeit on a more modest scale – when it spent 30 weeks in the top 200, peaking at #86. It didn't necessarily feel like the Vengaboys were a global phenomenon from a UK perspective because, in some respects, the success of their debut album was seen most intensely here when considering sales across the whole campaign. Nonetheless, the group were a truly global phenomenon for a brief moment around this time.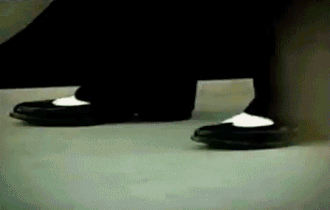 We Like To Party (The Vengabus) attained a further legacy in America when an instrumental version of the track was used in a mid-'00s advertising campaign for the Six Flags amusement park corporation. They introduced a mascot called Mr. Six and a series of commercials where he appeared as a frail, older man who spontaneously started dancing to the song before inviting people to jump on a Six Flags-branded bus and visit one of their theme parks. The character – and thus, the track – became a bit of a mid-'00s pop-culture icon in America and is still parodied to this day. It's a facet of We Like To Party (The Vengabus) that's likely bypassed many people. Still, the track often includes a Six Flags tag on YouTube and Spotify, such is the enduring memory of the advertisements that they still generate interest in the song.
In a broader sense, We Like To Party! (The Vengabus) and Boom, Boom, Boom, Boom!! represent a juncture for the Vengaboys, where the earlier and later versions of the album were stitched together. There's a palpable jump in quality – aesthetically, more so than sound – between the two singles as everything became a little bit more cohesive and refined. Yet, the transition was smooth because the concept established within this song – of a group using their own brand of public transport to travel the world and party – ended up being extrapolated across the album campaign and reprised in We're Going To Ibiza. Thus, crude though it may be in places, We Like To Party! (The Vengabus) ultimately came to define a large part of the Vengaboys' identity and remains a signature hit to this day.
---