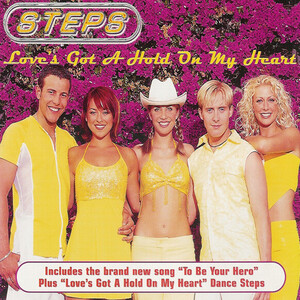 Released: 12th July 1999
Writers: Andrew Frampton / Pete Waterman
Peak position: #2
Chart run: 2-3-5-13-15-22-34-43-53-57-64-X-X-73
---
At the start of their second album campaign, Steps had little left to prove. The question was now not whether they could get to the top of the charts, but just how long they would stay there. And Love's Got A Hold On My Heart signalled they had no intention of going anywhere at all.
The transition from Step One to Steptacular was impressively seamless as the album campaigns very deliberately segued into one another. Barely a week went by without a new pop act being launched into the charts, so now Steps had their foot in the door, the aim was to keep it there. The best way to do that was to maintain their presence and continue with a punishingly relentless release schedule. Thus, just four months after Better Best Forgotten reached #2 – and three months after Thank ABBA For The Music reached #4 – before they'd had the chance to go anywhere, Steps were back and unleashed a brand-new single. There was no trepidation second time around; the group now had a formula that worked, and Love's Got A Hold On My Heart is the perfect product of that. There are no risks here, and equally no disasters. Instead, the core ingredients all felt reassuringly familiar, yet just that little bit more polished.
The one thing that immediately jumps out with this single – from that first keyboard whizz in the intro – is how summery it sounds. The track is not without a trademark hint of melodrama, but on the whole, it's a much lighter production which exudes sunshine and warmth. This was a quality that had become associated with Steps, but one that wasn't reflected all that often in their music. So, in that sense, Love's Got A Hold On My Heart smartly plays into the expectation of what a new single from the group would sound like.
Indeed, perhaps that's why the lyrics are never quite so explicit with their dancing-through-the-heartbreak theme as they had been previously. There's a whole heap of angst here, but it's never apparent – beyond the very act of being in love – what's got Steps so upset other than the fact that this was their raison d 'être. It leads to some beautifully bleak lyrics: "I'm calling out, won't somebody out there hear my SOS, throw me a life line please, and save me" / "There's no escape, now I'm like a damsel in distress, trapped in this fairy tale forever". Love's Got A Hold On My Heart feels like an early showcase of the group's ability to turn even a seemingly positive situation into one riddled with anguish. It was a talent they continued to refine and address more overtly as their career progressed, but the sunny production here never comes close to reflecting the moroseness of the lyrics. Sure, they could have chucked on some moody rain effects à la One For Sorrow, but keeping the sound largely disaffected by the underlying misery is precisely what gives Love's Got A Hold On My Heart it's identity.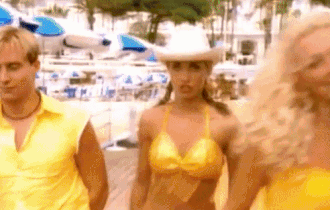 Well, that and the chorus, which is deceptively – and enduringly – catchy. Over two decades later, it's difficult to remember a time when: "And now it's too late to put up a fight, I thought I was strong but try as I might, can't break away…" wasn't indelibly ingrained within the DNA of Steps. But by comparison to their earlier singles, the hooks, while far from subtle, do feel just that little bit more gradual and not quite so outwardly and obviously Europop. Once it gets under the skin, though, Love's Got A Hold On My Heart delivers everything that a Steps single would have wanted – and needed – to at that point.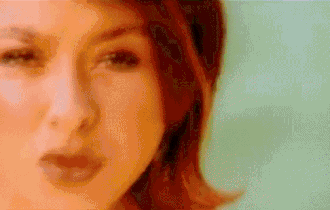 Love's Got A Hold On My Heart is very much the Claire and Faye show, with the lead neatly switching between verse and chorus to ensure that one voice – an ever-contentious issue – doesn't dominate the song. That does mean no-one else gets a look-in; Lisa is left to work the backing vocals for all they're worth; and she at least comes off better than H and Lee who – not for the first time – might just as well not have been in the studio, if indeed they were at all. This also means that there is – sadly – no Lisa Scott-Lee middle-eight here (for shame). In this case, it's just about forgivable, because instead, we get a brilliant moment where, atop chants of: "Heart, heart, heart, heart, heart", Claire gets her only real opportunity to let rip with a booming: "Oh-WOAH…YEAH…oh-ho-oh-WOAH". It's delightfully chirpy and quintessential bubblegum pop. After all, what would a Steps single be without a huge vocal squeezed in somewhere?
Quite cleverly, the concept of the music video for Love's Got A Hold On My Heart is one that discreetly reinforces the group's status as a major pop act. We find them promoting "Steps: The Movie" to a gaggle of paparazzi. Such a product never existed, of course, but it was not unrealistic that it could have, which was as good a measure as any to gauge just how far things had shifted. The visuals are suitably summery, with the group pursuing their film reel, which has been snatched from behind their backs. There's a clearly defined narrative structure running from start to finish, which is something of a rarity for Steps. It even manages to do so while interspersed with shots of the group performing the now-obligatory accompanying dance routine on a pier. The whole thing feels that little bit more thought out; the plot has a postmodern twist at the end (spoiler: the music video is the movie. Genius), there's heaps of personality, and the styling is excellent. Yes, even those canary yellow outfits somehow don't look like the worst thing ever. Which, as anyone who's ever dared try and recreate that style will attest, is a significant achievement.
As an additional bonus, Love's Got A Hold On My Heart featured the brilliant B-side To Be Your Hero, which isn't shown nearly enough love. Notable for being performed by H and Lee on Steps' first-ever theatre tour, in the pre-internet days to be gifted this curio was an absolute treat. It belongs in album track territory, but in terms of mid-tempos, it's easily as good as any of those on Step One. There's no doubt that the group developed beyond this sound, but To Be Your Hero remains a nostalgia-filled twinkly, shimmery reminder of where they came from.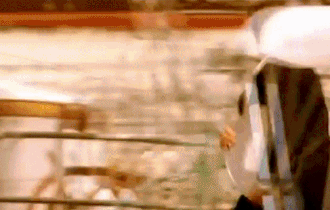 Inevitably, expectations were high for Love's Got A Hold On My Heart and for the whole week, it looked like the single would deliver Steps a second #1 single. Alas, not for the first – or last – time in their career, the group had to settle for the runners-up spot as they were pipped to the post by Ricky Martin's Livin' La Vida Loca. They were in good company at least, as Five suffered the same fate the following week. It's debatable whether the Steptacular album ever truly yielded a chart-topping single of its own, or indeed whether it even needed one (okay, Tragedy was on there, but does that really count?). Steps were now in a position where any further success was merely consolidating that which they had already achieved, and their profile continued to grow throughout 1999.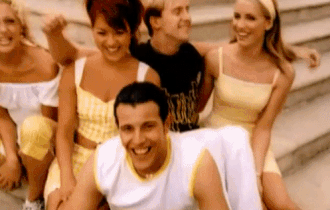 In that sense, Love's Got A Hold On My Heart did everything that it needed to as a simultaneous continuation and evolution of the group's sound. Fittingly, it remains the biggest selling single released outside of their debut album campaign.
---