Released: 3rd July 2000
Writers: Cory Rooney / Dan Shea / John Mellencamp
Peak position: #15
Chart run: 15-24-34-44-53-59-64
Billboard Hot 100 chart run: 63-52-44-29-25-23-21-21-21-27-38-38-57-74-89-96
---
Despite staking her claim as the big balladeer of the bubblegum pop girls, Jessica Simpson turned up the tempo for her second (or third, depending on your location) single and in doing so, released a song that perfectly captured a halcyon era of the charts.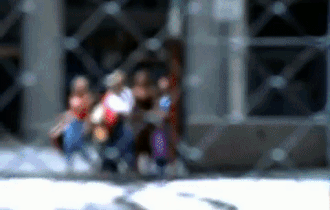 Much like her fellow pop peer Mandy Moore, Jessica Simpson's international debut album campaign was a condensed version of that which occurred in America. In this case, there was at least some logic behind the decision to skip the 'proper' second single Where You Are. Nice at is, a duet between Jessica Simpson and her then-boyfriend Nick Lachey of 98 Degrees held almost zero appeal in the UK, where they each had one top ten single to their name (and his was a feature on a Mariah Carey track, at that). Sensibly, we skipped ahead to I Think I'm In Love With You, which was a very different prospect altogether.
The song is built around an instrumental sample from John Mellencamp (performing under the stage name John Cougar)'s 1982 single Jack & Diane. It's an inspired choice due to how recognisable the source material would be to an American audience while being relatively obscure everywhere else. The track originally topped the Billboard Hot 100 for four weeks and remains woven into the fabric of popular culture as a continued point of reference in music, television and film. By contrast, Jack & Diane reached #25 in the UK, and although it was John Mellencamp's biggest hit, his chart presence was just a fraction of that which he enjoyed in America. It works so well as the backdrop to I Think I'm In Love With You because in many ways the two songs embody similar values: the carefree innocence of teen love on the cusp of – but not yet exposed to – adulthood. The instrumental hook perfectly captures that essence whether you know the origins of it or not.
For the most part, I Think I'm In Love With You plays out precisely as you'd expect from a lyrical perspective. Jessica Simpson is head over heels for a boy who she doesn't appear to have ever even spoken to (completely normal behaviour at the time, lest we forget): "Every time you're near baby, I get kinda crazy in my head for you, and I don't know what to do". The track doesn't attempt to make any narrative progression beyond that point. But while it might not have anything new to say about the state of adolescent puppy love, it is easily one of the most joyful, uplifting portrayals of it. I Think I'm In Love With You is so packed with personality that from being merely inoffensive, it's incredibly likeable. And let's not forget that: "Just the other night baby, I saw you hanging, you were with your crew, I was with mine too" remains an essential turn-of-the-century pop lyric.
We already knew Jessica Simpson could sing, but her vocal gymnastics on I Think I'm In Love You are a fundamental part of what makes it such a brilliant pop song. There's showboating for the sake of it, and there's showboating that serves a purpose; this track is very much in the latter category. The way the melody is stretched ("Boy, you really blew my mi-i-ind" at the end of the second verse, for example) merely serves to emphasise – rather than distract from – its playful, carefree nature. Perhaps the best thing about Jessica Simpson's performance, however, is that although I Think I'm In Love With You certainly doesn't exceed her limitations, there is occasionally a sense of it pushing her close to them. The middle-eight demonstrates this perfectly: "Something strange has come over me, got me going out of my mi-i-ind, never met a guy like you before, you make me feel special insi-i-i-de, I think I'm in LO-O-O-O-OVE". There is a slight, yet audible element of effort and strain employed to push the song so hard, which adds a real sincerity and feeling that was often disregarded from the genre.
By the time I Think I'm In Love With You was released in America, Jessica Simpson's debut album Sweet Kisses had been out for several months. Therefore, the song received a radio edit, albeit one so subtle it's entirely possible that it went unnoticed to many people. Towards the end of the song, there's a breakdown-of-sorts where the production is pared back, allowing Jessica Simpson to riff for a bit before culminating with a: "Baby because it's TRUE" transition back into the full chorus. It's a cute – if entirely inconsequential – variance from the original version. To the point where it wasn't even added to international editions of Sweet Kisses that were released after the single.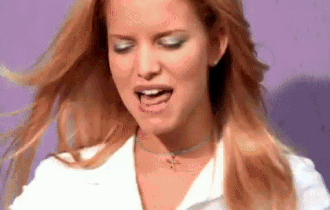 Where I Think I'm In Love With You truly excels in positioning itself as a credible contender in the teen-pop stakes is the music video. It's quintessentially late '90s/early '00s, with sun-drenched visuals, azure skies and squeaky-clean styling. In many ways, it could almost be a spiritual sequel to Britney's Sometimes. Here, we find Jessica Simpson and a posse of girlfriends – including her sister Ashlee – essentially spending three and a half minutes playfully cavorting with removal men/dancers in a series of locations. The glossy aesthetic makes even choreography performed under a bridge look enviously glamorous. But it's the fairground scenes that most evoke memories of Britney's second single; Jessica Simpson – dressed in a white tied blouse and performing in front of a giant heart – is very much the embodiment of the (self-proclaimed) virginal girl-next-door. Every element of the video is proudly wholesome, which was very much the ideology behind her launch. Is it original? Not a jot. But the execution is flawless and immediately recognisable as a product of its time.
I Think I'm In Love With You did everything right in terms of the teen-pop market, but it was only a moderate hit, and that wasn't enough for Jessica Simpson's record label. The single peaked at #21 in America – which is far from a disaster – and had a measurable impact on Sweet Kisses, which rebounded up the chart and reached a new peak of #25. Despite such positive moves, she continued to lag behind the success being enjoyed by Britney Spears and Christina Aguilera, while remaining roughly on a par with Mandy Moore. This was compounded by the fact that I Think I'm In Love With You performed similarly internationally; in the UK the track (criminally) reached #15 and inexplicably remains Jessica Simpson's second-lowest peaking single. Not that we have many to choose from here. Any hopes that Sweet Kisses would improve on its success across the Atlantic were quickly dashed when it peaked at #36 and promptly disappeared after a fortnight. Evidently, Columbia Records decided that the slow-burn approach was not worth any further effort – even though it was starting to pay off – and Jessica Simpson's debut album campaign was quickly curtailed.
While it's true that she may not have been as prominent as Britney and Christina, I Think I'm In Love With You was nonetheless a brilliant track. And – with some irony for a singer who was modelled on the balladry of the early '90s – remains a seminal cut from the bubblegum pop era.
---