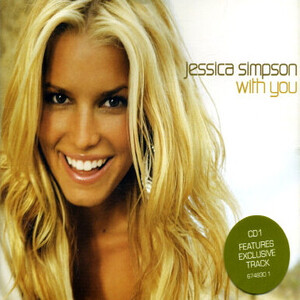 Released: 14th June 2004
Writers: Jessica Simpson / Andy Marvel / Billy Mann
Peak position: #7
Chart run: 7-15-24-35-43-54-51-65
Billboard Hot 100 chart run: 65-45-45-45-38-32-24-24-23-19-16-16-14-15-16-21-22-24-23-23-23-36-50
---
Jessica Simpson's third album campaign might have gotten off to a slow start, but that all changed when a string of reality TV blunders made her a household name and coincided with one of her biggest chart hits.
It always seemed that somewhere between Jessica Simpson's first two albums lay a perfect formula neither of them quite managed to attain in their own right. Her debut, Sweet Kisses, yielded several hits – including I Wanna Love You Forever and I Think I'm In Love With You – but was a slow-burn commercial success. Meanwhile, the follow-up, Irresistible, burst into the top ten thanks to a sexier image and sound, yet ultimately had far less staying power and fell below sales expectations. Though drastically different albums, the one thing they both had in common was Tommy Mottola. His vision for Jessica Simpson was not one she necessarily agreed with, and given the performance of Irresistible, it's not clear whether he'd have continued to be as involved in steering her career moving forward. Not that it mattered because he departed Sony Music in early 2003. Thus, Jessica Simpson seized the opportunity to become more involved in the writing and direction of her material.
In This Skin was – as the title suggested – a more personal album, dealing with topics like body image that weren't widely spoken about in the early-'00s, as well as more usual themes of love and intimacy. The lead single for the project was Sweetest Sin, a sultry (and very underrated) Diane Warren-penned ballad that struggled to generate any significant airplay and subsequently failed to chart on the Billboard Hot 100. Undeterred, Columbia Records pushed forward with the release of In This Skin, and it initially fared a little better, debuting at #10 in America. However, less than two months later, the album languished at #127. If there was any way back for Jessica Simpson, it would not be easy from this point. Fortunately, she wasn't doing it entirely alone…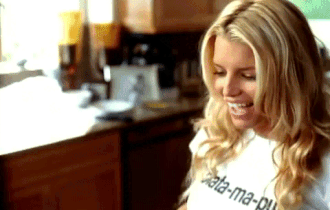 Off the back of their success with The Osbournes, MTV had commissioned another fly-on-the-wall reality TV series: Newlyweds: Nick and Jessica. Six months after Nick Lachey and Jessica Simpson tied the knot in October 2002, they were joined by a camera crew to follow their every move. It was no coincidence that both were planning chart comebacks, and the show's first season closely documented their respective attempts. It did seem there was an underlying assumption that Nick Lachey would be the bigger star. His song – This I Swear – was the theme tune, and he had sold considerably more than Jessica Simpson as a member of 98 Degrees (though their success was mostly confined to America). His album, SoulO, was scheduled to be released after Newlyweds: Nick and Jessica had concluded its run – presumably intended to capitalise on the momentum – while In This Skin arrived much earlier to coincide with the first episode. Even though MTV had form in this area, few would have predicted how quickly the show would permeate popular culture, routinely drawing upwards of 2.7 million viewers. Jessica Simpson's penchant for ditzy gaffes ("Is this chicken what I have, or is this fish? I know it's tuna, but it says chicken…by the sea?") elevated her to a level of celebrity far beyond that which she achieved as a singer.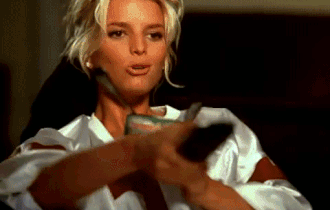 The exposure generated by Newlyweds: Nick and Jessica slowly arrested the decline of In This Skin. As interest in the series grew, the album stabilised and hovered around the top 100 (SoulO – on the other hand – peaked at #51 and promptly disappeared thereafter). A second single was needed, and though With You was unquestionably an excellent choice, in truth, it was probably the only option. Jessica Simpson's appeal now lay in her personality as much as it did her talent, and the song combines both those elements equally in a way that nothing else on In This Skin did.
The track radiates wholesome charm and works so well because of the parallels with what we now ostensibly knew of Jessica Simpson as a person. The sense of someone with wide-eyed naivety ("The real me is a Southern girl, with her Levi's on and an open heart, wish I could save the world, like I was super girl") being brought down to earth with a bump: "But lately, I've been jaded, life got so complicated" has substance and is incredibly endearing. However, while With You presents itself as delightfully whimsical thanks to the sunny production, there are also moments which serve to remind us that underneath the frivolity of Newlyweds: Nick and Jessica lay a love story that started as something intense and affirming: "I relate to you naturally, everybody else just fades away, sometimes it's hard to breathe, just knowing you found me". And that is where Jessica Simpson found her niche; she had the aspirational celebrity lifestyle but insecurities around image and identity that were entirely relatable: "I can let my hair down, I can say anything crazy, I know you'll catch me right before I hit the ground, with nothing but a T-shirt on, I never felt so beautiful, baby, as I do now, now that I'm with you". This single captures and evokes the happiness of being loved for who you are and is the one part of the entire Newlyweds: Nick and Jessica zeitgeist that feels firmly grounded in authenticity.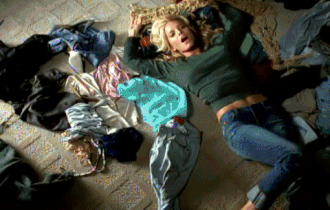 One of the more contentious aspects of With You – and In This Skin as a whole – is Jessica Simpson's vocals, which sound markedly different from her earlier material. Some of that was simply down to her voice maturing from when she recorded Sweet Kisses in her mid-teens; however, there also seemed to be an element of misdirection at the hands of her record label. Columbia Records felt the route to success was songs people could sing along with and requested she avoid soaring vocal gymnastics. In some respects, that approach worked well. The bigger moments on With You, such as the culmination of the middle-eight: "…Like nobody ELSE, now I can BE my-SE-E-ELF, with YO-O-O-O-O-OU", are – compared to say, the vocal runs in I Wanna Love You Forever – not that big at all. But they don't need to be on a song built around breezy, hummable hooks ("With you, with you, with you, oh-oh-oh, oh-oh-oh, now that I'm with you"). However, there are moments on the album where constraining Jessica Simpson to her lower register becomes uncomfortable to listen to; yet, it's the style she's primarily stuck with ever since.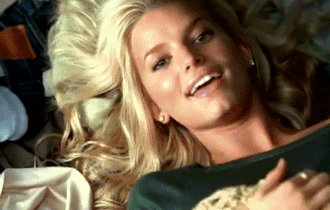 There's no doubt that With You was very well judged as the song that could turn things around for Jessica Simpson. However, the real stroke of genius came in the music video, which is essentially a promotional piece for Newlyweds: Nick and Jessica. Rather than include footage from the show, most of the sequences are recreated in-jokes from it (and the fact Nick Lachey doesn't need to be in any of them – bar appearing in a framed photo, at one point – speaks volumes about who was the 'star' here). However, such was the fascination with the series that you don't need to be an avid viewer to know most of the reference points: Jessica Simpson is shown eating Chicken of the Sea tuna from a can; smearing barbecue sauce over her fingers and face while consuming buffalo wings; struggling to swing a golf club due to her breasts getting in the way, and wears a t-shirt with 'plata-ma-pus' on it. Almost every notable moment from the first season of Newlyweds: Nick and Jessica appears here in one way or another, to the point where if you hadn't seen it, you could just watch With You instead and be up to speed in a fraction of the time. The whole thing is meticulously constructed to create a tangible product in which fans of the show could invest.
It's difficult to convey just how big a hit With You was in America from a chart perspective, owing to the factors working against it. The inclusion of legal downloads was still a year or so away; thus, Jessica Simpson was largely reliant on airplay at a time when radio leaned heavily towards R&B. That required her – and the song – to be taken seriously as more than a Newlyweds: Nick and Jessica-adjacent gimmick, which is precisely what happened. With You gained traction on mainstream/pop radio and eventually peaked at #14 on the Billboard Hot 100 to become Jessica Simpson's third top 20 hit after I Wanna Love You Forever and Irresistible. This was an extraordinary success that – as a point of comparison – was on a par with Britney Spears' Everytime, which reached #15 a few months later. By early 2004, In This Skin was on an upward trajectory and had returned to the top 20. Given how much had shifted from when the album was first released, Columbia Records planned a reissue with some newly recorded tracks – the next two singles, in fact – and a bonus DVD featuring content from Newlyweds: Nick and Jessica. It might have been a cynical move, but the entire basis of the show had a shelf life (albeit one that ended up lasting three seasons and 41 episodes), so taking advantage of this second chance made absolute sense. It also neatly sidestepped the issue of there not being an obvious follow-up to With You on the original version.
Although Newlyweds: Nick and Jessica made an impression in the UK, it was never quite such an intense phenomenon. Therefore – as became increasingly commonplace where Jessica Simpson was concerned – we just had to wait patiently until the album campaign had wrapped up in America before Columbia directed their attention elsewhere. And while the response was more muted, it was nonetheless a remarkable – almost freak – show of consistency. Curiously, In This Skin arrived first in April 2004 and matched the #36 peak achieved by Sweet Kisses. Then, some six months after it debuted on the Billboard Hot 100, With You was finally released in the UK and reached #7, equalling the success of I Wanna Love You Forever. So even if this was not quite the reversal of fortunes seen in America, where In This Skin became Jessica Simpson's biggest-selling album by a considerable margin, it did put her pretty much back where she started, which is no mean feat after four years.
Despite With You representing just one of the many musical directions Jessica Simpson pursued during the '00s, this is still the one that most stands out as having its own identity. None of her rivals could – or would – have performed this song owing to the broader context surrounding it. And that is probably the greatest triumph here: after years of commendable attempts at emulating others, Jessica Simpson finally had a signature hit that was hers and hers alone.
---