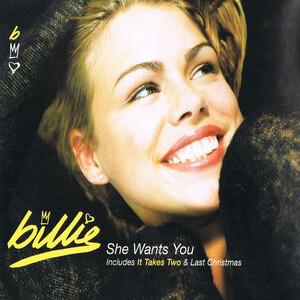 Released: 7th December 1998
Writers: Timothy Lawson / Pamela Sheyne
Peak position: #3
Chart run: 3-9-12-14-31-46-53-49-52-66-71-X-58-54
---
Having seen her first two singles debut atop the chart, Billie switched things up for her third single, delivering a disco-tinged bop just in time for Christmas.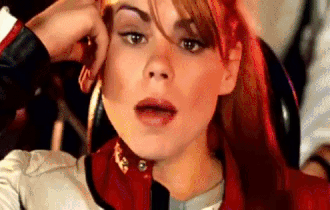 The race for the Christmas #1 in 1998 was already a foregone conclusion; the Spice Girls would release Goodbye, their first single following Geri Halliwell's departure. They'd be challenged by Chef from South Park (no, really) but there was only ever likely to be one victor. Which meant that the week before the Christmas chart, there was a secondary scramble for the top spot. Cher had been #1 for seven weeks, so this was the last opportunity to sneak a chart-topper during the lucrative high-sales season. She Wants You was an interesting choice of single for Billie; it's an absolute bop, make no mistake. But where Because We Want To and Girlfriend had carved out quite distinctive identities with their chanty playground choruses that felt incredibly current, She Wants You ditches that concept entirely and plumps for a '70s-esque sequinned disco-pop sound.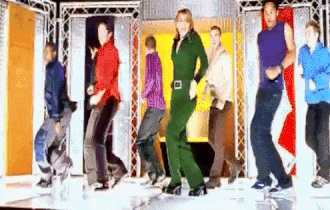 The song was originally released by Slovakian pop star Dara Rolins on her 1996 album What You See Is What You Get. But as cover versions go, they don't come much more obscure, so for all intents and purposes, this is essentially an original song. And far from being a lazy pastiche, the track tries some rather inventive things, in bubblegum pop music terms at least. Firstly, there's the fake-out during the intro; She Wants You starts with a dreamy mid-tempo melody, which morphs into a faint-sounding disco beat before the full production eventually kicks in after 20 seconds. Why? Who knows. It's unashamedly indulgent (and why the hell not) and still leads to the occasional deafening shock if you adjust the volume on your headphones forgetting what's about to happen. But it's also one of the earlier memories we have of a pop act using the audio panning effect with such effective results (the first was probably Eternal's Just A Step From Heaven).
Once the song has arrived (properly), it's clear that we are dealing with a banger. The pounding disco beat pitches Billie as a confident disco diva and – at last – gives her a chance to sing. The earlier singles were a little more style over substance, and that often came at the expense of the vocals. But here, Billie finally gets to perform. You start to get a real sense of the quality to her voice; it has a warm tone that oozes around the melody and feels completely in control at all times. There are some great melodies at play here; probably our favourite is the pre-chorus, which bridges the gap so perfectly between verse and chorus:
She wants satisfaction
To be centre of attraction
It's clear to me
She needs no imitations
She's got such determination
Baby you still don't see
It's a delicious moment, as the song explodes into a frenzy of twinkling disco balls and disco synths. She Wants You isn't a complete break with the Billie formula though; the chorus chants of: "I know she wants, I know she wants YOU" remain very much on-brand. Meanwhile, the middle-eight breakdown is all of a sudden very '90s and feels that little bit more precocious as Billie fires a sassy warning shot: "You understand, you take my hand, you're proud to be my man, and I won't let you go".
And lyrically is perhaps where She Wants You marks the biggest change in Billie's identity as a pop act. We've moved from the playground romance of Girlfriend, into a place where we're dealing with territorial jealousy. Metaphorically, this feels like an attempt to pitch Billie to an older teen audience; nowhere is that more evident than: "She just wants your body baby, she don't give a damn, what I've been going through". The song never refers to anything more explicit and considering Billie had only just turned 16 years old; we have little doubt that it was just a throwaway pop lyric. Nonetheless, thematically and vocally, She Wants You does feel like it is shifting Billie's image a little.
There was no doubt how much Innocent Records had invested in Billie because two music videos were shot for this single. That's not unheard of, but more uniquely, rather than completely abandoning one altogether, it was absorbed into the second. The original is the extended dance sequence featuring Billie in a navy green (…lovely) catsuit. There's nothing wrong with it, per se, and had the label opted to use it as the primary video; there'd be no complaints. Although equally, there'd be little to get excited about. But the second video adds a little more to the package. It's set at a drive-in movie, where Billie (styled with a long ponytail that looks great) and her friends are causing the sort of disturbance that would be wildly irritating now. All the while, the movie playing on the big screen is…the original music video. Indeed, the second video feels more consistent with the persona Billie had created in her earlier singles and offers some extra replay value since there's a bit more going on.
We now know in hindsight (thanks to Billie Piper's memoirs) that the chart performance of She Wants You sent Innocent Records into a panic. But honestly, what did they expect when releasing a song that bore little resemblance to the previous singles, which had formed a huge part of their act's identity? It probably didn't help that it debuted at #3 (so, let's keep some perspective here) the same week that B*Witched reached #1 since the two acts had shared similar trajectories up until this point. Ironically, what might have limited She Wants You's commercial performance at the time has ended up serving the track better in the long-term; it's endured incredibly well where the previous singles sound a little more of their time. Ultimately, disco-pop wasn't the direction that Billie's career would take, but based on this single; it certainly wouldn't have been a bad thing.
---