Released: 15th May 2000
Writers: Billie Piper / Eliot Kennedy / Mark Cawley / Mike Percy / Tim Lever
Peak position: #1
Chart run: 1-4-11-22-31-31-38-44-49-45-64-x-73
---
After a tumultuous first album campaign, Billie Piper returned a year later to stake her claim on the charts again. Now known by her full name (although for categorising purposes we've used it for both albums) and cast under a Britney-shaped shadow, her comeback needed to be bigger, bolder and better than anything preceding it. Conveniently, Day & Night did all of that and more.
Before we even get onto the song itself, we can't ignore the two main issues facing Billie Piper at this point. The first was the aforementioned presence of Britney Spears in the charts. The pair had briefly crossed paths at the tail-end of the Honey To The B campaign, but mid-2000 saw their respective careers draw parallel with one another with the near-simultaneous launch of their sophomore album campaigns. And while of course, Britney's commercial success had been greater and broader than Billie's, in terms of their UK position the pair were in remarkably similar stead, having scored two #1 singles and two further top five hits apiece with their first four releases. Britney had already thrown down the gauntlet with her comeback single Oops!…I Did It Again having debuted at #1 just weeks earlier. The ball was now in Billie's court to mount a response.
There was a slightly more problematic issue facing Day & Night though, and it had nothing to do with the music. The foundation of Billie Piper's early success had been building her appeal to the female contingent of the pop audience (a notoriously tricky endeavour at the best of times). But when she embarked on a relationship with Ritchie Neville from Five, things quickly turned sour. For a young pop star – and indeed many pop fans – their pairing had been a crash-course in what happens when thousands of impressionable fans are scorned at once. The vitriol shown towards Billie Piper was extreme. In the days before social media, broken-hearted fans of Ritchie used any means possible to express their dislike: audibly booing her at awards shows, defacing posters, writing hate mail to Smash Hits and other assorted pop magazines…in hindsight, it was a tad pathetic, and the impact it had on Billie Piper had started to become evident. One thing is for certain, though, Innocent Records knew that Day & Night was facing an uphill climb.
Good thing then that the song itself was an absolute killer. Ditching the cutesy 'girl next door' vibe of the earlier singles, gone was the nursery rhyme-esque chant-and-reply structure of Because We Want To and Girlfriend. Day & Night was instead a much spikier effort with an immediately harder edge. This was pop with attitude and purpose – the sort that gives you no choice but to sit up and listen. With pounding beats and thumping synths, it was a marked change in direction for Billie Piper. Crucially though, it wasn't one that felt forced or unnecessarily serious; pop music was rapidly evolving, and Day & Night followed in precisely the right direction.
It just ain't the same when you're away
You are my inspiration
I'm hanging on to every word you say
'Cause you are my motivation
Although we've previously discussed the subtle filth that was Honey To The Bee, this track is a lot more overt about its intentions – albeit in a very non-explicit manner. Lyrics such as: "All of the day, all of the night, you do the things that make me feel so right" leave little to the imagination in terms of the tone of the relationship depicted within the song. But there's never anything specifically tactile directly referenced – realistically because within the confines of her artistic and physical maturity, Billie Piper's appeal was still primarily toward the younger end of the teen market. Although you'd also imagine that Innocent Records was eager to avoid anything that might exacerbate the behaviour of the rabid Five fanbase.
For all of its intentions as a monster pop track, Day & Night still contains fleeting moments that showcase the strengths of Billie's vocal tone (which we maintain was incredibly underrated). The second verse is probably our highlight as the beat eerily drops and reignites. There's quite a tender sadness to the lyrics: "I need you tonight, but you're not around, I need to hear your voice baby…" and it's probably the point of the song that gives the best insight into any personal investment that Billie might have had in the song (she did get a songwriting credit after all). We also fully appreciate the sheer commitment of the middle-eight to sounding as much a product of the year 2000 as it can. Following a complete fade out for a brief second, amidst a twinkling sound effect, we get ad-libbed shouts ("Oh YEAH!") and the infamous telephoned-in spoken vocal effect ("When you're coming home").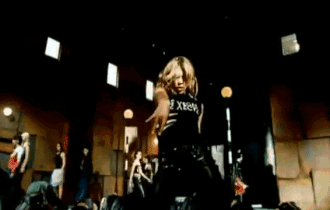 The unmitigated highlight of Day & Night is the chorus. Or should that be choruses? Not content with just one, the track packs in two and essentially renders itself more chorus than anything else. Strictly speaking, the: "'Cause the only time I think of you, is every day and all night through" section seems like it's intended as a pre-chorus from a production perspective, but it's so prominent and hook-laden that we would rewind to earlier in the verses and label the: "You make me feel so right, every day and night" couplet as the transition into the main body of the song. The first chorus is more than functional in its own right and comes to a satisfying climax…only to segue into another chorus ("All of the day, all of the night…") that kicks things up a gear again. It's incredibly well constructed and gives Day & Night a heightened sense of melody befitting of a single that was attempting to reposition its singer alongside her American peers.
The final piece of the puzzle was the music video and needless to say, Day & Night excelled. It manages to pack an insane amount of content into just shy of four minutes. There are some loose parallels with the Because We Want To video, such as Billie's sinister passage into what one would presume to be an underground club but transpires to be a stylised sewer. Compared to the CGI rhino bouncer from her debut single, this is undoubtedly a grittier setup. Across four sets, four outfits and two hairstyles, we're treated to a plethora of fierce choreography in a series of dance breaks that even go so far as to feature Billie running up walls and flying above the dancers. She also looks stunning in the brief solo shots. However, in quintessentially British terms, there is one genuinely iconic scene: the launderette. It was a moment that forever changed the relationship of pop fans with their laundry. To this day, if we are ever required to visit a launderette, we have to sit on our hands and resist the urge to recreate the climactic scenes of Billie Piper spinning around with an open box of washing powder.
In chart terms, Day & Night did everything it needed to. By debuting at #1, the single kept Billie Piper apace with her chart rivals. Perhaps more notably, it reaffirmed that with the right material, she could overcome the swathe of negativity directed towards her. For a brief moment, there was absolutely no reason to doubt that Billie Piper could be our Britney Spears. Sure, Day & Night's chart run was somewhat brief – but the momentum was there. At least, it was until Innocent Records chose to handle the Walk Of Life campaign in a slightly unusual manner from here on in…
---