Released: 5th October 1998
Writers: Dion Rambo / Jacques Richmond
Peak position: #1
Chart run: 1-3-10-10-22-24-30-39-48-66-X-71-75
---
There was little need to change the formula for Billie Piper's second single, such was the success of her debut. It was little surprise, then, that Girlfriend proved just as popular.
Innocent Records were taking absolutely no chances here. Having found a selling point for Billie Piper that pitched her as politely precocious and acceptably rebellious – enough to appeal to a young teen audience but not so much that parents would disapprove – she became the youngest ever act to debut at #1 with Because We Want To (a record still held to date). The same team who'd created that track was also responsible for the follow-up. Girlfriend was recycled – with a few minor lyrical adjustments – from the album Strictly Rollin' by First Class, a four-piece R&B girl group. Having only been released in Japan, for all intents and purposes, Do You Have A Girlfriend was an original composition that could be revised (and given a shorter title) to fit the style and convention of Because We Want To. It's not the most imaginative strategy but was sensibly risk-averse in the build-up to Billie Piper's debut album, Honey To The B, nonetheless.
Girlfriend is, thus, constructed in much the same way as Because We Want To, offering an even more unequivocal mix of cutesy hooks (there's a naggingly catchy: "Shoo be doo be doo doop boo hoo…" refrain this time) and scratchy, contemporary production with some subtle twinkly piano riffs thrown in for good measure. Oddly, the radio mix – courtesy of Cutfather & Joe – used for the single is not the version of the song that appeared on Honey To The B, despite the album being released several weeks after Girlfriend. The original features a fuller, warmer instrumental throughout, with vocals that are pitched at a fractionally quicker tempo, giving the track a slightly more bombastic, effervescent presence. It's not such a difference that the album edit isn't a perfectly functional alternative. Still, the existence of two versions seems unnecessary, given Innocent Records had several months to revise the tracklist of Honey To The B. Or, at the very least, it could have been amended on subsequent pressings.
The songwriting remains intuitively perceptive to the world that Billie Piper's audience would expect her to inhabit as she grapples with the complexity of teenage relationships. The verses have her pragmatically recounting what is happening while distorted backing vocals relay an inner monologue: "Heard a slow song, you don't waste time baby, when you asked me if I wanted to dance (sure I wanna dance); playing hard to get takes too long sugar, so I told my friends that I found a man (you're the one)". Billie Piper's personality had already been established as one of headstrong self-belief, so there's very little room for overwrought angst, which is actually quite refreshing.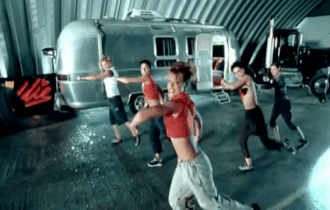 The pre-chorus delves more into what's happening behind the cool façade Billie Piper is projecting, with revelations about the intensity of her feelings: "I know it might sound strange, but I pictured us alone, and you're kissing me in ways I can't tell, no; if my thoughts of you are true, then I wanna get with you, so I'll step in while I'm given the chance, yeah". It's articulated in such a way – not least with an immensely catchy hook – that despite her newfound fame, Billie Piper comes across as still prone to the same raging teenage hormones as her target market and thus remains inherently relatable.
Structurally, the chorus cements Billie Piper's sound with an arrangement similar to that of her debut, except the call-and-response lyrics of Because We Want To are switched for straightforward repetition: "Do you have a girlfriend (do you have a girlfriend), you're looking real cool (you're looking real cool), can I have your number (can I have your number), you don't have a thing to lose; do you have a minute (do you have a minute), what is on your mind (what is on your mind), I was just thinking (I was just thinking), we can spend some time". The outcome is another exuberantly catchy track that once again lends itself to being picked up as a playground chant; such is the ease with which it can be lifted out of context and playfully recited.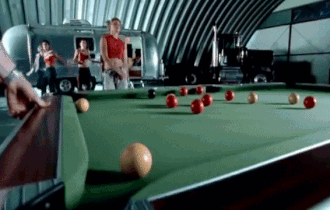 The music video for Girlfriend is introduced as taking place inside a corrugated warehouse where a group of men are skateboarding on a ramp as an air raid siren rings out (which is an effective way of drawing attention to the visuals, though inconsequential to the sequence that follows). Before the camo-painted doors close, a truck enters, pulling a caravan and out of it emerges Billie Piper with a posse of female friends. There's some classic school disco energy as the boys – now playing pool – exchange slightly awkward glances at the girls, who break into some choreography. It doesn't take long for the tension to be defused when Billie Piper struts over and picks up a pool cue. The rest of the video is spent with the two groups hanging out. However, there's only the faintest suggestion of flirtation; if anything, they almost revert to an innocent, child-like state of play, which is thoroughly charming. Overall, it's a cool-looking aesthetic that showcases Billie Piper's expressiveness as a pop star; she conveys the lyrics in a way that sells them as authentic and makes the entire package feel just that little bit more meaningful.
There's no better demonstration of how well Girlfriend understood and encapsulated the appeal of Billie Piper than its chart performance, which mirrored Because We Want To in almost every way. Both songs debuted at #1 – indeed, Girlfriend's sales of 119,000 were significantly up on the 80,000 achieved by her debut – then spent four weeks in the top ten, eight weeks in the top 40 and three months in the top 75 overall. There was very little between Because We Want To and Girlfriend at every stage; they ended 1998 as the 48th and 49th biggest hits of the year, respectively, with around 1,000 copies separating them…until the former proved more popular on streaming, at least.
While total sales of both singles weren't the lowest of 1998 by a long shot, they were comparatively modest, nonetheless, which was consistent with how Billie Piper's debut album fared when it was released several weeks later. Honey To The B debuted at #16 before climbing to a peak of #14 the following week. It remained in – or just outside – the top 20 throughout the busy festive period and sold around 300,000 copies. That wasn't necessarily enough to make Billie Piper a hugely profitable act for Innocent Records. Still, she certainly had an identifiable fanbase (albeit one that proved somewhat fickle when her relationship with Ritchie Neville of Five went public) upon which to build.
From a commercial perspective, there's little about Girlfriend – other than making Billie Piper the youngest female singer to debut at #1 with her first two singles – that adds to the narrative Because We Want To had already established. Of course, things could've been different; there were plans for Billie Piper to release a cover of The Tide Is High from her second album, which contained a sample of Girlfriend during the rap interlude (it's as weird as it sounds). But that didn't happen, and thus, of Billie Piper's three chart-topping singles, this is probably the least well-remembered.
---