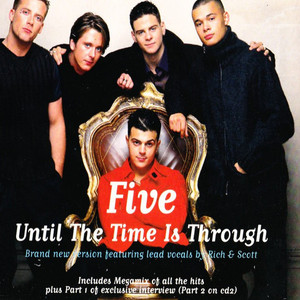 Released: 16th November 1998
Writers: Max Martin / Andreas Carlsson
Peak position: #2
Chart run: 2-9-16-23-29-27-28-43-64-67-65-61
---
Five may have been pop's biggest rebels in the late '90s, but even they (or Simon Cowell, at least) weren't about to defy the conventions of pop music, which state that a slushy ballad is required for the festive season.
As the final release from the Five album, Until The Time Is Through is significant in that it marks the group's last major collaboration with Max Martin et al. It's not often we'd say this but shifting to a more consistent British-based production team for their second album (with occasional assistance from Stargate) was a sensible idea. It allowed Five to lift the more successful elements of their debut album and create a distinctive sound moving forward. For however much we adore Until The Time Is Through (and we really, really do), there is no escaping the fact that in the context of their back-catalogue, it sounds like someone has accidentally dropped a Backstreet Boys / *NSYNC ballad into the tracklist. Not a bad thing in many respects, but we imagine not what Five were aiming for in the long-term. That said, with such credentials, there is no denying that Until The Time Is Through delivers a classic slice of Cheiron.
With a twinkling guitar melody during the intro, it initially seems there may be parallels to draw between this and the Backstreet Boys' As Long As You Love Me. However, Five's effort remains a little more grounded and doesn't ever quite ascend to that level of dreamy '90s whimsy. Instead, it has a slightly harder, crunchier beat. Albeit one that is still a drastic shift in tone from the raucousness of Everybody Get Up. The other noticeable change here is how much Until The Time Is Through pushes Ritchie and Scott to the fore; considering a big part of Five's appeal was their mob mentality, it was curious to see the majority of the group very deliberately pushed into the background. It was a dynamic that worked for some of the major American acts working with Cheiron, but we already had groups known for that gimmick here, and Five were not Boyzone. It's certainly no reflection on Ritchie and Scott's ability; they carry the song with all the sincerity and angst that it needs. And it is perhaps that vocal consistency – as well as the distinctive Cheiron sound – that make Until The Time Is Through stand out so distinctly in Five's oeuvre.
Where the song does benefit immeasurably is that as a group who feel a bit more street-smart and perhaps a bit less clean-cut, Five bring a sense of authenticity to the lyrics that was occasionally missing from that of their peers. The middle-eight: "There is no one to comfort me, here in my cold reality; I'm searching for words, what can I say to make you see" puts things in a genuinely dark place, and the dramatic: "Ah! Ah! Ah!" backing vocals sound almost unsettling. There are few moments where the gloomy, unsettling isolation of teen-heartbreak ever felt quite so real as it does here. Mercifully, we're scooped out of that hole via a brief reprise of the jangly As Long As You Love Me-esque melody before being thrust into a key-change. And what a key-change it is. There's a dramatic thud. And silence. Then: "Baby NOW, until TIME is THROUGH, I'll be HERE". As the song swells back into life, it's an absolute lighters-in-the-air moment, with a great composition of layered hooks. And listen out for the way the production jingles along with each syllable of the: "Until the time is through / Give up my faith in you" backing vocals. At that moment, Until The Time Is Through could give any of the big Backstreet Boys Cheiron ballads a run for its money, as it delivers a life-affirming, butterflies-in-your-chest rush of heady exhilaration
The music video for Until The Time Is Through was filmed in Mentmore Towers, the same location as the Spice Girls' Goodbye (they must have been running a package deal on pop videos at the time). However, in typical Five fashion, they treat the stately manor in exactly the way you would expect them to: using it to throw a huge party. You wouldn't necessarily think that pillow fights, bear costumes and J handling his massive snake (not a euphemism) would work as visual accompaniments to a tender ballad, but far from being a jarring aesthetic, it works well. It's fittingly light-hearted and gently raucous, but what holds it all together is the 'bromance' storyline between Ritchie and Scott. The video – like the song – unashamedly pushes the pair into the foreground and sees them staring straight down the camera with all the doe-eyed intensity you'd expect. And it's very successfully done, although again we would say it's not entirely what Five were all about. Nonetheless, in the context of the single as a festive effort, it's suitably schmaltzy while retaining enough irreverence to avoid completely selling out Five.
Until The Time Is Through was the second successive Five single to peak at #2. And it did so on an incredibly busy chart week, which saw no less than seven new entries in the top ten. Furthermore, the single had a profound effect on the Five album, which eventually climbed back into the top ten. It was a lovely way to round out the campaign, even if it wasn't necessarily a song that was truly representative of Five or their sound. As if to demonstrate that very fact, it was almost three years before the group released another ballad after Until The Time Is Through. Yet, even if Five aren't generally remembered for their association with Cheiron Studios, it was still significant in shaping their formative years. And what better way to mark that, than with a song so unmistakeably – and brilliantly – representative of that era?
---