Released: 2nd March 1998
Writers: Eliot Kennedy / Tim Lever / Mike Percy / John McLaughlin / Five
Peak position: #4
Chart run: 4-7-14-20-24-25-29-50-69
Billboard Hot 100 chart run: 64-57-52-44-29-19-15-15-10-10-10-11-11-10-12-10-11-10-10-16-14-15-20-24-28-34
---
International success always felt like a case of when, not if, for Five. And indeed, it came remarkably quickly for them with the release of their second single, When The Lights Go Out.
While many pop acts had designs on cracking America, Five's self-titled debut album was better positioned than most to deliver on that promise. Boasting Simon Cowell and Denniz PoP as co-producers, it had the best of both worlds with one eye firmly on the UK charts alongside a founding member of Cheiron to oversee many of the tracks. When The Lights Go Out was an inspired choice as Five's second single because it embodied that ethos like few other tracks from their formative years. Indeed, it was almost ironic that despite having the look and sound of a song that might have come from the Swedepop-side of the album, it had nothing to with Cheiron whatsoever.
In truth, there are more similarities than there are differences, but probably the biggest giveaway – in hindsight at least – is the intro. When The Lights Go Out thumps into life with a kick beat, a tease of the chorus and dialogue from Abs that sounds like it was recorded down a telephone line: "Yeah, I like that…you know what I mean… you're looking kinda fly tonight girl… what's up…check it". It's a far more protracted opening to the song than the succinct chord-riffs increasingly favoured by Cheiron, but the impact is still the same. This is the sort of track that makes you sit up and take notice because it's a statement that something unmistakably big is about to happen.
When The Lights Go Out immediately aligns itself to the darker-sounding side of pop music. The core elements are strikingly mechanical sounding (the vibraslap remains an underrated percussion instrument) and underpinned with an eerie keyboard wail. But there's a subtle warmth embedded deep into the production with gentle guitar riffs that occasionally brim to the surface, most notably during the: "Baby it's not the way I feel, you know you must believe me…" pre-chorus. They give When The Lights Go Out a quality of coming from a songwriting team with an innate understanding of pop music and how to delicately balance the composite parts so that it's aloof enough to give it an air of cool, but with enough boyband convention (the opening gambit: "I ain't sorry for the way I feel, I know you think I'm being insincere" has a very Backstreet Boys inflection to it) to fit effortlessly and logically into an increasingly saturated market. This is a song that is acutely aware of the broader chart landscape but still has the integrity to forge its own path.
And When The Lights Go Out really does sound like it immediately belongs, while succinctly establishing precisely who Five are. The lyrics read quite romantically: "Baby, when the lights go out, every single word could not express, the love and tenderness…", but the delivery of them is hot, heavy and loaded with street-smart swagger. There was no reason to doubt J's claim that: "When I flick the switch, make your hips wanna dip now, I can get you off, 'cause I'm ready and equipped now", and few would have denied him the opportunity to prove it. Five were our archetypal rebellious bad boys (a label they readily adopted), with a flicker of danger but where it always felt as if they would keep us – their target market – safe. With When The Lights Go Out, Five demonstrated a sense of personality, identity and charisma far beyond that of just good marketing.
For its release in America, the track was remixed by Cutfather & Joe, who gave When The Lights Go Out a slightly harder sound (and a more prominent guitar hook, which isn't utilised nearly as much as it should be). However, the most significant change was J's rap being replaced with a new one from Abs. Thematically, they're very similar, so it's not entirely clear why, other than the fact that as he was so prominent elsewhere on the track, perhaps it was deemed more sonically consistent.
When The Lights Go Out received two rather different video treatments. Most people – outside of America, at least – will be familiar with the original, which featured a woman sitting in an immersive VR chair, watching Five through a headset. It's a concept that neatly taps into the growing fascination with technology and what it could be capable of (although graphics still weren't that good). In an unintrusive manner that fits the format, each group member gets a virtual profile, showing their name, star-sign, and other facts that were impossible to decipher at the resolution this would be broadcast in the '90s. In terms of building the brand, the video is exceptionally well realised in portraying Five's individual personalities while also showcasing their cohesiveness as a group. Aesthetically it's cool, immediately recognisable, and although the visuals are very much a product of their time, When The Lights Go Out doesn't commit the cardinal sin of over-reaching on special effects to a point where they'd quickly look dated.
All of which begs the question of why another treatment was needed for the American release, except perhaps for the fact that the remix – and the new verse – might have made it impossible to sync the two together. In principle, there's nothing wrong with the second video. This time we find Five commandeering a bowling alley and hosting a lock-in with some lady friends. They do all the things one would do in this situation: hijack the sound system, dance across the lanes and commit the ultimate act of rebellion by bowling in non-regulation footwear. From an outside perspective, it seems very much like a video that conforms to the model of marketing a UK act to America by having them do stereotypically American things. But evidently, it worked, therefore justifying its existence in the first place.
In the UK, When The Lights Go Out was a solid hit for Five, albeit perhaps not one that was as big as you might expect. It peaked at #4 and spent a month in the Top 20, which was an entirely respectable performance…but then you look at what happened in America a few months later, and it suddenly seems curiously modest. When The Lights Go Out peaked at #10 on the Billboard Hot 100 for seven non-consecutive weeks and spent half a year(!) on the chart. It was a phenomenal achievement because although there was a modicum of hype emanating from the UK, Five were still only really just getting started. The success they enjoyed reflected the quality of this song and how well they were pitched to a global audience under Denniz PoP's watch. It seems almost inevitable that if When The Lights Go Out had been a hit in America first, it would subsequently have fared much better here. That's to take nothing away from what the single achieved; merely that in hindsight, the relative brevity with which it graced the charts in the UK feels so disproportionate.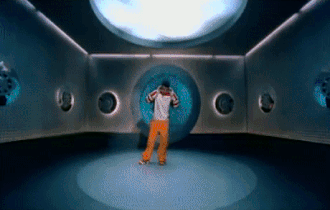 When The Lights Go Out was a watershed moment for Five. But what's surprising is how little it factored into the long-term direction of their career. Yes, there was the not-dissimilar-sounding It's The Things You Do released as the follow-up in America, and arguably future singles like Don't Wanna Let You Go and If Ya Gettin' Down were cut from a similar cloth. However, on the whole, Five's sound and image was not overwhelmingly dictated by When The Lights Go Out. Indeed, they only worked with one of the writers (Eliot Kennedy) again, and not until their third album. The benefit of that approach – beyond the fact that Five dominated the charts on their own terms – is that this track's appeal has never diminished and still sounds every bit as epic as it ever did.
---