Released: 10th March 1997
Writers: Gina G / John Collins / Mark Taylor / Paul Barry
Peak position: #6
Chart run: 6-10-17-21-33-56-75
---
Gina G's steady transformation from Eurovision to bonafide pop star continued apace with the release of Fresh! – her third single.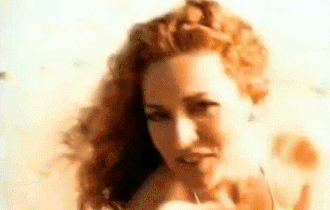 Having already shrugged off one-hit-wonder status with I Belong To You, the intention now seemed to be how to craft a musical identity around someone who'd most likely already achieved her biggest hit. Gina G had already released one single very much in the same vein as Ooh Aah…Just A Little Bit – but that wasn't a long-term solution. And thus, we have this attempt to move her away from hi-NRG pop dolly territory and into something with a little more substance.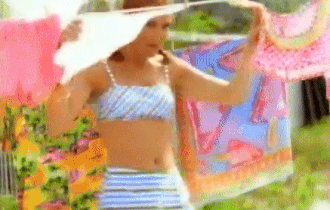 Fresh! wasn't a huge change in direction, admittedly. But it is certainly a shift from the sound of the previous singles. Rather than pounding synths, it's a retro-inspired bop that could almost be a glimpse into a parallel universe where Kylie Minogue never parted ways with PWL. Classifying Fresh! into a musical genre is actually quite difficult, but we'd probably file it in the "pool hall '90s retro disco-dance-pop" category – a fairly niche effort, then.
Although the single was stuffed with remixes to satiate the audience of Gina G's previous releases, the radio edit is one of those awkward dance songs that you can't actually dance to. The beat is actually fairly energetic, its offset against vocal and instrumental tracks that are much lower in tempo – the overall effect being a song that you can certainly bop and sway seductively along to, but one that really does not lend itself to the dancefloor.   
If you take a look at the woman in me
I'm a natural thing and I'm wild and free
It's up to you, you can take it or leave it
My mind's made up and you better believe it
It was a risk – and arguably one that Gina G did not need to take (she certainly wouldn't have been the first act to run a signature sound firmly into the ground). But we're glad she did because Fresh! is a really fun, summery track once you've digested the shift in style. It's a bit suggestive, a bit flirtatious and very, very catchy – the ad-libs towards the end of the song, in particular, are utterly joyous. Furthermore, the sound effect after each: "I wanna get fresh" line is curiously hypnotic. It's evidently supposed to be amplified finger snaps, but it sounds more like two snooker balls hitting each other – and clearly inspired Enrique Iglesias' Do You Know? (The Ping Pong Song) a decade later.
Having broadened her musical horizons – and indeed achieved it successfully, you would hope Gina G would extend similar consideration to the accompanying video. It pains us to say then, that this wasn't the case. The end result is something that resembles an extended First Choice television advert for a package holiday. It was probably a lot of fun to film, but it doesn't really add anything to the single – the song has a lot of character, but that just doesn't translate to the video. We will, however, acknowledge the fabulosity of the pink hat, which makes an all too brief cameo appearance in some of the pool shots.
So, Fresh! perhaps wasn't the complete package in terms of establishing Gina G as an artist. But the single nonetheless peaked at #6 in the UK – which we would consider a decent success given the size (or even existence) of her fanbase was at this point something of an unknown. As it turns out, this would be the last time Gina G would grace the top ten – but the hits certainly didn't dry up immediately. Plus, there was that infamous album cover just around the corner…
---