Released: 25th March 1996
Writers: Simon Tauber / Steve Rodway
Peak position: #1
Chart run: 6-5-2-3-3-3-2-1-2-4-13-21-24-30-35-41-48-52-54-64-55-56-68-X-62-X-64
Billboard Hot 100 chart run: 77-59-50-38-34-31-30-23-17-12-12-14-15-14-14-13-17-21-26-28-33-34-35-35-38-37-39-39-46-50
---
The Eurovision Song Contest has produced some iconic acts, and more than a few memorable hits. But for people of a certain age, Ooh Aah…Just A Little Bit is the definitive moment.
The track was part of a mid-'90s strategy by the BBC to revive interest in the Eurovision Song Contest. That is, presumably, to see the UK's consistent performance in the competition mirrored in the charts. Few entries from the previous decade had been commercially successful – indeed, some hadn't charted at all – suggesting a degree of disinterest towards the competition from the younger, record-buying consumer. Love City Groove had been a solid start the previous year; the track ranked 10th at Eurovision and reached #7 in the chart. But Ooh Aah…Just A Little Bit is where things fell into place. It is a massive banger that could have been a significant success even without the Eurovision association. Indeed, it was in America. You could argue that as much as Ooh Aah…Just A Little Bit remains a significant part of Eurovision history, the contest is one of the less critical aspects of the song's legacy. It will always be a factor, of course, but the track is remembered more for its presence in the competition than anything more notable on the night.
The timing of Ooh Aah…Just A Little Bit was perfect; it bottled the Eurodance sound of the early '90s and siphoned it down into a traditionally structured pop song. It's not merely an awkwardly clipped edit that has been whittled down to make it radio – and Eurovision – friendly (lest we forget the three-minute rule). Instead, this is a song that is written to order and squeezes everything you'd expect from a protracted club song into a shorter running time. It makes Ooh Aah…Just A Little Bit a relentless, dizzying rush from start to finish. The production comes courtesy of Steve Rodway, better known as Motiv8. The man was responsible for some phenomenal remixes around this time (chiefly his take on Wannabe, which remains terrific), but Ooh Aah…Just A Little Bit was his pièce de résistance.
The intro alone is one of the best things that ever happened to pop music. The melody – which sounds like it was performed on a kazoo and run through a synthesiser – is instantly recognisable and temptingly mimicable (we've all done it). The way the track builds the melody + the drums + the beat is incredibly effective. The first 20 seconds is entirely instrumental, but Ooh Aah…Just A Little Bit has already told you everything you need to know. If you weren't on board at that point, you never would be. But funnily enough, we've yet to meet a single person who isn't a fan.
The track is frivolous and fun, but that comes as a result of the immense care taken with the production. On the surface, it might present itself as generic Eurodance fodder, but there is some depth here. During the verses, the additional layer of echoed, choppy synths adds a tinge of depth to the bittersweet lyrics: "Every night makes me hate the days, can't get enough of your love". Even during the middle-eight – the only point at which Ooh Aah…Just A Little Bit comes close to a reprieve – there's a subtly distorted squeal that adds an air of desperation to Gina G's ponderings: "What can you do for me? Oh, what can you do". Perhaps the greatest success of the song's approach, though, is the way it subverts expectation; the title sounds like typical 'ooh-er missus' British seaside postcard humour. However, the "Ooh Aah" vocals are instead embedded deep in the production, so that each line is punctuated with two purposeful, clean beats. Ooh Aah…Just A Little Bit could so easily have gone down the novelty, twee route, but this is precisely the Eurovision stereotype it was trying to sidestep. And it does so very credibly.
That's the other ace of the Motiv8 production; it creatively melds Gina G's voice with those of the backing singers to give the illusion of a vocal performance that has more depth and range than you'd imagine was originally present. It's a fusion that works exceptionally well as her voice transitions seamlessly from the foreground to the background. Indeed, at one point ("whoo-o-WHOO-OO!") it's questionable whether she was there at all. All of this is relatively commonplace within pop music and helps make Ooh Aah…Just A Little Bit a rollicking tour-de-force. Indeed, under any other circumstances, it would barely be worth mentioning…but this was a song that was about to be scrutinised under the Eurovision spotlight, and such liberal vocal shading was likely to be problematic.
So, what happened on the night, then? Well, look, the thing about Ooh Aah…Just A Little Bit is that it's not the sort of song you'd pick as one best suited for a singing competition. There's no doubt it's a banger, but is it one that translates well to a live environment? Not so much. Eurovision rules at the time stated that a backing track was allowed, so long as all the instruments in it were included on-stage. For Ooh Aah…Just A Little Bit that means you have two guys playing keyboard next to colossal computer monitors. At the same time, Gina G performs the song alongside two dancers conducting a vigorous aerobics regime (one of whom is Miranda Cooper of Xenomania fame). Vocally, it's not a disaster by any means – even if some of the higher notes leave a little to be desired – but compared to the studio version, the song sounds tinny and empty. Ooh Aah…Just A Little Bit is an extraordinary track, but its Eurovision performance is entirely ordinary. Even so, it was still something of a shock for it to come eighth(!) on the night. Indeed, for a song so iconic and well-known, it was only the sixth best-performing entry of the decade from the United Kingdom.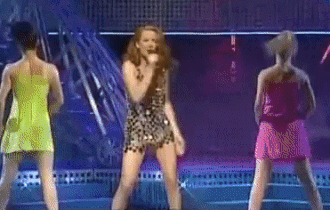 The visual for Ooh Aah…Just A Little Bit is – understandably – a simple concept using that ever-reliable pop music video location: a corridor. It's an entirely unremarkable affair featuring Gina G pulling a series of poses while her dancers perform in the background. There are also some random male extras milling about in the corridor, although their relevance is never entirely clear. So, as music videos go, this one is functional, at best. But then, few would have predicted how big Ooh Aah…Just A Little Bit was going to be, so it would be naïvely optimistic to expect much more.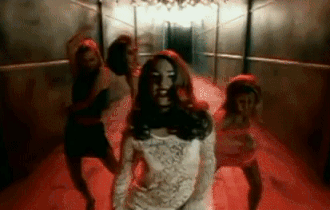 The main thing that sets Ooh Aah…Just A Little Bit apart from most other modern Eurovision entries is that it was a massive hit in the UK for weeks before the competition. The single entered the chart at #6 and then lodged itself in the top five, before finally ascending to the top of the charts the day after Gina G's Eurovision performance. It was undoubtedly the crossover that the BBC desired; a chart hit that enticed a new generation of fans to the contest while raising the stakes for the current audience with an entry that had genuine commercial value. Ooh Aah…Just A Little Bit was a huge hit throughout Europe, performing better on the charts in most countries than it did in the contest. But the song's most surprising success came in America, where it reached #12 on the Billboard Hot 100. This sort of trajectory was not commonplace at all, but then again, Ooh Aah…Just A Little Bit wasn't any old Eurovision entry, as the track's success away from the contest ably demonstrated.
Even though it didn't romp to victory as many had expected, Ooh Aah…Just A Little Bit was nonetheless a pivotal moment for the United Kingdom, which went into the 1997 contest with a sense of renewed optimism (not unlike that currently being shown) to turn the promise of success into actual votes.
---