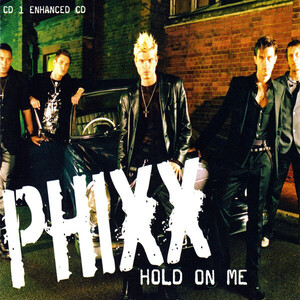 Released: 27th October 2003
Writers: John McLaughlin / Dave James / Phixx
Peak position: #10
Chart run: 10-24-36-53
---
Almost a year after Popstars: The Rivals, Phixx – the five male contestants who didn't make it into One True Voice – released their debut single. And Hold On Me quickly demonstrated precisely what Pete Waterman's male vocal harmony group lacked.
Although Popstars: The Rivals created two groups, only one would emerge from the show as the actual winner after going head-to-head in the charts. Thus, when One True Voice entered the chart at #2 behind Girls Aloud, the five male contestants that'd been eliminated from the live finals – Mikey Green, Andrew Kinlochan, Nikk Mager, Chris Park and Peter Smith, who withdrew in week three after admitting he exceeded the show's upper age limit by two months – became runners-up to the runners-up. There was no precedent for that situation, and though they formed their own group (signing with the same management as Liberty X), it wasn't clear how viable Popstars: The Rivals would be as a launch platform for Phixx.
What Phixx immediately had over One True Voice – who'd split up in August 2003 – was an understanding of who they were and where they might fit as a pop act. While Pete Waterman tried to sell the concept of a male vocal harmony group with little success, Phixx wholeheartedly embraced being a boyband and pushed some of the conventions to extremes. They also launched with a much clearer musical identity that remained consistent beyond Hold On Me. In almost every respect, Phixx are a better-conceived example of what the male counterpart to Girls Aloud could – and should – have been.
The group's sound was rooted in '80s-esque electropop, which stood out from almost everything around it (although Holly Valance happened to be dabbling with similar influences on her State Of Mind album at the same time). Certainly, as far as boybands were concerned, Hold On Me struck a very different tone to Phixx's immediate peers, Triple Eight and D-Side. It was a risk, but one they probably needed to take being on a smaller record label; trying to go head-to-head directly was unlikely to end well.
It proved to be a great move. Hold On Me doesn't merely pay lip service to the '80s revival idea; every element of the instrumental – the euphoric synths, throbbing, squelchy basslines and plinky-plonk effects – feels credibly drawn from two decades earlier, albeit with clearer, contemporary production values. As a (re)introduction to Phixx, the track also gives each member of the group a lead vocal, and there isn't a weak link, which isn't wholly surprising given they were all good enough to make the live finals of Popstars: The Rivals. If there are any surprises, then it's Chris Park's rocky drawl during the middle eight: "'Cos you have got me in too deep, with each and every breath I breathe, I have found a greater need…", which isn't necessarily an obvious fit for a boyband. If anything, though, that merely underlines how narrow the vision was for most TV talent shows (excluding Fame Academy) in terms of the end product.
The '80s angle could easily have been played as a pastiche or novelty. However, Hold On Me strikes a perfect balance; this is a fun track, but one tinged with shades of drama: "You come to me like a thief in the night, slip into my conscience, then you bleed into my mind, tear my heart's defences down" and helpless desperation: "A sleight of hand and twist of fate, and my whole world just changed, caught in a spell that I can't break, where your touch compels me to stay". It's performed with an engaging sincerity; Phixx convincingly sell a tortuous tale of infatuation, with ornamented vocal riffs used to create some terrific hooks. Those qualities manifest perfectly in the pre-chorus: "And I know, the temptations just too strong, can't let go, 'cos I'm weak, to the taste of your seduction", which is when Hold On Me starts to reveal just how good it is.
The chorus delivers on the build-up; it's naggingly catchy and loaded with satisfyingly anthemic pop sensibilities: "Yeah, yeah, yeah, yeah, you really got a hold on me (you're my soul temptation), you're the black of midnight, stealing at the light of day (you're my soul temptation), you curse me with this hunger, and that's the price I pay, yeah, you really got a hold on me". This is a triumphant, fist-pumping debut single by any standard. For Phixx, however, it's also a massive statement of defiance that validates their existence. While Popstars: The Rivals brought the group together in the first place, it also arguably put them on the back foot with preconceptions to overcome. The only question likely to be asked after Hold On Me is why something like this hadn't been the counterpart to Sound Of The Underground on Popstars: The Rivals instead.
As good as Hold On Me is, the visual elements are a pivotal part of the overall package, certainly in terms of selling Phixx and making an impact. They were not the first boyband by a long shot to use sexual suggestiveness and semi-nudity as a selling point. Still, the music video knowingly pushes that notion beyond the usual conventions (in fact, it went too far and had to be cut due to shots featuring Mikey Green's bum). The group are shown being held captive – minus a lot of their clothes – in a building where female extras fetishise them. As much as it's technically softcore, and despite some of the footage falling foul of censors, when it comes to portraying BDSM, Hold On Me does so rather openly and erotically.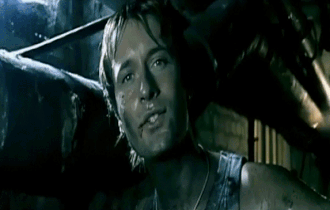 It's apparent that – intentionally or otherwise – the video exposes some members of Phixx more than others: Nikk Mager is bound by the wrists on a metal gurney (in a morgue), writhing as a saw is rubbed around his neck and body; Mikey Green gets scratched and dominated while handcuffed to the walls of a cell; Andrew Kinlochan is tied to a chair while water pours over him and his hair is aggressively pulled. Meanwhile, Peter Smith is locked in a box (although he's let out by the end) while Chris Park wanders around shadowy tunnels lined with pipework, frantically looking for escape. For the most part, Hold On Me presents a dishevelled Phixx, beaten and bruised. There are, however, some (unrelated) shots where they're shown smartly dressed, which are important in establishing what the group line-up looks like together, given all the other sequences are solo. The video undeniably has a gratuitous aspect; the group needed to utilise every opportunity to get attention. But it also establishes they're without the same kind of self-imposed boundaries as One True Voice. It's not entirely clear what limits, if any, there were here, and that immediately makes them an exciting and slightly unpredictable prospect.
When Phixx performed Hold On Me on Top Of The Pops, they went all in on recreating the theme, which included them being stripped and chained to chairs by the dancers. Eight complaints from viewers over the 'sexual and violent overtones' were investigated by Ofcom, and the BBC acknowledged the 'bondage-club atmosphere' had been inappropriate for the show and its likely audience. Perhaps the biggest surprise, though, is that only eight people complained in the first place; that probably reflects the decline in Top Of The Pops' ratings more than anything else because even by the most liberal standards, Phixx's performance went well beyond risqué for a show being screened at 7.30pm pre-watershed.
Regardless of the quality of Hold On Me, Phixx launched with a certain amount of baggage, given how quickly One True Voice faltered. Thus, it isn't easy to gauge the commercial expectations, but a #10 peak probably met or exceeded them. It's more or less consistent with how D-Side and Triple Eight – who launched around the same time – fared. But that was a faint victory because it became increasingly apparent that the appetite for new boybands had waned somewhat. Rather than tussling over the #1 spot, chart battles now played out at the lower end of the top ten; Hold On Me didn't even sell enough to make it into the top 200 singles of 2003 (meaning it sold less than 37,000 copies in total). And so, while Phixx might have overcome one hurdle to score their first hit, there were more to come if they had any hope of prolonging their success. Nonetheless, given the broader context, they'd probably made about as good a start as possible.
Perhaps the biggest plaudit for Hold On Me, though, is what it could have represented. Realistically, the track would not exist in the same way (if at all) had Phixx switched places with One True Voice. Many of the risks taken are because they were on a smaller label away from the glare of a primetime ITV show. But putting pragmatism aside, suppose for a moment this had been the boyband single from Popstars: The Rivals, then maybe – just maybe – Girls Aloud wouldn't have cruised to victory so easily. The eventual outcome should absolutely have stayed the same, but Sound Of The Underground vs. Hold On Me would have been a much better competition.
---