Released: 4th March 1996
Writers: Diane Warren
Peak position: #17
Chart run: 18-17-31-38-38-49
---
It's faintly ironic that after quitting Eternal to launch a solo career, Louise's all-important second single found her covering In Walked Love, a song originally recorded by a girl group from America.
Louise's decision to leave Eternal and launch a solo career certainly raised eyebrows, and there was a thinly veiled subtext to some of the press interviews – gently probing why on earth she was walking away from the group after the runaway success of their debut album – that suggested a degree of doubt. Nonetheless, her debut single, Light Of My Life, was released several weeks before Eternal made their comeback with Power Of A Woman, which meant any commentary about how either act would fare without the other was, at that point, only speculative (both tracks reached the top ten, in any case). But the situation was somewhat different for In Walked Love. It arrived over five months after Light Of My Life, and in that time, Eternal had racked up three consecutive top-ten singles. So, now there was pressure on Louise to prove she'd made the right choice to walk away.
Although technically a cover, In Walked Love was largely unknown in the UK, having first been recorded by American girl group Exposé for their self-titled third album (the group only charted once here – I'll Never Get Over You Getting Over Me – reached #75 in 1993). Written by Diane Warren, it marked a concerted effort to move away from the Latin freestyle sound of their earlier material and reposition them as an adult contemporary act that could rival Wilson Phillips. However, In Walked Love subsequently became one of the Exposé's least successful singles, peaking at #84 on the Billboard Hot 100 in 1994 (they were dropped the following year).
Picking a song with dubious commercial credentials for Louise at this stage was a curious strategy. However, her version presented a very different prospect from the original, thanks to a breezy pop-R&B makeover. The: "Oh-oh-huh-HUH" refrain is more prominently positioned (and now has an additional: "Doo-doo, doo-doo, doo-doo-DOO" section) while the slow-build first verse: "Once there were stars out in the night, they never seem to shine, and love was there for every heart, seemed every heart but mine…", is now accompanied by sweet, dreamy synths.
It's not long before the beat kicks for the first chorus with a burst of jaunty piano riffs and uplifting mid-'90s effervescence: "In walked LOVE, in walked YOU, in walked ALL my dreams…coming true (in walked lo-o-o-ove), ri-i-i-ight THROUGH my door; I saw your FACE and I KNEW, all I LOOKED for I had FOUND in you, I found the one that I'd been DREAMING of…in walked love", that is as obligingly inoffensive as it is toe-tappingly pleasant. Louise's performance further elevates the track. Her voice – though ably supported by a slew of gospel-tinged backing vocalists – has a warm, sincere tone (the second verse: "Just like a ray of light, that breaks through the long cold night, you brought in a brand new morning sun" is gorgeous) that exudes joy and very effectively showcases the innately likeable quality she possesses as both a singer and a pop star.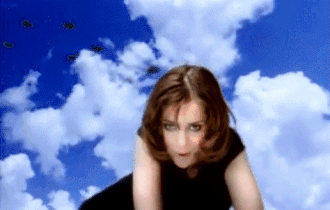 Many of the changes made to Louise's version of In Walked Love were necessitated by its function. The original ran shy of five minutes and contained a euphoric electric guitar breakdown, neither of which would have worked here. However, there is one noticeable omission, and it's the loss of the middle eight: "And now I feel, how it feels to feel alive, just one touch and I knew, I knew". It's instead replaced with a rather abrupt: "Out walked loneliness…" transition back into the final choruses, which is noticeable enough to seem like something is missing, even if it may not have been apparent what that was to those unfamiliar with the original. Although at least the addition of a teasing, playful scream provides a distraction.
What's clear from the accompanying music video for In Walked Love is just how committed EMI were to establishing Louise as a high-profile solo artist because, by mid-'90s standards, there are some impressive – and presumably quite expensive – computer-generated effects here (even if in hindsight, many have the appearance of a Windows 95 screensaver). The futuristic, abstract set – with its chocolatey-brown colour scheme – is given a sense of scale by extending the design to surrounding buildings and structures; meanwhile, shots of Louise lying on a disc and floating among the clouds evoke a hazily nostalgic halcyon glow.
Everything is framed in keeping with the innocuous appeal of In Walked Love. It's full of earnest glances towards the camera; even sequences where Louise is gazing at a floppy-haired love interest and dancing around vertical poles aren't played with overt sexuality. The video has a clear marketing angle, pitching her as the doe-eyed girl next door, and that relatable, feelgood charm is conveyed very well indeed.
Alas, despite an impressive flurry of promotion, In Walked Love became one of the few missteps of Louise's career when it reached #17. It remains her lowest-peaking single to have charted, and the timing could scarcely have been worse. The song debuted at #18 the week after Eternal entered at #8 with Good Thing; comparisons were inevitable at this stage, but to some extent, they were also unavoidable due to a deeper-rooted problem. In Walked Love feels like a poppier version of the sort of thing Louise had done comprehensively (and more credibly) with Eternal on Always & Forever. It thus created the impression that she was trying to forge a solo career away from her former bandmates while clinging to their coattails, which wasn't the case at all. Ultimately, this is one of those cases of a great song not necessarily being the right single.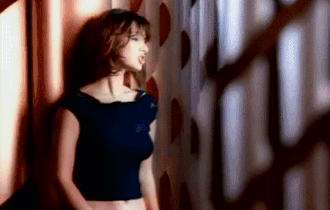 In a weird way, though, it's almost as if Louise needed In Walked Love to show that playing it safe wasn't the right strategy. Had this track been a bigger success and not left her in a situation that warranted an entirely different approach, it's hard to imagine Naked would've been the obvious follow-up less than three months later.
---