Released: 30th October 2000
Writers: Louise / Julie Morrison / Cathi Ogden / Jason Hunter / Robert Diggs / Dennis Coles / Russel Jones / Corey Woods / Gary Grice / Lamont Hawkins / Clifford Smith
Peak position: #13
Chart run: 13-31-43-58
---
Five years into her solo career, Louise had just scored her highest-peaking hit single. Thus, there was every reason to be optimistic about the follow-up. Alas, the socially conscious Beautiful Inside appeared to fall on deaf ears.
The backdrop to Louise's third album – Elbow Beach – was of an artist happily settling into married life; there's even a track titled First Kiss (The Wedding Song), to avoid any doubt. Yet the campaign was proving somewhat turbulent because after making a triumphant comeback with 2 Faced – which became Louise's first single to reach the top three – the album debuted at a comparatively disappointing #12, spending just four weeks in the chart. Subsequently, there was a bit more at stake than usual with Beautiful Inside, although that urgency didn't necessarily translate into how the track was handled; it certainly didn't come across as a make-or-break release, though that's precisely what it transpired to be.
With Louise more heavily involved in writing her third album, she could deviate from singing about love (though that was still a recurring theme) and broach topics with a little more substance. Beautiful Inside, therefore, contains an important message about self-affirmation and trying not to place so much importance on superficial things: "Doesn't matter about the clothes that you're dressed in, it doesn't matter 'bout the colour of your skin, all that matters is you're beautiful inside". There will, undoubtedly, be people who baulk at the notion of Louise – whose appearance routinely earned her awards from publications aimed at younger (Smash Hits) and older (FHM) readers – trying to argue looks don't matter.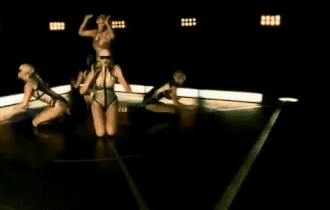 However, she also had ample experience and perhaps frustration at the emphasis placed on image and the loss of perspective that sometimes ensued: "You don't have to be a victim of your ego, no you don't have to be self-centred or deceitful, you'll make it happen if you're beautiful inside". Louise might have benefitted from the media – and the music industry in particular – pushing questionable values to impressionable audiences. Still, she was at least one of the few voices who used her platform at the time to call it out.
Beautiful Inside doesn't merely exist to make a point, though. Unlikely as it sounds, the liner notes for the song acknowledge a Wu-Tang Clan sample. And the horn stabs that play throughout the track are, indeed, featured in the track Shame On A N***a from their 1993 debut album Enter the Wu-Tang (36 Chambers), hence no less than 11 co-writers being credited. However, that in itself was sampled from the (barely audible) fade-out of Syl Johnson's Different Strokes, released in 1967, which Wu-Tang Clan repeatedly normalised the volume of to use in the song.
Regardless of the origins, Beautiful Inside has a juddering, funky swagger that adds scale and depth to the production. There's a punchy energy to the track; the chorus, in particular: "Try givin' up…the make-up, try givin' up…the dressin' up, try givin' up…the push-ups, and try livin' up to higher aspirations",feels almost like a direct, determined challenge from Louise to do better. Only when the sample drops out during the pre-chorus to create a beautiful moment of calm contemplation: "Looking from the inside out, tell me what you find, nothing means a thing if you're not, beautiful inside" does the prominence with which it fills and characterises the track become apparent.
The music video for Beautiful Inside is very much a product of the year 2000. It features Louise performing on a platform floating in mid-air with four backing dancers who emerge from the floor using a Secret World Of Alex Mack-style liquid effect. During the performance, they continue to metamorphosise (creating some slightly trippy sequences) while a Matrix-esque green filter is intermittently applied to the visuals. In hindsight, it's a shame the song's message around the unimportance of superficiality isn't reflected in the casting, where the backing dancers – despite their offbeat styling – still all represent precisely what Beautiful Inside is denouncing. There's no diversity in skin colour or body shape from the industry norm, and while that doesn't take away from the track for highlighting the problem, it's also a missed opportunity to be part of the solution. However, the video's existence is not – for the most part – intrinsically linked to the lyrics. Instead, its primary function is to present the single in a contemporary fashion, which it undoubtedly achieves.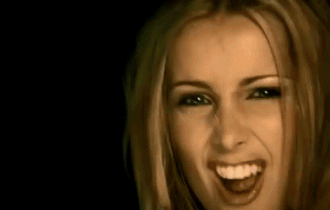 Beautiful Inside peaked at #13 in the UK, which proved unlucky for Louise. It's not the first time she'd missed the top 10, but a slew of new and emerging acts – Westlife, Nelly, Christina Aguilera, Kandi and the Tweenies(!) – debuting ahead of her could perhaps be seen as a sign of Louise reaching the end of her shelf-life. And in some respects, it's not unreasonable to have expected that Beautiful Inside would benefit more from the momentum of 2 Faced than it did. Furthermore, it was difficult to spin any real positives from this outcome since the single didn't even prompt a resurgence in Elbow Beach. Even so, at worst, Louise was dealing with a wave of indifference over a track that just didn't quite connect, rather than anything more negative or irreversible. So, it was surprising that plans for the (very good) next single – For Your Eyes Only – were abandoned, and further album promotion swiftly curtailed.
Instead, EMI opted to release a greatest hits album the following year, which brought Louise's record deal with them to an end. Maybe it was felt that she couldn't compete with a new era of incoming teen female pop stars. And taking Beautiful Inside entirely out of context, it could have been framed that way. But given Louise scored further top-five hits in 2001 and 2003, that evidently wasn't the case. Furthermore, her albums had always been consistent sellers, yet never did so in vast quantities (Naked sold 268,000 copies, marginally more than Woman In Me's 264,000 copies). There was no reason for that to change suddenly, so it did seem as if EMI jumped on the chance to take an easy out rather than once again play the long game.
It's a shame Beautiful Inside was ostensibly the single that derailed a steady run of hits for Louise because it's not a bad song by any means. And as socially conscious pop music goes, there's an important message here that still resonates.
---