Released: 27th May 1996
Writers: Noel / John Holliday / Trevor Steel
Peak position: #5
Chart run: 5-10-20-21-29-37-49-60
---
Every so often, a pop song comes along that re-defines the trajectory of an artist's career. For Louise, that moment was Naked, and it transformed her from an ex-Eternal singer who was treading water into a bona fide pop star.
The track was a turning point for Louise in almost every aspect. Until this point, she hadn't quite established a sound or identity away from Eternal. Her first two singles – Light Of My Life and particularly In Walked Love – were good songs that performed modestly, but it's not a huge stretch to imagine them having been recorded by her former bandmates. Naked, however, is a track that would never have been recorded by Eternal. It's a straight-up pop song that possesses overt sexuality. This was a statement that would catch people's attention and start to feed into Louise's persona as a pop star.
It doesn't start like that, though. The distorted fairground organ gives the impression of something incredibly quaint. Then the jangly synths start raining down over the track, the beat kicks in and we're in business. Naked is a slick pop anthem; the delivery snaps and gets right to the point: "I can see, you and me, doing things we shouldn't be, I can't seem to stop, my imagination". It's a performance quite unlike any that Louise had delivered before, but one which suits her immensely. The pacing is perfect, with each line rolling fluidly off her tongue. The chorus remains similarly tight, while also allowing Louise some room to purr her way through it sensually: "You make me feel naked, undressing me with your eyes; you make me feel naked, oooh hypnotised". And of course, not forgetting the echoed: "Oooh hypnotised" backing vocals, which crucially tie the whole thing together.
However, it's the pre-chorus that forms the tentpole from which everything else hangs, and contains arguably the strongest hook in Naked: "I can feel your eyes all over my body, I can read the signs they're sexual; I can read your mind, I can see you want me, something in your eyes is sensual". It's here that that track positively brims with the sort of intensely fulfilling, uplifting melody that would become more and more commonplace as the decade progressed.
This being the mid-'90s, we hadn't quite reached the era of the distinctive middle-eight. Instead, Naked has another trick up its sleeve: a spoken verse. There are few that so succinctly capture all the hot production techniques of the time. Most notably the phoned-in effect applied to the vocals that make them sound as if Louise is performing the song through her landline (she would definitely have had a cordless telephone). It's so crisp that you can hear the mouth-clicks as she uses a pseudo-baby voice to entice: "I feel your lips, your fingertips. Get inside, play with my mind. I feel myself, begin to melt. Don't look at me, don't stop". The interlude is brilliantly punctuated by a cascade of drumbeats that lead the song back towards the pre-chorus.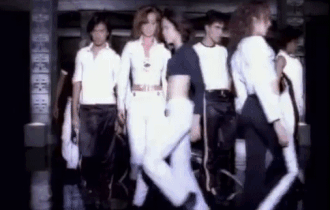 You'd be forgiven for expecting the music video for Naked to go down an obvious route. After all, we were nothing if not literal in the '90s, and just a few years later, the Spice Girls would perform their track of the same name (no relation) while straddling chairs in the nude. That's not the route Louise takes though; instead, this is very much a music video where the choreography is the star. It draws on aesthetic influences like Janet Jackson's The Pleasure Principle and Paula Abdul's Straight Up both in visual style and the way it frames its performer. It may initially appear as if Louise is performing the track to gratify the gentleman she's lured to a mystery location (some sort of art exhibition-dance studio-warehouse hybrid), but she owns her sexuality and – quite understandably – he looks completely terrified. Naked oozes sex appeal, but it's not presented in an exploitative or tawdry way. It comes instead from the fact that Louise looks confident and self-assured; her screen presence is electric.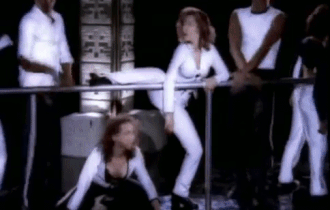 The video contains every kind of choreography you could want in a three-and-a-half-minute pop video; there's chairography, handography, floorography, poleography, faceography… It's a relentless tour-de-force that is captivating from start to finish. Moreover, the video undoubtedly inspired a generation of eager fans who learned every single move and can still recreate the whole thing (without missing a beat) in certain nighttime establishments.
As it turns out, Naked was even more influential than perhaps anyone realised at the time. It recently transpired that the song Peppa Party Time from Peppa Pig's debut album bore a remarkable similarity to Louise's hit (no, really). Funnily enough, it wasn't an official sample, and the matter was eventually settled out of court. But it just goes to show that Naked's impact was far-reaching. Even, apparently, influencing a porcine musician.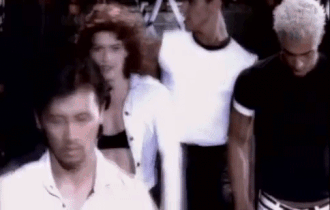 Naked peaked at #5 in the UK, duly becoming Louise's biggest hit to that point and, crucially, reversed the commercial dip she'd experienced with her previous single. Yet, in retrospect, this feels like it should have been even bigger. It was a watershed moment for Louise which jumpstarted her career and remained a distinctive hit that was slightly ahead of the bubblegum pop curve. Indeed, it quickly became a cornerstone of her debut album, which was also titled Naked and released the following month. In truth, it was a bit of a misrepresentation because there wasn't anything else on the album that sounded like the title track; the other singles are a much better representation of her sound at that point. But it was clear from the response to Naked that it represented the right direction in which to market Louise, even if there wasn't quite enough time for the rest of the music to catch up.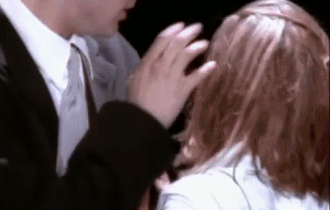 From here she overcame that tentative start to score a string of top ten hits and cement her position as one of the UK's most visible solo stars. All of it can be traced back to this moment. Naked is a brilliant pop song, which didn't just save Louise's career. It made her career.
---