Released: 30th August 2004
Writers: Darren Hayes / Robert Conley
Peak position: #12
Chart run: 12-29-51-65-74
---
A witty, subversive electropop banger is not what anyone expected as the lead single from Darren Hayes's second album. But with Pop!ular, that's precisely what we got in one of the most unprecedented reinventions of the '00s.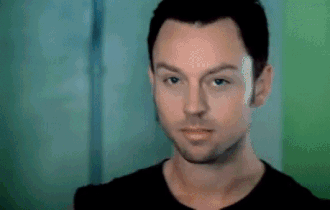 Darren Hayes would not be the first or last artist to take a potshot at the industry and its growing obsession with manufacturing celebrities who were predominantly famous for being famous, with musical ambition often a secondary concern. Record labels were constantly looking to raise the stakes, compete with TV talent shows and keep their acts in the public eye as more traditional routes of promotion dried up. But that, understandably, would become a source of frustration for established artists. Darren Hayes didn't need to prove to anyone that he could write a hit, but it was no longer enough 'just' to make good pop songs. Rightly or wrongly, in hindsight, most people would agree that pop music did lose its way in the mid-'00s, and while not to dismiss everything from that period, there was probably a bit too much emphasis placed on the wrong things.
Darren Hayes had good reason to feel disenfranchised at this point because he'd already played that game with Spin. Though its direction was not entirely dictated by Columbia Records, there's absolutely no doubt that their intention – with the start of the campaign, at least – was to find an angle that would ride the coattails of Savage Garden's phenomenal success. However, they quickly lost interest in promoting the album in America after Insatiable reached #77 on the Billboard Hot 100. As the Spin campaign continued to play out, it moved further and further from where it began, eventually culminating with Crush (1980 Me). This proved to be a pivotal moment because the song – a collaboration with Robert Conley – helped shape Darren Hayes' second album: The Tension and the Spark.
While the duo's work on Spin was confined to Crush (1980 Me), they created almost every track on the follow-up. The second album was a massive departure from the debut as a brooding electropop masterpiece. Every emotion you could hope to experience – and some you might not be expecting – while listening to an album is on there. As a lead single, Pop!ular doesn't necessarily reflect the overall tone of The Tension and the Spark, but it is absolutely the most fitting statement of what the music on it represents. This was not a mainstream pop record. Although listening to it now, that's quite hard to believe because – musically and lyrically – it hits a lot of beats that are up there with the very best of what has since emerged from the genre.
What came across – even at the time – is that Pop!ular existed as an antagonistic pop track. It ostensibly lived up to everything that record labels appeared to value: "I must confess, I've been a very bad boy; been sleeping around, talk of the town", but did so in a way that challenged authority and tested the limits of what would be tolerated. As Darren Hayes whispers and pants his way through the middle-eight: "My friends are all in limousines, my friends are all celebrity, I just sold my soul", you can almost hear the scratching of heads trying to work out how on earth to market this to radio playlisters. Which was precisely the point. Pop!ular was not created to be that song.
The track provides a perfect outlet for Darren Hayes to showcase his credentials as an artist fully conversant in all things electropop, for it could not exist without the involvement of someone who knew the genre inside out. The production shifts dramatically from a throbbing bassline and snare beat during the verses to a wall of sound during the chorus, jammed with blips, bleeps and zinging synths. For the best part of four minutes, Pop!ular is a cacophony of noises (including, at one point, what can best be described as a lorry reversing, which is always a tad disorientating when listening with headphones on) flying all over the place. There is so much happening here that it's questionable whether you could ever truly break it down element-by-element, but even so, it's still apparent that this should not work. And in the wrong hands, it wouldn't. Yet, that's where Darren Hayes and Robert Conley's mastery becomes apparent because – somehow – Pop!ular works incredibly well and manages to make sense when almost every ounce of logic says that it shouldn't.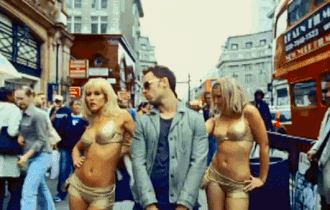 The stop-start transition between verse and chorus takes a bit of getting used to, but when the song gets going, it really delivers an exhilarating rush of strut-pop. Sure, it's sassy and sardonic: "I'm willing to sleep my way to the top, I wanna be pop…ular; I don't wanna keep my feet on the ground, I wanna be popular", but most importantly, the song is fun. It also projects an entirely different side to Darren Hayes' personality and feels like the moment where he finally became emancipated from the ties of Savage Garden. His voice is still the most unique instrument that Pop!ular possesses, but it's used to surprising effect here. Towards the end of the track, the vocals are distorted and disembodied beyond recognition so that they become part of the beat, swirling around a chant of: "My friends. Are all. Celebrity. My friends. Are all. In magazines". It all adds to the sense that suddenly, after three albums, Darren Hayes was ready to turn his identity on its head. And with a song like Pop!ular,it was immediately evident that there were no rules.
That ethos extends firmly into the music video, which is the polar opposite to the aesthetic presented through Insatiable as the lead single from Spin. On a purely aesthetic level, we've moved from a glossy, filmic look to one that looks more like Darren Hayes is being chased around the streets of London with a camcorder. Which is, in many of the sequences, precisely what is happening. There's a chaotic, anarchic energy to the video, which sees him performing Pop!ular in various London landmarks – including Madame Tussauds (well, that's one way of being able to pick and choose which celebrities appear) – accompanied by two scantily clad dancers and a boombox. Darren Hayes has a confident swagger, which almost borders on cockiness and is incredibly attractive; at least in part because it embodies the underlying notion that The Tension and the Spark represented an act of defiance at a time when many pop fans who'd grown up alongside Savage Garden were similarly exploring their identity.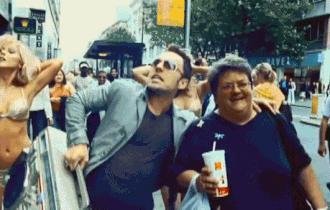 From a commercial perspective, it's impossible to consider Pop!ular without factoring in the context of its release because this was such a seismic shift. The track disrupted almost every expectation of where a new Darren Hayes single would sit in terms of airplay and audience. That's before even considering how out of step electropop was with chart trends at the time. Therefore, a #12 peak for Pop!ular in the UK was a pretty good outcome. The track also reached #3 in Australia – matching Insatiable – and topped the Billboard Hot Dance Club Play chart. A few weeks later, The Tension and the Spark peaked at #13 in the UK and #8 in Australia. That's where the parameters of success become a little blurred because looking at things in terms of numbers – as record labels tend to do – the album underperformed and ultimately led to Darren Hayes parting with Columbia Records. But The Tension and the Spark was widely applauded by critics and fans alike. It was ahead of its time – something that is apparent even if you investigate no further than Pop!ular – and most crucially of all, it opened a door for Darren Hayes to express himself in a way that he wanted, nay, needed to.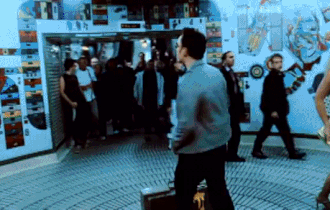 There's absolutely no doubt this was a risk. But having been so quick to lose confidence in Spin, Columbia Records – certainly in America – had little authority to dictate the direction of The Tension and the Spark. And thank goodness Darren Hayes didn't let them because it – along with this single – is an utter triumph that exists only as it does because he knew better than anyone what sort of music he should be making.
---