Released: 20th January 2003
Writers: Darren Hayes / Robert Conley
Peak position: #19
Chart run: 19-42-67
---
After six years riding atop the charts, Darren Hayes was no stranger to the charts. But how well did we really know him? On the basis of Crush (1980 Me), not very well at all. Buckle up, because we were finally going to learn a lot more about him in one of the most deliriously euphoric singles of his career.
As the frontman of Savage Garden, Darren Hayes' transition to solo artist should – in theory – have been smoother than most. Yet, there was a sense that with his debut album Spin was more concerned with trying to continue the duo's phenomenal commercial success (Walter Afanasieff was once again recruited to co-produce) than it was with truly establishing Darren Hayes in his own right. There was an inevitability to this strategy, and in fairness, it paid off to a certain extent as the album peaked at #2 in the UK and generated a sizeable airplay hit with Insatiable. But it was the release of Crush (1980 Me) – the fourth and final single from Spin – which proved to be the revelation of the campaign, as Darren Hayes unleashed a joyous celebration of his youth.
On paper, Crush (1980 Me)'s lyrics read like an inventory of '80s references: "Cyndi Lauper, Jackson, Simon Le Bon, I put Eurythmics on, poppin' and lockin' in the USA; Day-Glo sweater tied around my neck, studded denim, big hair, acid wash, Rubik's Cube, my boombox". Yet, although there's little narrative structure to the verses, the way they're organised is a masterful show of pop composition. It never feels like a checklist of trademarks being mindlessly reeled off. The vocals are gently infused with subtle distortion and overlapped so that they jump from ear to ear, leaving no gaps between each line. Darren Hayes may well be indulging in his own nostalgia, but the production puts the listener right there with him in the centre of an all-consuming wall of sound.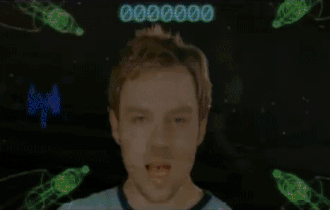 Crucially, Crush (1980 Me) doesn't ever trade on a gimmick alone. The song itself is an absolute ride and oozes sunshine from every fibre of its being. The chorus is packed with ludicrously uplifting hooks and delivers a giddy hit of sugary sweet bubblegum pop: "Got a little crush, OOH, I just can't get enough of that stuff, it's such a rush, oh-woah-woah-WOAH". The way it builds and builds, with additional layers of ad-libs ("Welcome to 1980 me") ensures a consistent sense of exhilaration that never lets up as you hear more and more little flourishes with each passing second. Crush (1980 Me) achieves an impressive feat in that its first impression is of something lightweight, perhaps even derivative, which is sort of the point. But to achieve that, it's incredibly bold in the way it employs a complex patchwork of production techniques.
Musically, Crush (1980 Me) aligns itself neatly with the decade to which it is dedicated – there's no mistaking that – but it never strictly sounds like Darren Hayes is performing a pastiche or trying to recreate a track from that era. This is a current (in 2003, at least) pop song proudly influenced by the '80s as a whole, rather than one which is trying to disguise itself as a product from it. That contrast is amply demonstrated by the Crush On Holiday Mix of the single, which mashes it together with an instrumental of Madonna's Holiday. The result is undoubtedly a more whimsically carefree reading of the song, but one which doesn't quite have the same fizzing energy of the original.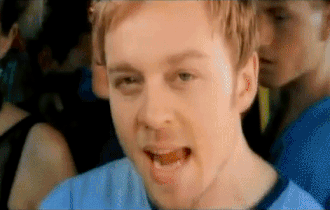 As much as the track is very much a celebratory tribute to the '80s, there is a brief pause during the middle-eight where Crush (1980 Me) lands back in the present day and slows down briefly to reflect on the passing of time: "I wish that I could be eleven again, that E.T was my friend, you know that life was so simple then; times have changed, never be the same, the memory remains, and the melody's inside my heart". It is tinged with a degree of sadness, but that is not to say that Darren Hayes is wholly melancholic about being old(er). Merely, in just a few short lines, he is unpicking the complex emotions of yearning to turn back time, while coming to terms with the fact that who he was is still a big part of who he is. The pop-culture reference may change depending on your age, but that is an internal conflict which will resonate universally and feels increasingly profound.
Pleasingly, the music video for Crush (1980 Me) is absolutely everything that you could want it to be based on the song. It's set in the '80s (obviously) and features a small cast of generic teen characters from the era – Corey, the heartthrob protagonist; Cyndi, his girlfriend, and Martha, the bespectacled, shy admirer. The early part is focused on Darren Hayes challenging Corey to a video game on a Space Invaders-esque arcade cabinet in a diner, eventually going on to break the high score record. Once the narrative moves outdoors, there are some terrific dance sequences, featuring distinctive dance styles from the '80s. Considering Crush (1980 Me) wasn't getting a major push, the visuals are almost movie-like in scale, with a vivid aesthetic more appropriate to the lead single from an album rather than the final one.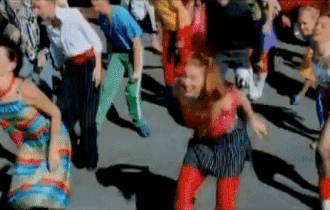 What sets this apart from other 'back in time' pop videos is that it avoids the temptation of recruiting look-a-likes to mill about in the background. Despite the name-checks, no-one is dressed up specifically to look like Simon Le Bon or Culture Club. Also, it feels a little geekier than you would expect for a time when video games still had that stigma attached to them. The arcade battle – with visuals designed to portray what is happening on the unit's screen – takes up a fair proportion of the song. Again, this helps us better understand a bit more about who Darren Hayes is beyond just a phenomenal singer.
In a reasonably unsurprising – yet nonetheless disappointing – turn of events, Crush (1980 Me) was only a modest hit, peaking at #19 in the UK and Australia. It was telling that the single didn't have any measurable impact on the Spin album either, and that probably goes to the root of the problem, in that it's unclear who Crush (1980 Me) was aimed at. For Darren Hayes' fans, this was a sudden and stark contrast to the image that had accompanied his solo career thus far; and not necessarily one that would appeal to them. But as the final single from the album, it was probably too late to start chasing a new audience. There's absolutely no reason to begrudge that Crush (1980 Me) was released because – quite frankly – it's bloody brilliant. But it's a track whose commercial fortunes felt almost predetermined by circumstance.
However, looking beyond the charts, the single did impact Darren Hayes' career because more than any other from Spin, it was the most indicative of the direction he would take. He subsequently began to work closely with Robert Conley and further embraced electro-pop to express his identity. Success comes in many forms. But for Crush (1980 Me), it is that the evolution of Darren Hayes as an artist can be traced back to this moment.
---