Released: 8th July 2002
Writers: Darren Hayes / Greg Bieck
Peak position: #15
Chart run: 15-25-35-41-54-55-55-58
---
After gently untangling himself from the legacy of Savage Garden with his debut single, there was nothing tentative about the follow-up, Strange Relationship, which saw Darren Hayes unleash a torrid, tortured beast of a song.
With a hit single and album now to his name, there was no doubt – if indeed there ever had been – that Darren Hayes could cut it as a solo act. However, there was still a question around identity: how much of himself he could show on Spin, and how much was dictated by what Columbia Records wanted us to see. Understandably, they would have liked to keep the success of Savage Garden alive, and by retaining Walter Afanasieff as the album's co-producer, it certainly had all the credentials of being a spiritual successor to Affirmation. That degree of discord between past and present runs rife through Strange Relationship and creates the perfect context in which the song can fester as a deliciously moody, twisted love song.
There are times when Strange Relationship is almost uncomfortable to listen to, in that it feels like Darren Hayes is laying his soul bare and disclosing some deeply personal trauma: "You strip me of my honour, and I don't ever think I'm gonna, break free of these mind games, all I'm trying to do is modify my plan, 'cos I can't contain you". However, if you can find some resonance within the lyrics, then the experience is almost cathartic as Darren Hayes delivers a blow-by-blow account of a relationship that isn't so much strange as completely f***ed up. It was rare to hear a singer – least of all a male pop star – show such vulnerability within their music back in 2002, so this is a strikingly brave performance above anything else.
Indeed, the way Darren Hayes tackles Strange Relationship is very different and avoids many of the usual traits that had come to be expected from him. There's little of his trademark falsetto, instead utilising his lower register and allowing him to chew over the lyrics. The middle-eight, in particular, is technically stunning as the cacophony of emotions reaches fever pitch: "You keep acting like you own me, I can't control me, you said you never really wanted me back, well maybe if that's a fact, may I suggest, a brand new plan of attack; and in defence of that you're hard to crack, you're way off track, I want you back, I want you gone, maybe I'm sick of holding on". The decision not to drape the track in soaring high notes means there's no distraction from the angst and pain conveyed in Darren Hayes's voice, which again adds to that aura of him completely letting his guard down.
Crucially, Strange Relationship doesn't exist purely as a confessional. The: "Gimme that strange relationship, never felt pleasure and pain like this, something so right but it feels so terribly wrong, I keep holding on", hook in the chorus is incredibly well crafted and creepingly catchy. Meanwhile, the orchestral accompaniment brings a dramatic, uneasy tension to the song, helping shape its overall identity as a love song, offering a very different and distinctive perspective. There is so much to enjoy here, and if the track catches you in the right way, it's a terrific mood piece that really delves into the psyche and pulls on so many of the emotions that are often keep buried. But the degree of candour within Strange Relationship is a double-edged sword because while there is so much to appreciate here, trying to sell it as a commercially friendly pop package doesn't really do it justice, and neither is it necessarily the best way to experience it.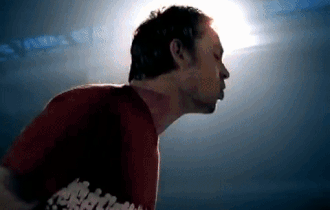 From a visual perspective, the music video completely understands the song and how best to portray it. There are no frills here whatsoever; it's presented as a single shot take with Darren Hayes performing to the camera while walking around a warehouse set. As a result, it sounds (and looks) simple enough. Still, with backing singers and an orchestra joining him at various points, there's a deceptive level of choreography and coordination employed to keep the whole thing moving smoothly. Even for an artist with Darren Hayes's experience, holding the audience's attention for four minutes is a big ask. He pulls it off, though, channelling the song's intensity with an air of defiance, almost as if the level of exposure he's committed to has created a confidence to fight back. There's not a whole lot of replay value, admittedly. However, as a complementary adjunct, the video doesn't try to do anything too abstract or pretentious with Strange Relationship. Instead, it quite literally keeps Darren Hayes front and centre, which is entirely deserved when he's poured so much of himself into the song.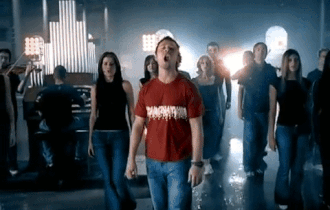 Strange Relationship was a modest – and remarkably consistent – hit, peaking at #15 in the UK and #16 in Australia. However, this was probably the first real sign of uncertainty; not of Darren Hayes' viability as an artist, but where he fitted into the chart landscape. Rather than dominating either sales or airplay, he found himself wandering right through the middle and doing neither to the extent that was likely to keep a major record label happy for long. All of which reflects poorly on Strange Relationship, but it's just not the type of song that lends itself well to the rigours of a mainstream pop single because it's so intensely personal and introspective. And that's really where Spin felt compromised; the album's DNA was geared towards the mass market while there is a sense that Darren Hayes was trying to tell more complex, jaded stories.
This is one of those curious cases where being a great song doesn't automatically make Strange Relationship a good single. Yet, make no mistake, it's a brilliant, low-key bop that is as unrelentingly dark as it is brutally honest.
---