Released: 30th July 2001
Writers: Geri Halliwell / Rick Nowels
Peak position: #8
Chart run: 8-18-26-31-43-52-59-59-71-X-X-69-64
---
Geri Halliwell's second album had already yielded the biggest hit of her solo career. Still, it's debatable how much It's Raining Men could genuinely be considered the lead single, given it was only tagged on at the last minute. However, Scream If You Wanna Go Faster felt like our first glimpse at the album as Geri Halliwell envisaged it.
For her debut, Geri had stuck close to Absolute (Paul Wilson and Andy Watkins), which paid dividends. There was a degree of fortuitous timing in that it came as the remaining Spice Girls chose to cut ties with the team behind some of their biggest hits and recruit a swathe of new writers and producers. Therefore, even though Geri Halliwell's sound was grounded in familiarity, she was the only one now making music like it, and that was an essential part of her brand. With Schizophonic certified double platinum (actual sales stand at just under 500,000), there was never likely to be a better time to expand her horizons than with her second album. Even so, the decision to collaborate with Rick Nowels was a risky one. His production and songwriting credits read like a who's who of pop music – Belinda Carlisle, Madonna, *NSYNC, Matthew Marsden – but one name, in particular, was likely to raise eyebrows: Melanie C.
Northern Star had, unquestionably, been the biggest critical and commercial success of all the solo Spice debut albums. So, for Geri Halliwell to start working with Rick Nowels soon afterwards was a risk. Comparisons between the Spice Girls' solo endeavours had always been inevitable, but up until this point, you couldn't really draw any meaningful conclusions because they all did markedly different things. And while Scream If You Wanna Go Faster certainly doesn't sacrifice Geri's identity, it does – nonetheless – sound for the first time like a style of song that isn't an immediately natural fit.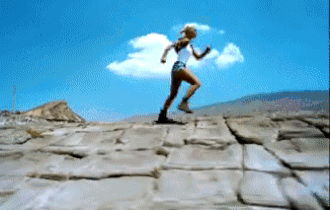 But maybe that was the point; Scream If You Wanna Go Faster (the single) was doing a lot of legwork, having found itself as the 'proper' lead single for Geri Halliwell's second album several months after it had already been released. EMI's decision to rush out Scream if You Wanna Go Faster (the album) after the phenomenal success of It's Raining Men was not without merit. Still, it did leave the campaign in an unusual predicament whereby the only track lifted from it was never even supposed to be there in the first place. Behind the scenes, it seemed that a drastic re-think had occurred because it wasn't just a case of bumping every other single back a spot to make way for It's Raining Men. Scream If You Wanna Go Faster wasn't planned as the lead single either; that honour was intended for Feels Like Sex, which ended up being overlooked entirely. Although, how it was ever even up for consideration remains a mystery.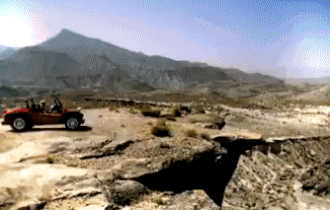 So, that's where we joined Geri Halliwell in mid-2001. And you know what? Ignoring the Scream if You Wanna Go Faster marketing concepts – the controversial album cover (where she's depicted wearing roller skates and clinging to the back of a car); the original version opening with the deafening roar of an engine – this is a surprisingly creative song and certainly far more palatable than it came across at the time.
The track delivers a streamlined take on the Geri Halliwell formula, acting almost as a whistle-stop synopsis of her solo career to date, should you somehow have missed it. Her fingerprints are still all over Scream If You Wanna Go Faster; there's a familiar tone to the lyrics that sits somewhere between profound and existential: "Don't let love pass you by; let it in, don't ask why", while the panted: "uh uh UH"s from Look At Me make a welcome return. However, this time around, it's all wrapped up in a breezy, no-nonsense production that incorporates elements of synth-pop, rock and – at one point – even ventures into a dizzying surf guitar breakdown. Yet, Scream If You Wanna Go Faster seems strangely hesitant to over-indulge itself, which wasn't something you could often say about Geri Halliwell's material. A lot of the production elements – like the jabbing, monotone synth melody – are just there. So, while the track constantly teeters on the cusp of descending into a full-on, rollicking pastiche, it doesn't seem able to let its guard down enough to commit, which was especially noticeable coming from an artist who so often jumped in with both feet.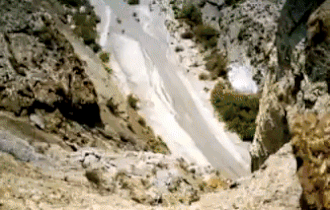 As it turns out, despite the Rick Nowels link, there's little here that jumps out as an obvious overlap with Northern Star. That is, other than his penchant for drawing out some endearingly clunky lyrics. "Gimme some, gimme some sweet F.A., have a nice day as American's say", is right up (or should that be down?) there with Melanie C's: "I couldn't live without my phone, but you don't even have a home". That aside, Scream If You Wanna Go Faster hammers home its message with unrelenting tenacity: "Gimme some, gimme some gasoline, tell me what you want, know what I mean, and scream if you wanna go faster baby", as layered chants of the title reverberate around the track after each rendition of the chorus. Is it gimmicky? Sure. Is it catchy? You bet. Does it give the campaign an identity? Absolutely. As an introduction to the Scream If You Wanna Go Faster album, it's fast, furious and a bit all over the place, which couldn't be more fitting.
If there is one area of the single that truly excels, then it's in the visuals, which is where it becomes apparent how much heavy-lifting the track was doing. This feels like the moment when the Scream If You Wanna Go Faster campaign was intended to start, and we do so with a classic battle of good Geri vs bad Geri (sounds familiar…). Much of the back-story is left to the imagination, but the video opens at a point where good Geri is stuck in the middle of nowhere while her doppelgänger – who appears to be some sort of clone(?) – is masquerading as the real deal on stage. This is a smart concept, allowing her to test out her new sound with a slightly different aesthetic while offering the get-out clause that it's not the "real" Geri. It's a good thing, too, because there is something slightly unappealing about watching her dressed in black, clutching a microphone stand and rocking out with a live band. Suddenly, Schizophonic feels like a distant memory.
On the other hand, good Geri – with her hair in pigtails – is on the hunt for her double. She runs through the mountain landscape before hopping into a dune buggy that transforms into a rocket(!). Considering the visuals are now two decades old, the sequence holds up far better you'd expect and wouldn't have looked out of place in a major movie. After taking a lift (which seems to be in the same place that she started) down through the ground, the two Geri's finally come face to face, and after taking a high-kick to the chest, the doppelgänger evaporates. There is a lot to like about this video, but it comes at a cost. In hindsight, Geri Halliwell's private battle with bulimia remains apparent. It's not that she shouldn't have felt able to flaunt her toned physique, just that it was starting to become a preoccupation. The way any pop star looks should never be a core component of a music video. Yet, despite Geri Halliwell literally riding a rocket through the desert, it's hard not to come away from Scream If You Wanna Go Faster feeling like it was built around showing off her fitness levels and skimpy attire. That should never have been the takeaway message from such a crucial single.
Coming off the back of her biggest solo hit, Scream If You Wanna Go Faster rather unexpectedly saw Geri Halliwell land her smallest (at the time). The single debuted and peaked at #8, and while it was the highest new entry that week, the chart wasn't particularly busy. Indeed, all of the songs above it had been around for at least a fortnight – if not more – which merely underlines that a significant shift had occurred. In actuality, Geri Halliwell was simply experiencing what all of the Spice Girls (except for Emma Bunton) would: a sophomore slump. It's just that as the first one to get there, hers drew a bit more attention. Scream If You Wanna Go Faster did have a measurable impact on the parent album, which rebounded from the depths of the top 75 back into the top 40. Alas, it was a brief reprieve, and four weeks after this single was released, the album exited the chart for the final time. If there's a silver lining to that cloud, it's that the 150,000 copies sold trail only behind Free Me in terms of most successful second solo Spice albums. So, that's something.
Say what you like about it (and many have); Geri Halliwell had thought through every aspect of the Scream If You Wanna Go Faster album, even down to the tiniest detail. And therein lies one of the main sticking points. We'd seen something similar with Schizophonic, which had a reversible cover and the tracklist highlighted in white (angel) or red (devil) depending on which side of Geri's personality they represented. But Scream If You Wanna Go Faster went further still. Next to each song in the album booklet are symbols, and on the last page is a key that tells you what each one means: 'For the Heart', 'Broken Heart', 'For the Mind', 'Sexy', 'To make you move'. You have to admire the attention to such minutiae, but it was as if Geri had become so absorbed in this, she'd forgotten how to be Geri Halliwell. Schizophonic might have been seen the odd PR stunt, but the music spoke for itself. It didn't need to be labelled to tell people how to respond or what to do with it. If Scream If You Wanna Go Faster had reached a point where it needed that level of signposting – even if it is intended to be light-hearted – then something fundamental had been lost in the process of bringing the album to life.
Nonetheless, Scream If You Wanna Go Faster has been somewhat unfairly maligned as a bit of a non-starter for the album. And no one is pretending that it's right up there with Geri Halliwell's best because it isn't. However, it is a cute, catchy pop song from an artist who still felt she had something to prove and wasn't content to just sit back and coast by on a hugely successful cover version.
---