Released: 28th February 2005
Writers: Christian Karlsson / Pontus Winnberg / Henrik Jonback / Angela Hunte
Peak position: #6
Chart run: 6-11-19-27-34-40-44-50-54
Billboard Hot 100 chart run: 100
---
2007's Blackout is often revered as the turning point in Britney Spears' career; a moment where she firmly drew a line under the act that she had been and redefined people's expectations of what she could do next. But how did we get to that point? The evolution in fact started a little earlier, and if you look back to Do Somethin', it was the first clear sign that Britney Spears no longer wanted to play by the rules.
The release of the Greatest Hits: My Prerogative compilation in 2004 should have been a triumphant moment. Here we had a snapshot of inarguably one of the most recognisable pop acts on the planet and a collection of songs that had soundtracked the previous five years. But while the lead single – a cover of Bobby Brown's My Prerogative – performed strongly in most territories it failed to chart in America. Moreover, the whole project had been overshadowed somewhat by Britney's marriage to Kevin Federline. It was clear for all to see that this was where her attention was now primarily focused, and she appeared to be increasingly disinterested in the notion of being a pop star in the traditional sense. So, no-one – including Jive Records – was expecting another single from Greatest Hits: My Prerogative.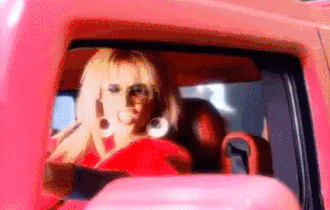 Except, Britney Spears had other ideas. She pushed her label to release Do Somethin' and eventually got her way. Although at this point, they probably didn't have a choice. A few months earlier, in December 2004, Britney had turned up unannounced at a radio station in LA and premiered a new song called Mona Lisa. Afterwards, she revealed that she was working on a new album – provisionally titled Original Doll – due for release the following summer. Jive Records were quick to deny that any such album existed. Still, it was pretty clear that they had no idea what was going on or how an unmastered, low-quality demo had ended up being played on a major radio station. Thus, they might not necessarily have planned to issue Do Somethin' as a single, but at least it put them back on the same page as Britney Spears and gave the impression that they had a handle on her career.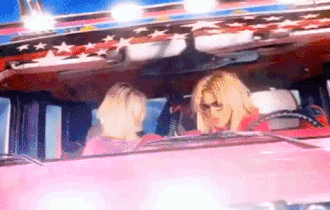 Her insistence came at a cost though, because this release was denied the usual investment that would be poured into one of her singles. The track itself was produced by Bloodshy & Avant; that in itself was unsurprising as the team had become Jive's go-to for new Britney Spears material following the success of Toxic. They'd contributed three new songs to Greatest Hits: My Prerogative, but Do Somethin' was significant as the only one to give us a proper look at what they might do next. My Prerogative was always going to be confined to some extent by its origins, while I've Just Begun (Having My Fun) was a leftover from In The Zone. This though…this was new and had created a buzz because it was so wildly different from anything Britney Spears had done before. There were similarities drawn to Gwen Stefani's What You Waiting For?, but the only thing these two songs really have in common is that they're performed by women. Otherwise, it's a lazy comparison; albeit somewhat typical of the media's inherent need to pit female pop stars against one another.
Do Somethin' is – in fact – quite tricky to define. It sits as an amalgam of electro-pop-rock, simultaneously sounding like all of them and none of them. It's infused with a spiky delivery which moves away from Britney's usual style; the chanted verses are performed in a slightly exaggerated tone that feels a little more spontaneous and improvised than the impeccably polished material that preceded it: "Whatchu gonna do when the crowd goes 'AYO'? Why you standing on the wall? Music starting every-WAY-YAW, so why don't you just move along?" There is a sense that Britney Spears was experimenting with her voice and starting to play characters within her music. She's never so whacky here as she would be on future songs like Mmm Papi, but this is a tentative step in that direction.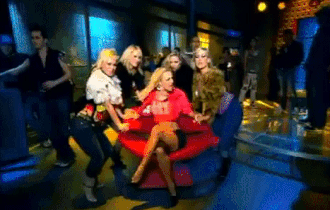 Thematically, Do Somethin' also shifts Britney into new territory as a raucous hitting-the-town-with-my-friends anthem. It's delivered with the self-confident swagger of an exclusive in-joke: "But I can't do that with you, only here with my crew, you can roll if you can, don't be a punk, punk". The song is so astutely of its time for a large chunk of the fanbase that had grown up alongside Britney Spears and were hitting that point themselves. The whole thing has a distinct aroma of sweaty indie clubs, cheap vodka shots and a newfound sense of freedom. To a wider audience, Do Somethin' might not have been perceived as particularly subversive. But in the context of Britney Spears' career to that point – and compared to every other song on Greatest Hits: My Prerogative – it was a massive statement of rebellion.
While barely 12 months had passed since Toxic reasserted Britney Spears as a dominant pop force, the charts were undergoing a period of rapid and significant change. What she represented didn't necessarily have a place anymore; in that sense, it did feel as if no-one knew what to do with Do Somethin' and so just left it to be. Which might explain why Britney was able to shout: "FUCK!" repeatedly over the outro. The vocals might be distorted and on the verge of being drowned by the fuzzy electro bassline, but it's still there and far less ambiguous than If U Seek Amy, which was heavily censored while this was not.
The big sacrifice for Do Somethin' came in the music video. With Jive Records not keen on releasing the song, they certainly weren't about to stump up a huge budget for the visuals. Britney Spears was making her directorial debut but was afforded a co-director (Billie Woodruff) and half a day to come up with the end product. It sounds like a recipe for disaster, but what we got was a video that was functional for the song and managed to squeeze in several easter eggs. There are lots of ideas thrown around: Britney and her posse driving through the clouds in a pink truck, visiting the 'Hole In The Wall' nightclub to the bemusement of various revellers and then whipping the crowd into a frenzy with a performance of the song. But it hangs together and the frantic energy of organising a three-and-a-half minute music video in five hours complements the chaos of the song.
There are some neat touches here though. Do Somethin' contains a reference to Mona Lisa in the opening shot, which was the alter-ego Britney had adopted but also an acknowledgement of the song for those that had heard it. A few of the images call back to Me Against The Music; a drink is pushed along the bar in a sequence that mirrors one from that video, and there's an extra sporting a similar hat to the one Britney wore. Toxic also gets a nod with some cutaway shots where she's sitting in the same position as she did when wearing nothing but diamonds (although this time she's sporting a fluffy jacket). One addition that wasn't welcomed, however, was a Louis Vuitton-branded dashboard during the truck scenes. The fashion house had not approved the use of their design. It subsequently served Britney's record label with a cease-and-desist order, resulting in a hefty fine and the video being temporarily pulled to edit out the offending scenes.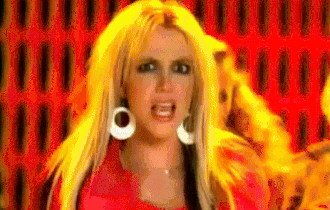 Nevertheless, it's somewhat ironic that considering how it was hastily assembled, visually, Do Somethin' ends up being a much more appropriate fit for Greatest Hits: My Prerogative with the gentle nods back to some of Britney's earlier videos. In truth, it barely feels more than accidental most of the time, but that's entirely understandable given the speed at which this was thrown together. If nothing else, it begs the question of what Do Somethin' could have been if given a full video treatment.
As releases go, this was as bare-bones as you can get. Jive managed to stretch the song and a remix across two CDs, which shows how little they had to work with. It's testament to Britney's commercial grip on the charts at this point that even with zero promotion and a parent album that had sold in huge quantities (Greatest Hits: My Prerogative eventually became her second million-seller in the UK), Do Somethin' still managed a peak of #6 here. However, it was actually the single's most modest chart performance that became its most significant victory. The track wasn't officially released in America but enjoyed a boost in digital sales off the back of the music video. With paid downloads now recognised by the Billboard Hot 100, Do Somethin' achieved a peak of #100. Under almost any other circumstance, this wouldn't be worth celebrating. But having lobbied for it to be released, Britney's persistence had been validated as this became the most successful single from Greatest Hits: My Prerogative – in America, at least.
On the surface, Do Somethin' was little more than a curio in her back-catalogue, perhaps consolidating a perception that she was becoming increasingly difficult to contain. But Britney Spears managed to pull much of this single together with minimal support from Jive Records, and behind-the-scenes, this seemed to drive her to keep them at a distance while she wrote and recorded new material. Most of Original Doll was quietly swept under the rug and remains the stuff of pop folklore. But whatever the mid-'00s would throw at Britney Spears, the determination that she now had to perform and be heard in her own terms off the back Do Somethin'…well, there was no keeping that down. And it would all culminate in three iconic words that redefined her career: "It's Britney, bitch".
---