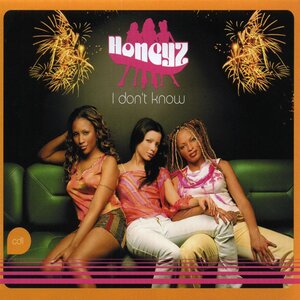 Released: 6th August 2001
Writers: Alex Cantrall / Chuck Giscomb / Joe Priolo / Shaunna Bolton
Peak position: #28
Chart run: 28-50-61
---
In the cutthroat world of pop music, some songs are just too nice to make it. I Don't Know is one such example; a track cruelly fated to the nether regions of the chart whose only wrongdoing was that it dared to be pleasant.
By 2001, the Honeyz – just one album into their career – were already on their second line-up change. The original trio Heavenli Denton, Célena Cherry and Naima Belkhiati had scored three top ten singles. When Heavenli left the group, Mariama Goodman was drafted in as a replacement, and the Honeyz racked up a further two hits. Then Mariama left and Heavenli re-joined again, which is where we join the group for I Don't Know (to confuse matters further, during The Big Reunion in 2013, Naima chose not to take part and a hybrid group consisting of Heavenli, Célena and Mariama was formed).
Alas, things didn't exactly get off to a smooth start for the new-original line-up of the Honeyz. Their first single Not Even Gonna Trip – lifted from the soundtrack to Nutty Professor II: The Klumps – became the group's first single to miss the top ten, peaking at #24 in 2000. However, Heavenli's return afforded the Honeyz some time to pause and plan their second album. It was almost a year later that they returned with I Don't Know, and while it wasn't billed as a big comeback or a soft relaunch, it did attempt to smooth over the disequilibrium that had crept into the group.
Given their penchant for R&B slow jams, it might have been difficult to imagine how the Honeyz sound could become any gentler, but I Don't Know manages to do just that. This is a likeably warm summer breeze of a pop song that steers the group firmly into the middle-of-the-road. Was it likely to re-establish the Honeyz as a chart force? Almost certainly not. It's instead the sort of release you'd expect to find propping up the tail-end of a campaign, designed to pick up some commercial radio airplay and squeeze out a few more sales of the parent album. That was going to prove problematic for I Don't Know as a lead single that desperately needed to re-assert the Honeyz as a chart-conquering force.
On first impressions, I Don't Know seems pleasant enough as it innocuously washes through the psyche. But make no mistake, there is some real substance here; the: "I don't know, you don't know, we don't know, don't know where we're going but…" hook in the chorus will some come back to bite; it's simple but incredibly effective. The song is full of subtle earworms that linger on far beyond it's running time and gradually reveal their charms. This is enhanced by the fact that I Don't Know is fairly – and deliberately – unadventurous in its delivery. That is to say; it never comes close to using the full power of Célena's vocals, which allows her to instead get under the skin of the track. The whole thing sounds entirely organic, as though the Honeyz have been allowed to jam their way through the song and improvise their performance. Whether it's the: "Me and you, me and you, oooh" riff after the first chorus or the soaring: "Just me and YOOOU-OH-WOAH" ad-lib towards the end, everything lands perfectly without sounding placed or calculated.
From a lyrical perspective, I Don't Know sits nicely within the group's narrative. Ostensibly it's a love song, but the story it tells could just as easily be a metaphor for the love between them. The Honeyz were never quite famous enough on a personal level for Heavenli's departure and return to generate significant tabloid coverage, so reflections of: "And even though you caused me pain, you know I wouldn't change one thing, 'cos after all we've been through, my love for you won't fade away" help fill in the blanks. Indeed, the entire theme of the single gives a sense that the group had hit a crossroads. Statements like: "I don't always know where the road will lead" and: "We'll find our way together, we'll make it through whatever" link – intentionally or otherwise – through to the fact that the Honeyz had lost a bit of the direction and identity that so clearly defined their early career.
The music video for I Don't Know could scarcely be more perfect from an aesthetic perspective. It's a relatively simple affair (road trip!) which attempts to reinforce a notion of togetherness now that the original line-up was back together. Granted, there are moments where the budgeting becomes apparent; one of the mid-sequence highlights sees the Honeyz gathering around a claw crane machine trying to win a prize. And a plastic water pistol isn't even a good prize. But the appeal here is primarily in the stunning scenic shots. Sprawling landscapes, azure blue skies and sun-drenched deep orange glare provide a perfect accompaniment to the track; the video looks exactly how the song sounds. It culminates with the group stepping out of their car and rolling dice in the desert; the implication being that their journey is open-ended and one entirely of their own making.
Yet, there was nothing quite so whimsical awaiting the Honeyz back in the real world. I Don't Know became – quite literally – their final roll of the dice, and it backfired. Despite plenty of promotion, the track peaked at #28 in the UK, becoming the group's worst-performing single. It initially appeared as if they would be given another opportunity to turn things around as work continued on their second album Harmony and a music video was filmed for the next single Talk To The Hand. But at the last moment, the record label got cold feet and decided to cut their losses. Thus, the Honeyz were dropped, and their unreleased album was left to float around the internet with only musings of what could have been.
Now, it's easy to pinpoint I Don't Know as a misstep for the Honeyz. And maybe that's true. But what it lacked in commercial sensibility, it more than made up for with heart and warmth. This is music that is good for the soul, even if it does little to dispel the notion that nice pop songs finish last.
---