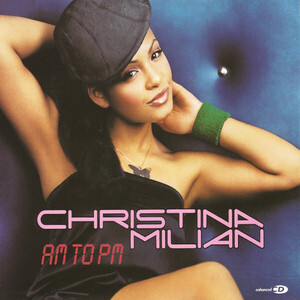 Released: 14th January 2002
Writers: Christian Karlsson / Christina Milian / Pontus Winnberg
Peak position: #3
Chart run: 3-9-9-11-16-19-29-44-52-64-60
Billboard Hot 100 chart run: 99-92-92-85-81-33-29-29-27-27-31-34-52-66-76-76-80-83-82-73
---
By the time Christina Milian released her debut single, she'd already built up a nice little media profile for herself. In America, she'd presented on the Disney Channel for six months (where she was known as Tina) before turning her hand to music. Her first chart appearance was in 2000 when she featured on the Ja Rule track Between Me and You, which reached #11, and #26 in the UK. However, Christina Milian had a much bigger credit to her name; she was best known for co-writing – and, as it turns out, co-singing – Play by Jennifer Lopez.
AM To PM was – at first glance – about as perfect a debut single as one could hope for in the early '00s. It perfectly straddled the line between pop and R&B, something that many of our '90s bubblegum pop princesses were now attempting to do. Furthermore, Christina Milian had already proven her songwriting credentials to an industry where (rightly or wrongly), greater emphasis was being placed on pop acts having a hand in the creation of their material. There's always a but, though. And for Christina Milian, it came in the shape of something that would become a recurring theme throughout her career. AM To PM is an absolute bop; there's no denying. But the transition to that from Between Me and You is vast; it's hard to imagine both songs would have appealed to the same demographic.
The obvious comparison here is Ashanti; around the same time, she similarly launched her career as a featured artist on songs by Fat Joe and – you guessed it – Ja Rule. However, her solo material was much more sonically consistent with those tracks, which would certainly have been a contributing factor to the strong commercial performance she enjoyed. On the other hand, Christina Milian's debut album was an eclectic mix of pop-orientated tracks courtesy of Bloodshy & Avant alongside contributions from R&B producers like Jermaine Dupri, Focus… and Irv Gotti. It's not hard to see why Christina Milian was displeased with the muddled identity surrounding her debut. AM To PM is a perfect representation of the poppier elements of the album, but it's not indicative of the overall sound.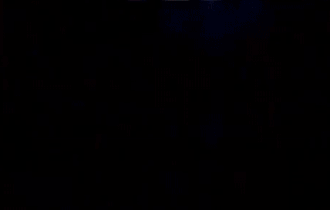 Nevertheless, few songs would have been able to make such an impact as this one. It's a great debut single that is packed with strong pop hooks all the while wrapped up in a bouncy – but credible – R&B production. It's yet another early example of Bloodshy & Avant cutting their teeth and starting to fuse genres; here, they mix frantic, juddering urban beats with the familiar Darkchild-esque plink-plonk sound effect. What makes AM To PM stand out from the crowd, though, is that static, fuzzy electro-pop bassline running underneath the whole track. It's consistently present, but most effectively employed at the end of the track where it swallows the rest of the production and swells – almost oppressively so – into the speaker. It gives the track a very distinctive identity, which is exactly what was needed when a lot of pop singers were testing the same core R&B elements within their material. And to cover all bases, it never hurts to include a shout-out, thus duly AM To PM delivers a: "Bloodshy…. Milian!" tag during the intro.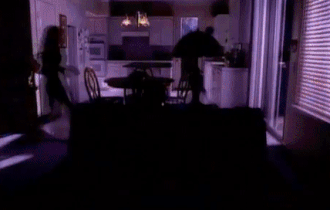 Lyrically, this is a smartly written pop number; it's a sanitised ode to clubbing pitched at a demographic where that lifestyle is tantalisingly just out of reach (well, unless you were rocking a fake ID). It perfectly plays into the naivety of those mid-teen years, where statements of: "Everybody lookin' like stars, all the chicks and the fellas in the bars" were still believable summations of what it's like to be inside a nightclub. Furthermore, AM To PM sounds – to the underage ear, at least – like the sort of crowd-pleasing anthem that would be played in a club, with its cries of: "Woo!" that launch the chorus. Christina Milian brings the energy here as well; her self-assured persona feels completely authentic. It's something her peers may have struggled to sell in quite the same way. However, having spent her formative years largely behind-the-scenes, Christina Milian's passage into adulthood was achieved with little scrutiny.
The music video for AM To PM is – like the song itself – a brilliant introduction to Christina Milian as a pop star, but a really weird concept when taking into consideration her earlier appearance on Between Me and You. We went from a video featuring Ja Rule smearing whipped cream over a scantily clad woman (and just about every other '00s hip hop cliché imaginable) to something that felt like it was trying to market Christina Milian as a rebellious schoolgirl, when in fact she was soon to turn 20. It's ironic that while her peers were desperately trying to portray a more grown-up image, AM To PM seemed to want to do the opposite. And however puzzling that approach may be, there's no denying that it succeeds.
The video opens with a sequence straight out of a Nickelodeon TV show; we meet Christina Milian in her bedroom (love the garish pink and purple colour palette) intent on sneaking out of the house without being caught by her parents. She employs stealth tactics to drop from the first floor, distract the dog with a bone and uncover the security code to the door (although until now, we'd never questioned why Christina Milian is locked in the house…) before making her escape and jumping in a car headed for a club. Now, this is the sort of nightclub that exists nowhere but '90s and '00s pop music videos and is apparently the product of set designers that have never set foot in an actual club. You gain entry by showing the bouncer your pager (a pager!) and inside there are vertical smoke machines, huge panels of lighting and a spacious dance floor that doesn't look remotely sticky. For AM To PM, things go even further, as Christina Milian also rides around on a giant motorised fluffy cushion (that wouldn't last ten minutes in the real world) and wanders through an indoor funfair. Is it any wonder that adulthood is a constant disappointment when we were fed such unrealistic expectations?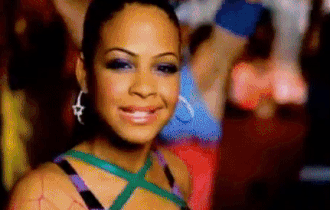 As dawn breaks, Christina Milian sneaks back into her house and jumps into bed, giving a knowing look into the camera while her Dad looks on, blissfully unaware. It's a great concept that is executed tremendously and packed with personality. Although everything is a bit larger-than-life, it's never exaggerated to the point where it becomes stupid and loses that aspirational chord it's trying to strike with the pop crowd.
And that's where the song landed. In America, AM To PM peaked at #27 on the Billboard Hot 100, but it gained little traction from R&B radio stations who had been so receptive to Between Me and You. Instead, the track picked up most of its airplay from mainstream and dance stations, where Christina Milian was breaking new ground. In that sense, this was a strong debut for an act who was essentially starting afresh. However, it evidently wasn't enough to convince the label to release the Christina Milian album, which was delayed – and then shelved indefinitely – following the September 11 attacks. AM To PM didn't reach the UK until some four months after the American release, but the response was much more positive. The single reached #3, while the album debuted at #34, but eventually peaked at #23 following the release of When You Look At Me.
AM To PM remains a superb – and fascinating – debut single; by almost any measure, it was the perfect pop package. Whether Christina Milian ever wanted to be the sort of artist that she was marketed as, however, is another matter altogether.
---