Released: 17th June 2002
Writers: Christian "Bloodshy" Karlsson / Christina Milian / Fredrik "Fredro" Odesjo / Henrik Jonback / Nina Woodford
Peak position: #3
Chart run: 3-6-7-9-11-19-28-34-44-60
---
In the '90s and early '00s, pop music had a reputation for superficiality. And with escalating levels of fame, pop stars were occasionally accused of being out of touch with reality. Thankfully, in 2002 Christina Milian released When You Look At Me; a killer track that assured the value of being socially aware and non-judgemental hadn't been lost on her.  
Pop fans can be complicated, for many indulge and celebrate the extravagant, untouchable spectacle of their favourite act, while also revelling in them showing humility and a suggestion that beneath the façade lies a relatable, ordinary person. Whether Christina Milian needed to do that two singles into her career is debatable. But When You Look At Me was, nonetheless, an opportunity to debunk any presumptions over delusions of grandeur that might have formed following the extremely lavish video for AM To PM, even if the visual treatment for this song is similarly expensively styled.
Regardless of the message it was trying to portray, When You Look At Me is a brilliant pop song expertly produced by Bloodshy & Avant. Unlike the R&B leanings of Christina Milian's earlier material, this single is much more of a "fun for Europe" number with a bouncy beat and doo-wop electric guitars (funnily enough, it didn't chart in America). There's even a hint of a squelchy electro beat that occasionally leaks through the production; an early sign of the direction that Bloodshy & Avant would later pursue. However, even as one of the production team's earlier high-profile gigs, it shows a lot of promise, with a series of punctuated elements that complement the track without ever threatening to overshadow the whole song.
For at the heart of When You Look At Me is a masterfully crafted chorus: "Tell me, who do you think you see, you're standing in your corner looking out…on me, you think I'm so predictable; tell me, who do you think I am, looks can be deceiving, better guess…again, tell me what you see, when you look at me". It flows with a nursery rhyme-esque rhythm that feels immediately familiar and still utterly satisfying. The track is often overlooked compared to some of the bigger pop moments of the early '00s, but it's just as well constructed as the best of them.
Equally as notable – albeit for a slightly different reason – about When You Look At Me are the lyrics. It's here the track rapidly escalates from the relatively formulaic into the utterly surreal. The first verse focuses on Christina Milian addressing people's perception of her: "You're probably thinking that I want those things, cash, cars, diamond rings". Realistically people weren't thinking of her in that way; it's a sentiment that would have been better served to someone like Jennifer Lopez, whose 2001 hit Play had been co-written (and co-sung) by Christina Milian. Nonetheless, within the context of a song about not taking people at face value, it's reasonably logical.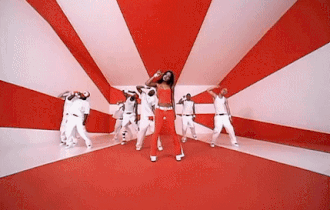 However, the second verse of When You Look At Me goes in a most unexpected direction: "You look at your neighbour thinking: "what a guy", 'cos he's got a 9 to 5, and I bet that you don't realise, he stalks you while you sleep at night; but you're scared of the homeless guy, think he's gonna wanna start a fight, never judge a book by its cover". If this is an autobiographical account of something that happened to Christina Milian, then it's dealt with rather flippantly; the alternative is that five co-writers of the song conceptualised such a scenario. Either way, it's a ludicrously sublime, brilliantly bonkers pop music moment. And that's before then considering it was fully choreographed for the music video.
The sudden divergence in theme may be why the video concept is relatively abstract from the lyrics. Instead, the visuals see rapid cuts jumping between Christina Milian in four different outfits performing the song. It's a slightly weird choice which – in some respects – is at complete odds with the message being conveyed in the song. If Christina Milian wanted people to think she's down to earth not superficial, dressing in stylish outfits, accessorised with hefty items of jewellery and expensive-looking sunglasses doesn't really help her cause. Yet, this isn't a bad video for what it is, even if some of the transitions are arguably a bit too rapid because every time Christina Milian strikes a sassy pose, the shot cuts too prematurely for it to land properly. Nonetheless, a lot of effort has gone into giving the video a slick, clean aesthetic, despite the lack of joined-up thinking in terms of how it was related to the song.
Although it didn't fare well in America, When You Look At Me was a success across Europe and matched the #3 peak of AM To PM in the UK. The track actually outperformed its predecessor, selling 162,000 copies to become the 52nd biggest hit of 2002. Things appeared to be going well, but behind the scenes, trouble was brewing. There were disagreements about Christina Milian's image and her debut album was eventually shelved indefinitely in America. Ultimately that meant the campaign was curtailed and growing momentum came to a sudden halt. It essentially rendered When You Look At Me an oft-overlooked gem from the tail-end of the bubblegum pop era.
---